Illusions shattering. Truth being unveiled. Perseverance & tenancity to speak up and be a leading agent of change. All this and so much more is theming our Pisces Full Moon for September 2020.
PLUS… The energy of our Pisces FULL MOON is being taken to a whole new level due a Grand Trine & a Minor Grand creating a KITE Formation… WOW !!! This is what revolutions are made of, people coming together and embodying a united vision for collective change. Collective Awakening !!!
Pisces Full Moon
During the PISCES FULL MOON, the moon is reflecting the light of the SUN in VIRGO. This Full Moon is about letting go of the 'mind', hardened beliefs, and fixed views on some of the big 'topics' that are taking up a huge bandwidth in the collective consciousness at this time. And instead softening into your intuition, gut instincts, and what you feel in your heart is really happening on a global scale.
This Full Moon in intuitive Pisces is about trusting yourself, your unique & personal insights – letting go of the need to conform to views that are being imposed upon you. Or even views that you 'thought' were true, but now your awareness is guiding you into more awakened and expansive insights of a deeper truth.
With a GRAND TRINE as well as MINOR GRAND TRINE both coming together to create a KITE formation on our Full Moon, the next two weeks will be VERY insightful indeed ! In fact, this energy will be felt for the remainder of 2020.
Full Moon KITE Formation
The energy of our Pisces FULL MOON is exponentiated due to a KITE formation – a GRAND TRINE with a MINOR GRAND TRINE sitting on top, and hence the top and bottom points of the Kite are opposing each other, exactly 1800 apart.
A KITE formation has the potential to push your life to a higher octave of potential ! Both the top point of the KITE and the planetary positions of both the Grand Trine & Minor Trine (both of which are Sacred Powers of 3) aspects of the KITE provide us with a map of this potential.
Our PISCES Full Moon KITE Formation is made up as follows:
GRAND TRINE of 3 Planets, each 1200 apart – in this case the SUN in Virgo, URANUS in Taurus & PALLAS in Capricorn (forming an equilateral triangle).
MINOR GRAND TRINE of 3 Planets – which in turn sits on top of the Grand Trine to form a KITE. A Minor Grand Trine is where one Planet forms a Sextile (600 apart) with two other Planets, and those two planets are both 1200 apart (forming an isosceles triangle). In this case the MIDHEAVEN in Scorpio is 600 apart from both PALLAS in Capricorn & SUN in Virgo AND the SUN & Pallas are conversely both 1200 apart.
OPPOSITION of 2 Planets, top & bottom of Kite (ie 1800 apart) – in this case the URANUS in Taurus is in opposition to the MIDHEAVEN in Scorpio (highest top point on chart).
Please note that both the Grand Trine & Minor Grand Trine is weakened by the fact that they aren't exactly at the degree's stated above (they are a few degree's off exact), HOWEVER the energy is still very much impacting our Pisces Full Moon and the energy is still very relevant to consider.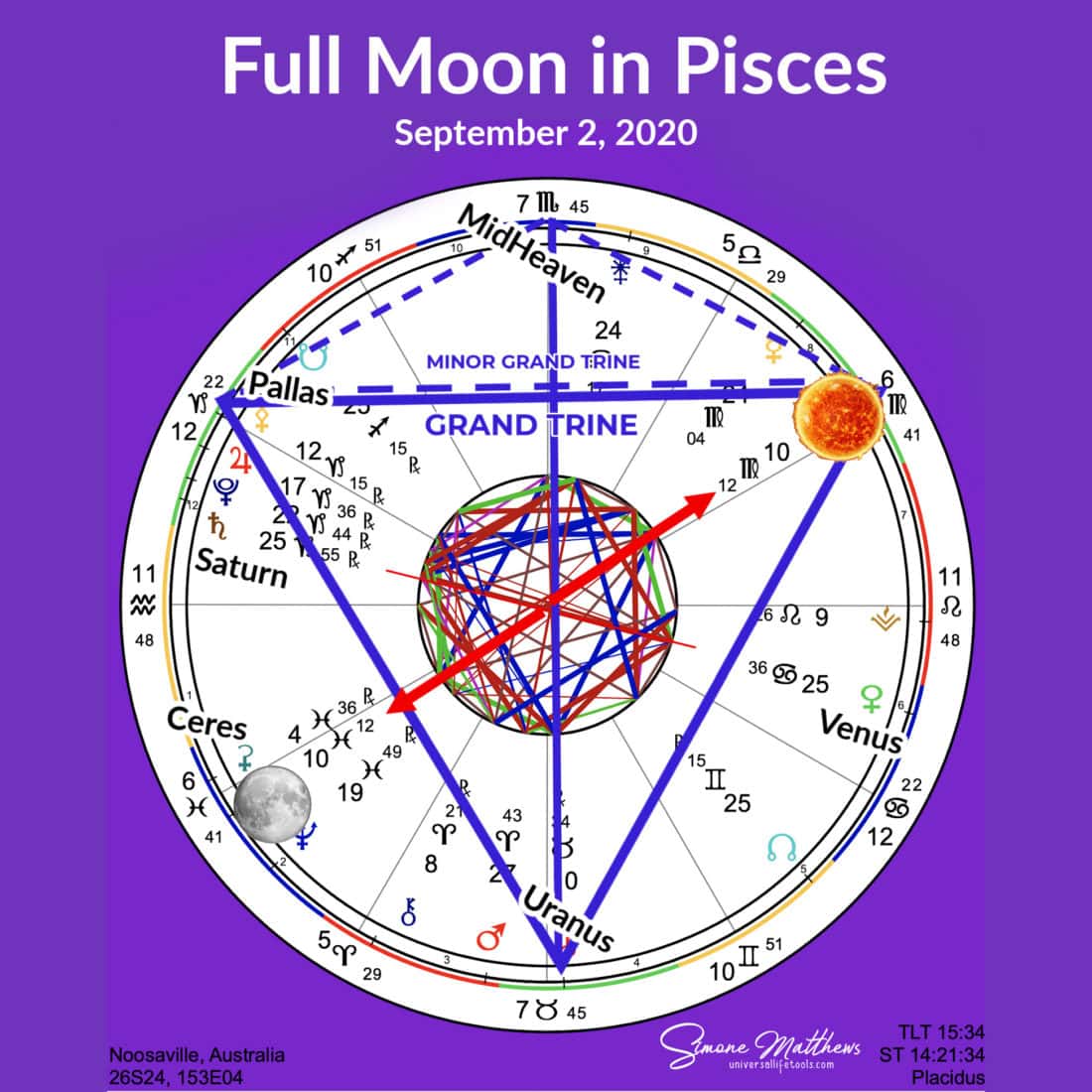 Energy of KITE Formation
The GRAND Trine (bottom part of the KITE) of the SUN in Virgo, URANUS in Taurus & PALLAS in Capricorn is an Earth Element TRINE (Virgo, Capricorn, & Taurus are all Earth elements). I just LOVE this grounded KITE formation… there will be no floating off into the watery/dreamy PISCEAN aethers this full moon! The Earth Element BASE of the KITE is keeping YOU grounded in order to SOAR through your inspirational PISCEAN insights. By grounded, I don't mean in control… I just mean that you won't be a space cadet and float off into the dreamy aethers! The insights you will connect with this Full Moon will be received with clarity & purpose.
The MINOR Grand Trine (top part of the KITE) of the MIDHEAVEN in Scorpio, PALLAS in Capricorn & SUN in Virgo is the part that gracefully helps you to SOAR as you harness the energy of the GRAND TRINE through the top point of the KITE. I will talk about the Midheaven in a moment, but the key aspect I would like to focus on first is PALLAS.
PALLAS is one of the 4 Major Asteroids (each representing a different aspect of the Feminine).⁠ Pallas represents wisdom & independence – for in Mythology – Pallas Athene – born from the head of Zeus, and symbolized by the owl and the snake. ⁠ Pallas did not ally herself with any man, but rather was a strong and warrior-like figure who aided men of good will and whose advice was prized for its intelligence.⁠ Pallas represents creative intelligence in combination with ageless wisdom.. and an intuitive use of medicinal herbs & natures elements for healing.⁠ Pallas in Capricorn comes into her own, helping us rise to a higher-place. Questioning the authority of a system that limits the inherent creative potential & soulful genius of people. As people's fears move deeper into the void of darkness, Pallas extends a hand of LIGHT-filled insight.
Pallas moves us into our HEARTS to challenge draconian measures. To speak-up against laws that inhibit our freedom of choice. And to take full ownership of our values in regards to our personal self-care, nourishment, health & wellbeing. She upholds full sovereignty of all life-forms, and a breaking away of the archaic shadow of the patriarchy that keep us small.
And finally the KITE is pointed towards the MIDHEAVEN in Scorpio, which directly opposes Uranus in Taurus. And this is I believe is the key to understanding the potential of our Pisces Full Moon. The top point of the Kite, Midheaven (highest point of astrological chart) in Scorpio guides us to strive toward our highest destiny. To be inspired to BE the change. To have the perseverance & tenacity to own your personal power, and not let the darker elements of life, the oppressive forces of others exerting power of you, dim your light.
Uranus in Taurus is the foundation (bottom point of this kite), and its an interesting addition to this kite, particularly since Uranus turned retrograde a couple of weeks ago and will remain retrograde until mid-January 2021. Uranus is like a wildcard of the pack, unpredictable, original and out of the box thinking. Uranus can spark revolutions as it has its gaze on more humanitarian, freedom loving and unconventional pursuits. When Uranus is retro, chaos is often the order of the day as you expect the unexpected of an unexpectable planet ! You may find your personality or behavior quite altered at this time, as your actions in the world oppose what others normally experience or expect of you.
In Summary
Our Full Moon in PISCES through a KITE formation is helping us to RISE UP together, shine & thrive. As we venture into the last part of this year, this FULL MOON / KITE formation is helping us to reflect on our values, gain clarity of the greater vision for our lives… and strongly hold & take the steps necessary to embody & LIVE this vision during this volatile time on Earth. The Great Awakening.
The KITE will guide us to STAND up for our rights, our HEALTH FREEDOM, who we wish to be on Earth through the reverent understanding that we are the ancestors of the future. Whilst also reminding us of the importance of collaboration, connection, directing your time with people of 'like heart' that hold the 'vision' of this change.
And above all, to remember that the Earth is an extension of us, and enduring change happens when we embody our sacred connection with nature. Spend time barefoot on the Earth (Uranus in Taurus LOVES that), listen to the song of the Earth to guide your day (Scorpio midheaven loves that too), and give yourself permission through Pisces to open to your sensitivity, to be gentle, relax more, sleep more, pleasure yourself more… find a rhythm that serves YOU, serves the Earth and fosters more beauty in all that you do. Let the change flow from your Heart this Pisces Full Moon.