Nick Hudson, the co-founder of PANDA (Pandemics – data and analysis), gives a riveting keynote address at the inaugural BizNews Investment Conference in March 2021. PANDA aims to promote open science, human agency and courageous societies, empowering the public with accurate information thereby enabling individuals to exercise freedom of choice and preserve human liberties and free societies.
The presentation, "Time To Reopen Society" begins with the early days of the pandemic recalling the confusion, the conflicting information, the ever-changing recommendations. By following the data and official communications from global organisations, PANDA unravels what transpired that led us into deleterious lockdowns, which continue to have enormous negative impacts across the world. This presentation negates the fear and gives clear reasons why 'the only thing we have to fear is fear itself' in the story of the COVID-19 pandemic response.
After Watching the video below, I highly recommend the Q&A with Nick Hudson that followed his presentation. Please scan to the bottom of this page for Q&A Parts 1 & 2.

Video References
https://www.canadahealthalliance.org/
https://www.pandata.org/time-to-reopen-society/
The Great Barrington Declaration
https://www.pandata.org/protocol-for-reopening-society/
Protocol for Reopening Society

As Nick Hudson discussed in the above video, PANDA has created a document entitled: Protocol for Reopening Society based on the principles of focused protection as described in the Great Barrington Declaration.
For decades, it has been acknowledged by the world's premier health authorities that amid a pandemic, the functioning of society should be maintained, and human rights upheld. Governments and health organisations have at their disposal country-specific pandemic preparedness plans, as well as the World Health Organisation pandemic guidelines, which provide a roadmap outlining how to keep society functioning, while also mitigating the impact of a disease or virus.
In 2020, SARS-CoV-2 brought an almost–instantaneous rewriting of disease management principles as countries, with few exceptions, disregarded existing pandemic plans and replaced them with policies of 'lockdown'.
There is no evidence that lockdowns have reduced mortality from Covid-19 and research is now revealing the devastation that lockdowns are causing, particularly in the developing world. In these draconian lockdown policies, we have also seen the biggest infringement on civil liberties in democratic countries during peacetime.
PANDA believes that, at this juncture, the science is quite clear on what key policy responses should be—or should have been. The cure should not be worse than the disease. It is critically important that societies are reopened, whilst protecting those who may be vulnerable to serious illness from SARS-CoV-2. Human agency must be upheld, and individuals should be empowered to make their own choices.
PANDA's Protocol for Reopening Society builds upon existing pandemic frameworks and incorporates current scientific understanding of Covid-19, to provide a roadmap out of the damaging cycle of lockdowns.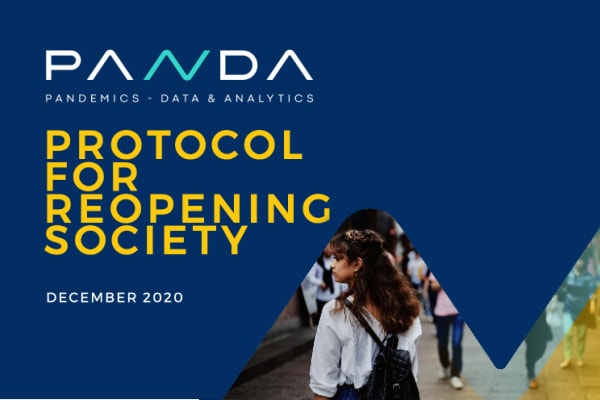 Lockdowns, Masks & Mental Health

I watched this video with Psychiatrist & medical-legal expert Dr Mark McDonald this week, where he gives a heartbreaking account of the dehumanizing effects / power-political of COVID constraints on mental health especially in children. And then I read this article 'After Son Takes His Own Life, Father Warns Against Extended Pandemic Lockdowns'. And then 'Doctor warns "no medical science" behind Michigan expansion of coronavirus mask mandate targeting two-year-olds'.
Sharing with you below the video with Dr Mark McDonald. May these sharings support you in your efforts to contact your local Member & push for change.
Q&A – Parts 1 & 2
After watching the video at the top of this page , "Time To Reopen Society" , I highly recommend the Q&A with Nick Hudson that followed his presentation.