Sharing with you another great Health Advocacy group, to both support your research & health freedoms!
The British Ivermectin Recommendation Development Group (BIRD) is a truly grassroots initiative bringing together clinicians, health researchers and patient representatives from all around the world to advocate for the use of Ivermectin against covid-19. BIRD also supports the July 24 – World Ivermectin Day (details further down the page).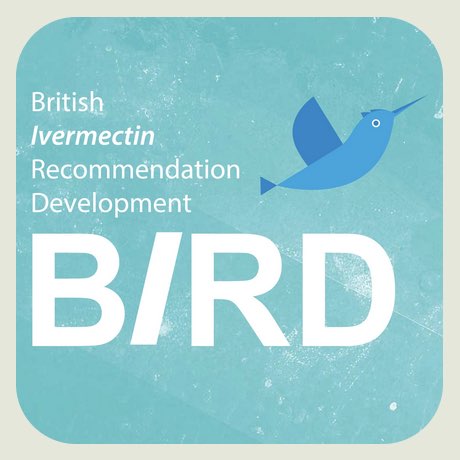 Early in January 2021, Dr. Tess Lawrie and a small team from the Evidence-Based Medicine Consultancy in Bath (U), came together to plan the first meeting of the British Ivermectin Recommendation Development Group, inviting health professionals and patient representatives to share with them the evidence from her rapid systematic review and meta-analysis on the effectiveness of ivermectin for the prevention and treatment of Covid-19.
On Wednesday, the 13th of January, 2021, Dr. Lawrie presented the evidence to 20 experts and stakeholders from the USA, Belgium, South Africa and the UK, including 13 clinicians and medical researchers, and seven public/consumer/media representatives. The consensus that emerged from this initial meeting was that the evidence that Ivermectin prevents morbidity and mortality from Covid-19 was so compelling, that further placebo-controlled clinical trials of ivermectin (versus no ivermectin) for treatment of covid-19 would be unethical.
The next BIRD group meeting, held a month later, was attended by over 60 experts from around the world who evaluated the updated evidence on Ivermectin for covid-19 and subsequently made a recommendation document for the implementation of ivermectin for covid-19, using the standard procedures for guideline development as described in the World Health Organization Handbook for Guideline Development. The attendees of this second meeting make up the core of the BIRD group, and have continued to actively engage with its aims in a number of ways.
in May 2021, BIRD organized and hosted the first International Ivermectin for Covid Conference, featuring talks and discussions from 12 world-class medical researchers, frontline medics and data analysts. The event, hastily assembled in just 10 days by the BIRD group, was unwavering in its mission; to share the most up-to-date evidence on Ivermectin for prevention and treatment of Covid-19, and to overcome regulatory obstacles that currently prevent GPs from prescribing it to save and improve lives.
https://bird-group.org/who-are-bird/
World Ivermectin Day – 24 July 2021
On July 24, we celebrate the end of COVID-19 with Ivermectin. World Ivermectin Day is a citizen-driven day of celebration, supported by many allies in the field & on the frontlines – such as BIRD, Children's Health Defence, Canadian Covid Care Alliance to name a few.

On July 24, 2021, people of the world will come together to celebrate Ivermectin for a day focused on unity, love, and gratitude for this precious gift from Mother Earth. Ivermectin is the key and has already brought immeasurable benefit to humanity. It's time to celebrate and let the world know that it's going to be ok!