Our first Full Moon of 2022 is in Cancer, an emotional & deeply reflective Full Moon. Cancer is the sign of HOME, such that we will be called to review the year ahead, and reflect on how our personal values & stories have changed over the last couple of year regarding the HOME of our bodies within the greater HOME of our Earth.
This is a divinely sacred Full Moon, that helps us embody and even grander potential of our Universal 6 Year in Numerology, the year of Heart & Home.
If you are still longing to return to the 'old ways', or yearning to 'return to life as it used to be', then you may find the energy of this Full Moon deeply painful as the enormous weight of your emotional burdens will feel too gruesome to continue to bear.
However, if you have invited change into your life for 2022, shattered the old ways of experiencing the world and risen up to the challenge of living in service to the Heart / HOME of Nature herself, then this Full Moon will be a most refreshing gift indeed. It may feel like a kiss from Mother Nature, as the light of the Full Moon infuses your soul with the sweetest of tender caresses. Indeed a most nourishing & soothing balm for the Soul.
View ALL Lunar Transits for 2022
Full Moon in Cancer
Our first Full Moon of the year is in CANCER, reflecting the light of the Sun in CAPRICORN.
With our FULL MOON in the Water Sign of CANCER, feelings & emotions are amplified this Full Moon. You may find yourself much more teary, sensitive or overcome with emotion. Tears of Joy. Tears of Sorrow for what has been lost. Tears of relief that change is in the air. Let this feeling Full Moon move the emotion through you with graceful ease, helping you to surrender to the present & be grateful for the gift of life itself.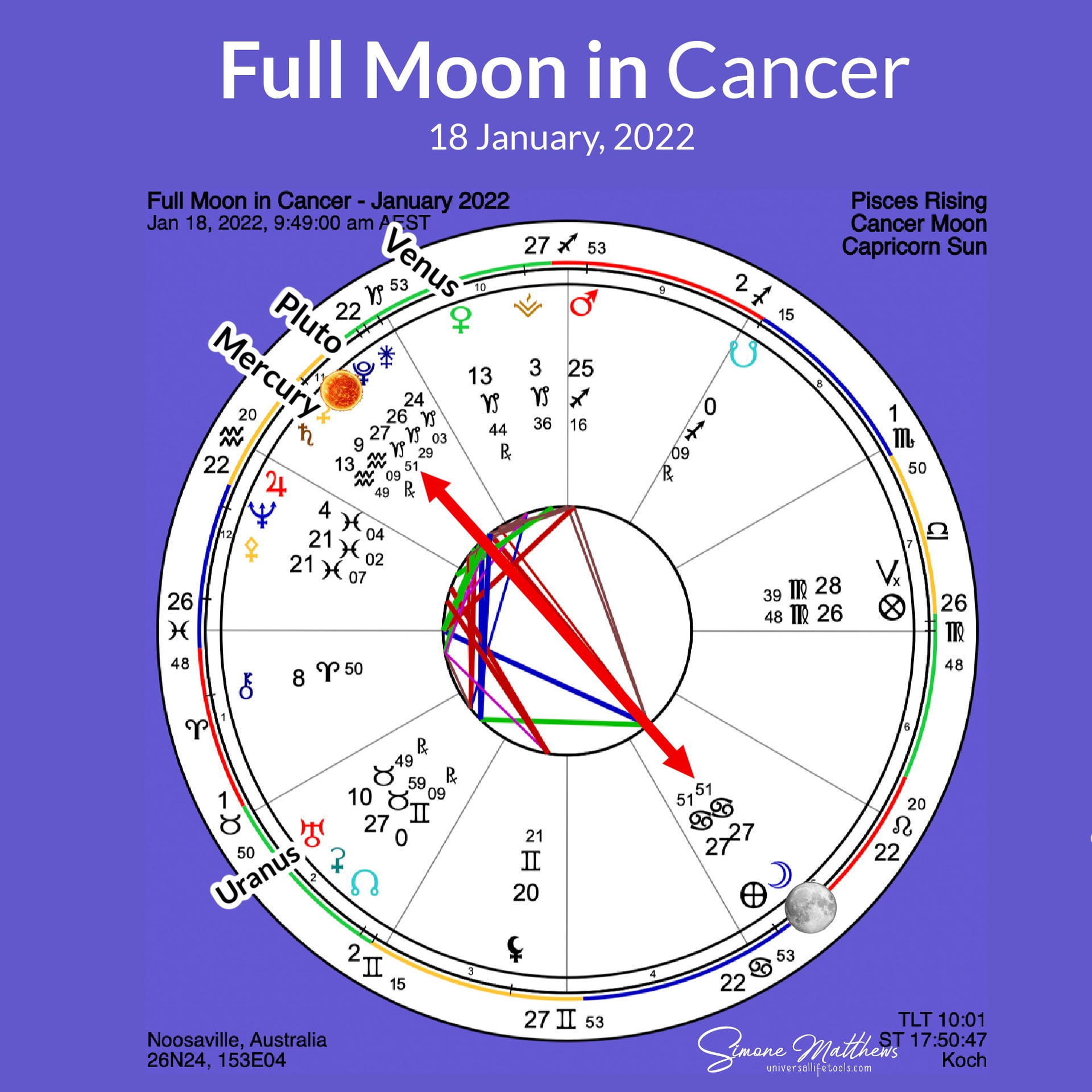 The SUN in CAPRICORN is reflecting back to you all the hard work & resilience that has brought you to this moment. Allow yourself to acknowledge all that you have achieved in terms of personal growth & soulful awakening. Don't let yourself get bogged down in all that you didn't achieve (Capricorn can get a little pedantic with those checklists), but rather focus on all that you have embodied & risen to in quite an extraordinary time of change on Planet Earth!
Pluto the planet of transformation & empowerment is CONJUNCT our Sun this Full Moon (less than one degree away). Heralding transformation, Pluto in Capricorn is about death and rebirth or endings and beginnings. It is a time of breaking down all old outdated structures… structures that embody power & control such as governments, corporations & religion. This dismantling then creates opportunities to rebuild solid foundations from the ground up and inside-out… structures that support communities, humanity and the sustainable life of this planet.
With Pluto conjunct our SUN this Full Moon, this maybe an uncomfortable time of wading through the dross of your life, challenging your beliefs, and choosing to enLIGHTen your load. Pluto may have you face some truths (whether you like it or not), and for some this can lead to feelings of frustration, anxiety, self-worth, and 'where to know' type questioning. Change is one of THE HARDEST things in life, yet that is Pluto's gift – through change we grow, evolve, and thrive through the best versions of ourselves.
With Mercury, Venus & Uranus all transiting Retrograde this Full Moon, this deep Pluto dive into ourselves will take on many hues.
Through Venus Retrograde, your relationships maybe under the microscope and if you have avoided relationship then this maybe exactly what you attract. If you have slipped into old patterns (such as the glamour of overindulging in food, sex, alcohol), it is a time to also examine your relationship with substances and lifestyle choices.
Through Mercury Retrograde, we may flow very deep into darker recesses of our psyche, arriving at a place that questions our soulful paths. Are we truly being voices of truth, or are we hiding away from the world through fear of what other people think about us ?
Through Uranus Retrograde, our Cancer Full Moon is much more dreamy & intuitive. Through your lucid dreams or meditations, this full moon may spark visions of a greater purpose/story for humanity, and unexpected 'ah-ha' moments of HOW you can be that bridge of change.
Full Moon Potential
Feeling into this Full Moon, my heart feels very Full for all that she is offering us as we emerge into 2022. Cancer is ruled by the Moon, so the Moon is most at home when transiting through Cancer, and expresses herself through deep Heart feeling.
The Moon is asking us to sit in our Hearts in quiet reverence for all that we are choosing to BE this year in terms of resilience, growth & transformational change. And she is reminding us to nurture ourselves, the temple of our bodies, the HOME of our Souls. To sit in awe of the miraculous nature of the body to Heal itself. And to follow our intuitive guidance, returning to our true natures as part of nature.
Gentleness, quiet reflection, and joyful celebration of life is the theme of our Cancer Full Moon. And as we take this time out to pause, and move within the Heart of our Bodily HOME, this Full Moon will guide us to discover a LOVE that not only heals, but has been present within us all along. A LOVE that will have us flow through 2022 more awakened, enlightened, courageous & passionate than ever before!