Our Pisces Full Moon is a dreamy, creative and intuitively reflective Full Moon. Whilst our Virgo Sun may entice you to lead with the mind, Pisces will enchant you into becoming comfortable with not knowing, and instead flowing through the lead of the Heart.
There are many interesting astral aspects to this Full Moon that are colouring our experience of Pisces— in summary, this is NOT a Full Moon where everything may come together with crystal clarity, but rather a Full Moon where we let go of control and feel into possibility.
Inviting you to join our Flourish Community & receive my MONTHLY intuitive Cosmic Insight Videos.
Full Moon in Pisces
During our PISCES FULL MOON, the moon is reflecting the light of the SUN in VIRGO. Whilst Sun in Virgo may tempt you with safety of fixed beliefs and viewpoints, the Moon in Pisces enables you to find a softness in the moment, a gentle place of sensitivity and deep feeling into other potentialities.
Pisces doesn't try and control an outcome, or even try to demarcate detailed specifics of how to reach a goal. Instead Pisces guides us to trust, to have confidence in our premonitions, intuitive insights, expansive dreams, and how a situation or experience feels…. believe in your gut instincts!
If something doesn't feel good to you at the moment, trust that Piscean inkling. And then choose a choice of action that feels the most nourishing to you at this time. Maybe you need to change your mindset/behaviours? Maybe you need to walk away? Maybe you need to take a different approach as the current pathway is not for you?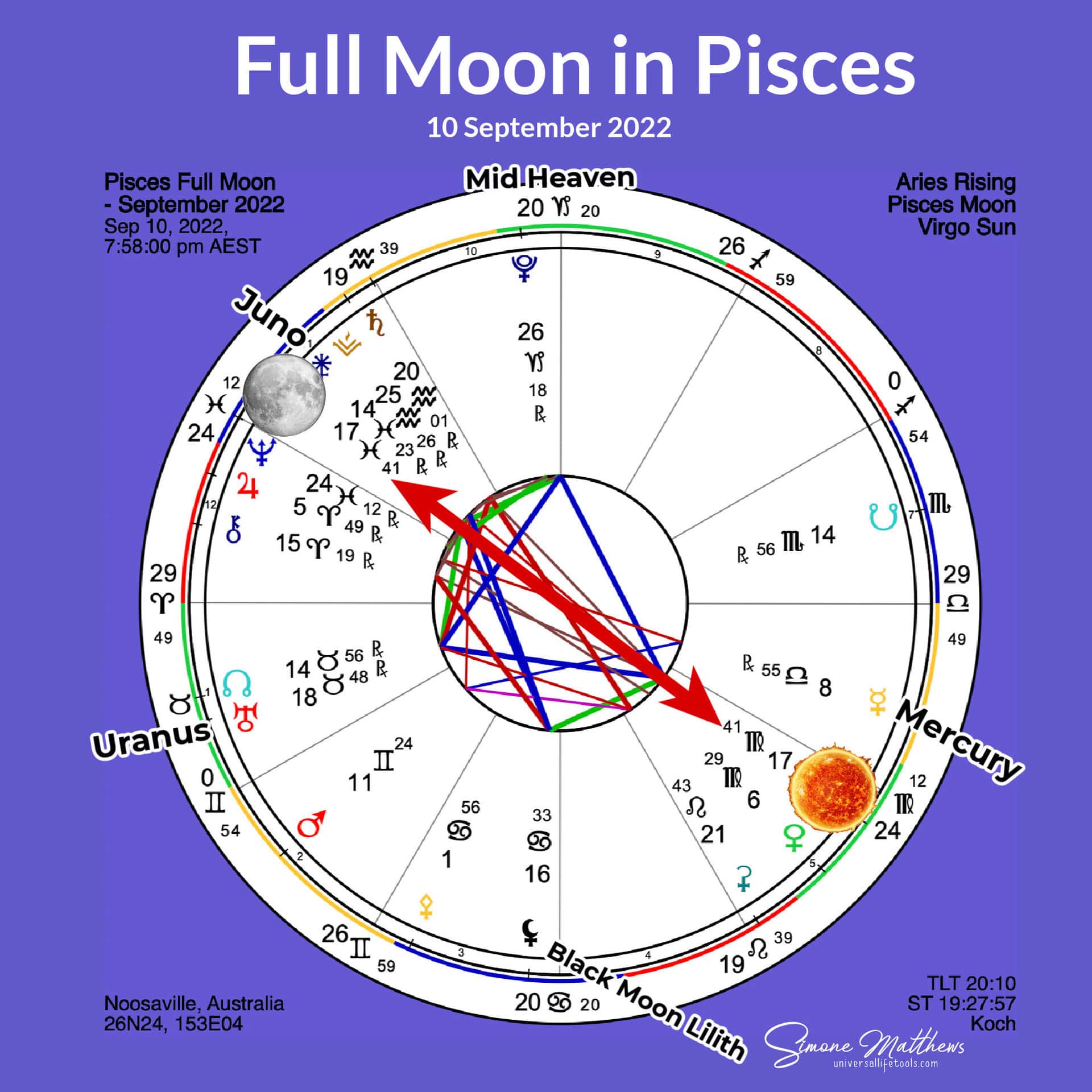 Full Moon – Astral Aspects
The are many aspects to our Pisces Full Moon which greatly colours our experience of the energy. I talk about the following aspects and their relationship to current world events in my September— Cosmic Insights video.
Mercury moves Retrograde the day prior to Full Moon
Mercury trine with Mars & opposition with Jupiter
Sun & Black Moon Lilith are sextile
Moon in strong trine with Black Moon Lilith
Uranus & Sun are in a strong trine with Midheaven
Full Moon Potential
As I shared in my Unlocking the LIGHT of Humanity post, we truly are LIGHTbeings, capable of producing more energy than the Sun. Through Pisces we have the capacity to LEAD from this inner-knowingness of LIGHT. To let go of the control issues of this world (or even deep within ourselves) and move into the dreamy, intuitive flow of inner-knowing.
Seismic shifts are happening with this Full Moon—all on the inside! You may not have all the mental answers this Full Moon, but something very sacred will be unleashed from deep within your psyche that just knows everything will be ok and just how it should be.
You may find you are extra-sensitive this Full Moon, tender, emotional, or maybe even a little more on-edge. To help balance with the complexity of emotion during this extraordinary time of profound healing, my advice is to let go and let flow. Cry if you need to, and laugh, sing, dance, shake it all out. Give yourself space and permission to feel it all and let it move through you. You are LIGHT is the mantra to carry with you this Full Moon, let is shine your path forward.
Cosmic Insights
Join Flourish Community & receive Simone's monthly Cosmic Insights Videos.
Simone's Intuitive insights of Key Astral Transits/Aspects

HOW to make the most of the current months flows, awaken your intuition, & experience the Heavenly StarMap within you.

Intuitive insights regarding how the current months Transits relate to current WORLD EVENTS.

Crystals to work with to make the MOST of the energy potentials

Key Essences to help access a greater clarity of Cosmic Wisdoms

Additional Resources to help expand your Cosmic Cycle connections, including downloadable Astral Charts, Diagrams & Handouts.
Pisces Full Moon Cosmic Insights Video is now available for viewing now in the Flourish Community Portal.