Our first Full Moon of 2023 is in Cancer, an emotional, feeling & intuitive Full Moon. A time of deep introspection & tapping into how you wish to feel during 2023.
Cancer is a Water Sign, is ruled by the Moon and relates to the Solar Plexus & the 4th House of Home, Family, Parents, Mothers, Babies, Childhood, Genetics & Family Relationships. Keywords to describe Cancer include: Mother, Family, Fertility, Subconscious, Parental Genetics, Emotions, Nurturing, Psychic, Protective & Imaginative.
With both Mars & Mercury retrograde, this first month of our Universal 7 Year in Numerology flows with a more introverted vibe— the perfect time for inner-alchemy. Go with the slow-flow, revel in this space of deep intuitive feeling, focus more on the feeling of how you want to authentically show up to life in 2023, and less on all the stuff & to-do lists that distract you from your heart-values.
If you try to control, push to get things moving, or work longs hours to launch that new project this month, you may find you end up more frustrated & frayed for your efforts. Brain fog, tech problems, miscommunication, challenges in articulating your needs— much better to wait into late January 2023 when the energy will flow with greater ease. This Cancer Moon is a time to lush out on the dreamy vision of our World More Beautiful, and feeling into the role YOU play in being a integral thread within the fabric of change.
View ALL Lunar Transits for 2023
Full Moon in Cancer
Our first Full Moon of the year is in CANCER, reflecting the light of the Sun in CAPRICORN.
With our FULL MOON in the Water Sign of CANCER, feelings & emotions are amplified this Full Moon. You may find yourself much more teary, sensitive or overcome with emotion. Tears of Joy for a world awakening. Tears of Sorrow for what has been lost. Tears of relief that change is in the air. Let this feeling Full Moon move the emotion through you with graceful ease, helping you to surrender to the present & be grateful for the gift of life itself.
The SUN in CAPRICORN is reflecting back to you all the hard work & resilience that has brought you to this moment. Allow yourself to acknowledge all that you have achieved in terms of personal growth & soulful awakening. Don't let yourself get bogged down in all that you didn't achieve (Capricorn can get a little pedantic with those checklists), but rather focus on all that you have embodied & risen to in quite an extraordinary time of change on Planet Earth!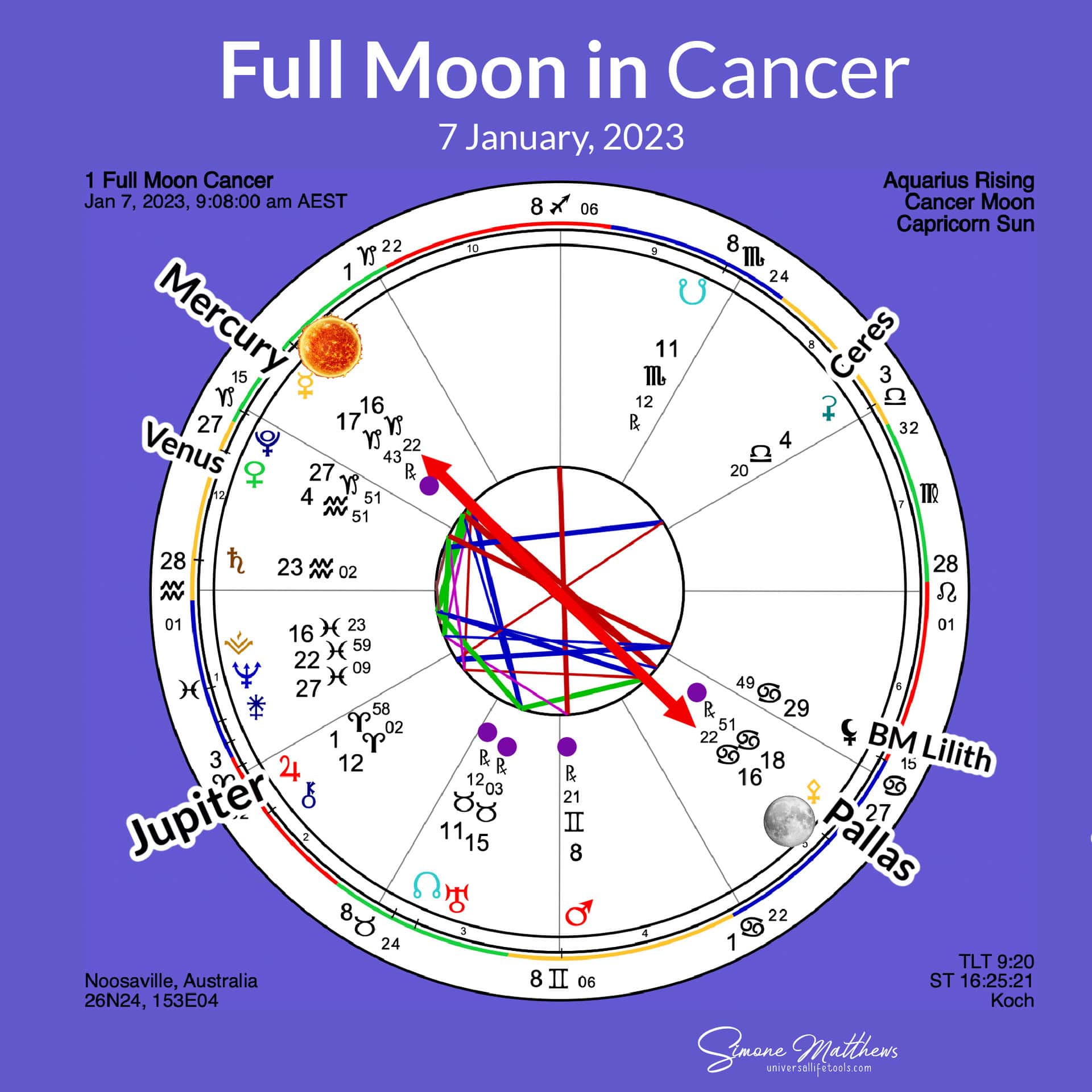 With Mars, Mercury & Uranus all transiting Retrograde this Full Moon, January will certainly be a slow & inward start to 2023.
Through Mars Retrograde, we may feel much more introverted, or if we try to push ourselves 'out there' then our energy/vitality may not match the intensity of our thoughts. Push too much and frustration, delays or setbacks could lead us back to square one.
Through Mercury Retrograde, we may flow very deep into darker recesses of our psyche, arriving at a place that questions our soulful paths. Are we truly being voices of truth, or are we hiding away from the world through fear of what other people think about us ?
Through Uranus Retrograde, our Cancer Full Moon is much more dreamy & intuitive. Through your lucid dreams or meditations, this full moon may spark visions of a greater purpose/story for humanity, and unexpected 'ah-ha' moments of HOW you can be that bridge of change.
For a more detailed insight into the energy of our Cancer Full Moon, checkout my Intuitive Astrology Videos.
Full Moon Potential
Feeling into this Full Moon, my heart feels very full for all that she is offering us as we emerge into 2023. Cancer is ruled by the Moon, so the Moon is most at home when transiting through Cancer, and expresses herself through deep Heart feeling.
The Moon is asking us to sit in our Hearts in quiet reverence for all that we are choosing to BE this year in terms of resilience, growth & transformational change. And she is reminding us to nurture ourselves, the temple of our bodies, the HOME of our Souls. To sit in awe of the miraculous nature of the body to Heal itself. And to follow our intuitive guidance, returning to our true natures as part of nature.
Gentleness, quiet reflection, and joyful celebration of life is the theme of our Cancer Full Moon. And as we take this time out to pause, and move within the Heart of our Bodily HOME, this Full Moon will guide us to discover a LOVE that not only heals, but has been present within us all along. A LOVE that will have us flow through 2023 more awakened, enlightened, courageous & passionate than ever before!
Intuitive Astrology with Simone
Join Simone Matthews within her Flourish with Simone community.
Receive access to her fortnightly Intuitive Astrology Videos + so much more 🌀
Doors reOPEN to Flourish with Simone in late January 2023.
JOIN THE WAITLIST and be the first to know!