This weeks January 20-21 FULL MOON, is both a SUPERMOON + TOTAL Lunar Eclipse. Hold onto your horses this week (or maybe I should say 'hang on to your Leo the Lion manes') as this is sure to be one expansive & exhilarating ride!
The theme that has been playing over & over in my heart since our Partial Solar Eclipse on January 6-7 —the world can only be what you believe it to be— and I feel deeply that this Full Moon in Leo reflecting the light of the Sun in Aquarius is a pathway of great potential for our entire year ahead.
Top Image Credit: Stefan Rayner
The Energy of our Leo Full Moon
Moon in LEO (0.520) & Sun in AQUARIUS (0.520)
Monday, 21 January 2019 – 3:16 pm AEST (Australia)
View times in your City/Country>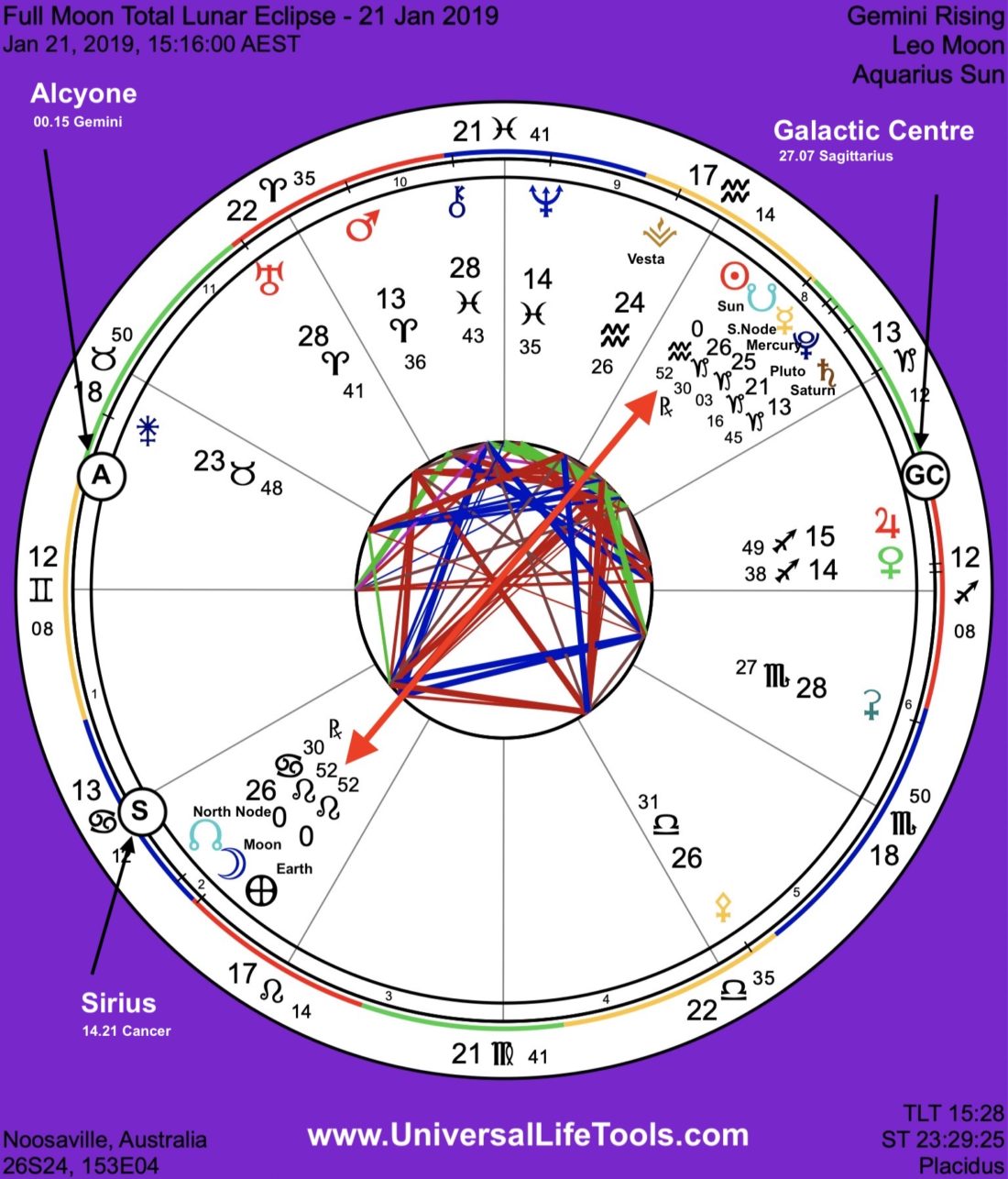 Whilst Full Moons can be challenging with the Moon & Sun sitting on opposite sides of the zodiac (see picture right, click to enlarge), they can also be wildly expansive & potently creative as the Lunar & Solar (yin & yang) are in natural harmonic balance.
And I promise you, this weeks Full Moon will do a tremendously amazing job at both !
Our Full Moon is in LEO – a vibrant fire sign that is ruled by the Sun and is outgoing, affectionate… and just like the Lion exudes warm-hearted courage.
Our Moon is reflecting the LIGHT of the Sun in AQUARIUS -an air sign that is ruled by Uranus (which incidentally went direct on the 7 January), and weaves qualities of humanitarian pursuits, pioneering skills & can be very rebellious in nature… love that Uranian flare!
When our Moon is in Leo, reflecting the Sun in Aquarius – these two create quite an intense, yet deeply uplifting resonances. We are guided– from a place of self-love rather than ego-centric neurosis– to OWN our gifts, stand proud in our talents and to take that plunge in revealing our god-given graces to the world.
There is only ONE of you, you are on this planet for a reason… and this Leo Full Moon is calling you to compassionately LOVE the uniqueness that is YOU… and have the courage to share your LIGHT with the world.
Our Leo Full Moon is also a SuperMoon
Our Leo Full Moon is also a Supermoon– meaning that it is perigee, very close to the Earth. When ever the Moon is closest to Earth it's effects are felt more strongly.
SUPERMOONS are amplifiers of our energy fields and awaken higher potentials of the current planetary alignments that they are associated with. So now take everything you just read above about our LEO Moon & AQUARIUS Sun and times it to the power of 'infinity'!
Personally I find when the Moon is closest to Earth my dreams & intuition are expanded. I often wake up in the middle of the night with brilliant thoughts/ideas (kinda makes up for all the full moon sleep-restlessness), or my meditations are deeply insightful and provide extraordinary guidance for the days/month/year ahead. I love to take a few drops of my Golden Quantum Essence on the days leading up to as well as post Full Moon, to help 'ground' my insights and make them tangible, practical & visceral in my body.
I also find spending time on the Earth, walking barefoot (if you can), swimming in the ocean, walking through a snow covered forest, connecting with the wind, the sun, the mountains & the rivers helps me to comfortably balance with the energies of a Full Moon – particularly a SUPERMoon. I can get more anxious & tense around the Full Moon, and just like I talk about in my ELI: Estoteric Liquid-Light Healing Course– 'Earthing' is a great way to diffuse the higher vibrational ripples through you. Thank you Mother Earth!
This quote came into my visions today…. thought it relevant to share:
When you walk with naked feet, how can you ever forget the Earth –Carl Jung
Plus we have a TOTAL Lunar Eclipse

Moon in LEO (0.520) & Sun in AQUARIUS (0.520)
Monday, 21 January 2019
Eclipse Begins – 1:33 pm AEST (Australia)
Maximum Eclipse – 3:12 9m AEST (Australia)
Eclipse Ends – 4:50 pm AEST (Australia)
View times in your City/Country>
Just to make our FULL Moon SuperMoon a little more interesting… we also have a TOTAL Lunar Eclipse! What a great way to kick of our Universal 3 Year that is 2019 – with Eclipses AND SuperMoons.
Lunar Eclipses & Solar Eclipses come in pairs, and you may recall earlier this year on the New Moon we had Partial Solar Eclipse- whereby the Moon moved between the Earth and Sun, obscuring Earth's view of the Sun.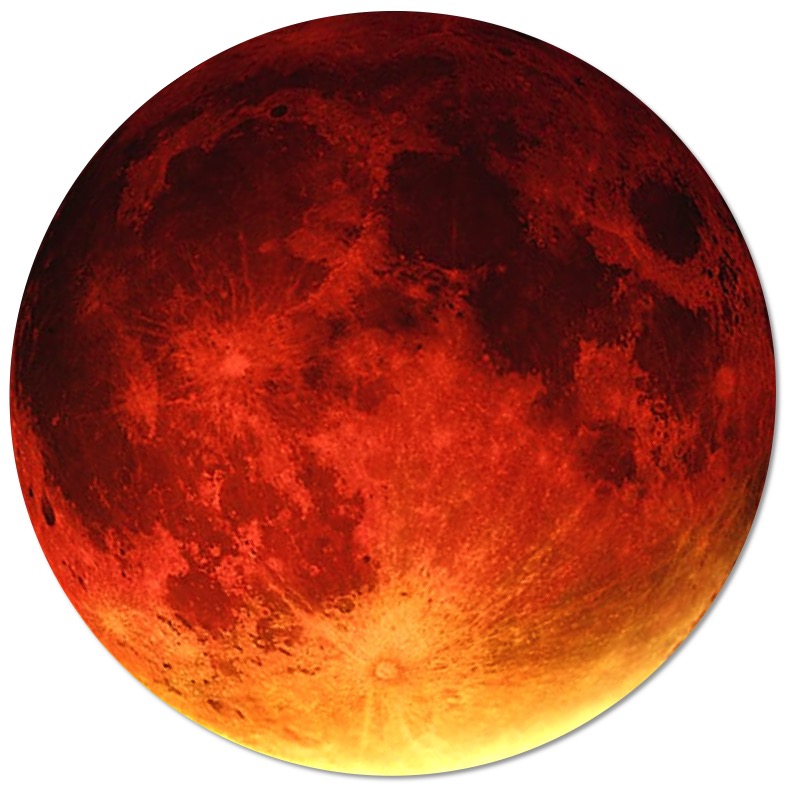 Now two weeks later on the FULL Moon, we have a TOTAL Lunar Eclipse– whereby the Earth will pass between the Sun & the Moon, blocking the Suns rays from FULLY reaching the Moon… thus the Moon will be fully cast within Earth's shadow. Here is a map of who will be able to see the eclipse (sorry Australian friends, we miss out)… but essentially part/total eclipse may be seen from parts of Europe, Asia, Africa, North America, South America, Pacific, Atlantic, Indian Ocean & the Arctic.
This weeks Lunar Eclipse is not only the first Lunar Eclipse of 2019, but also the last in a series of interesting Leo/Aquarius Eclipses… I will get back to that in a moment!
If the Moon is fully in Earth's shadow, why then does the Moon appear RED during an Eclipse ?
The reason the Moon appears RED when it is cast within the shadow of Earth is because of Earth's atmosphere. During the alignment of the Sun, Earth & Moon, light from the Sun glimmers through Earth's atmosphere (atmosphere extends approximately 80km above the Earth) & the green-to-blue light of the visible light spectrum is filtered out, giving way to the deeper orangey-red tones of the spectrum. This reddish light is then refracted to the surface of the Moon. Amazing huh!
Energetically during our Total Lunar Eclipse, as the Moon is fully sitting in Earth's shadow (ie unable to reflect the I AM Light of the Sun), a window opens and we are drawn into ourselves, the part that we don't show to the world, the emotional and deepest part of our psyche. The word ECLIPSE comes from the Greek word "ekleipsis" meaning "to abandon, to leave, to vanish" – and that's exactly what we may experience during a Lunar Eclipse – the desire to surrender and let go of parts of our self that limit our greater potential.
A Lunar Eclipse provides a powerful opportunity to release deep-seated wounds, move beyond old fears and to transcend negative patterns or traits within the shadow self. It is time to ECLIPSE anything that maybe holding you back. With the Moon in Leo during the Eclipse, we will be drawn to both recognise & have gratitude for our uniqueness. A time to let go of anything that inhibits our creativity, our individual soul song, anything/anyone that dims the luminosity & intensity of our light. The world stage is waiting for YOU/US to step up & serve… by simply being the grandest version of YOU/US.
As I mentioned briefly above, our January Lunar Eclipse is bringing to a close the theme/energy from a series of Leo/Aquarius Eclipses that have been transiting since February 2017.
Maybe cast your mind/heart back to February 2017 and the themes that were weaving your life at that time. This LAST Leo/Aquarius Eclipse is now bringing that theme to a close… oh lordy, it is happening… this is BIG baby… let all the shite fall away… let go & let SHINE. Play, create space for curiosity, dream big, take that step in the direction of your heart… BELIEVE it, BELIEVE in YOU…. come alive to LIFE.
Looking ahead, we have two more sets of Eclipses happening in 2019 (taking us into 2020), that involve the play of Cancer-Capricorn. The theme here will be letting go of too much structure (by that I mean CONTROL) & moving into a softer space of imagination, dreaming, intuition & nurturing. YES…. an expansive flow of the FEMININE.
Overall Meaning of our Super Full Moon Total Lunar Eclipse
With this expansive close to the Earth Super Full Moon weaving the last of the Leo/Aquarius Eclipses, we are stepping into a new era of awakening. The door to playing small in the world is closing as the world stage awaits our SoulFULL presence.
This is not about ego, getting our rocks off on having fame/fortune… but this is a deeper knowing that when we KNOW we are enough & LOVE ourselves enough to commit to the path of joyful self expression regardless of what others think of us… only then can the world really change.
As I mentioned at the top of this page —the world can only be what you believe it to be… and what you believe about yourself is what the world becomes–is THE message that this Full Moon Lunar Eclipse is here to anchor deep within our beings.
When we truly get this, the very foundations of lives change. Conformity becomes a thing of the past, and independant, original, pioneering, adventurous, & with a dash of courageous BEING & BELIEVING in YOU is what will create a world more beautiful. If you don't like what is happening in politics, with the environment, with our food sources and with our water (you insert '—–' what is relevant to you), then BELIEVE it into a different state of being. BELIEVE that each of us has the power to be a force of GOOD & an DIVINE instrument of change.
With ALL the planets in DIRECT motion since Uranus moved direct on the 7 January 2019 (& all planets will be direct until Mars moves Retrograde in early March 2019), NOW is time for YOU to DIRECT your energies into the greater desires of your heart & TAKE ACTION. Step up… take that new job, ask for that payrise or take up that study that you have talked about for a couple of years. Launch that idea, create the website, play more, rest more, sleep more & play more again. Let JOY be the catalyst of creating a great life of generous, kind & blissful moments.
DO SOMETHING, actually ANYTHING that brings you Joy… and discover how magically it will lead you along the path of health, wealth & greatest happiness.
Here's to rocking the socks off the world this Full Moon… you got this, I believe in YOU, Leo the Lion believes in you. Now it is time for YOU to believe in YOU & SHINE ♡
Feel like blissing in a little ceremonial alchemy this Full Moon Eclipse ?
Sharing my 3 Kings Ceremony… a blessing on your home & an invocation of peace, joy & prosperity throughout 2019. If you don't have Frankincense or Myrrh resins at home you could use essential oils… or maybe even crystals in water… or even your favourite pebbles from a nearby river, or shells from the beach.
The key is breathe, have reverence for the Earth, the whispers of the Wind, the warmth of the Sun, the caress of Raindrops on your skin & the Songs of Nature… let DIVINITY guide, protect, nuture & LOVE you for the year ahead.
OmAhOm
xx Simone M. Matthews