Full Moon in Virgo
Moon VIRGO (19.370) & Sun in PISCES (19.370)
Tuesday 10th March 2020 – 3:47 am AEST (Australia)
View times in your City/Country>

Moon – past, intuition, unconscious, emotions, nurturing, feelings
Sun – now, identity, consciousness, self-esteem, expression

Virgo (Earth) – Organised, practical, diligent, cautious, sensible
Pisces (Water) – Sensitive, psychic, dreamy, creative, charitable
Our March Full Moon in VIRGO, is reflecting the light of the SUN in Pisces. And adding to the anatomy of this Full Moon are three other potent aspects – the Neptune is conjunct the Sun, Mercury moves direct about 10 hours after Full Moon, and the Moon is also a Supermoon.
No wonder I didn't get any sleep last night in the lead up to this Full Moon… she is painting a most expanded picture indeed. This Full Moon is a pivotal moment of self-realisation and blessed change toward our inner-most dreams.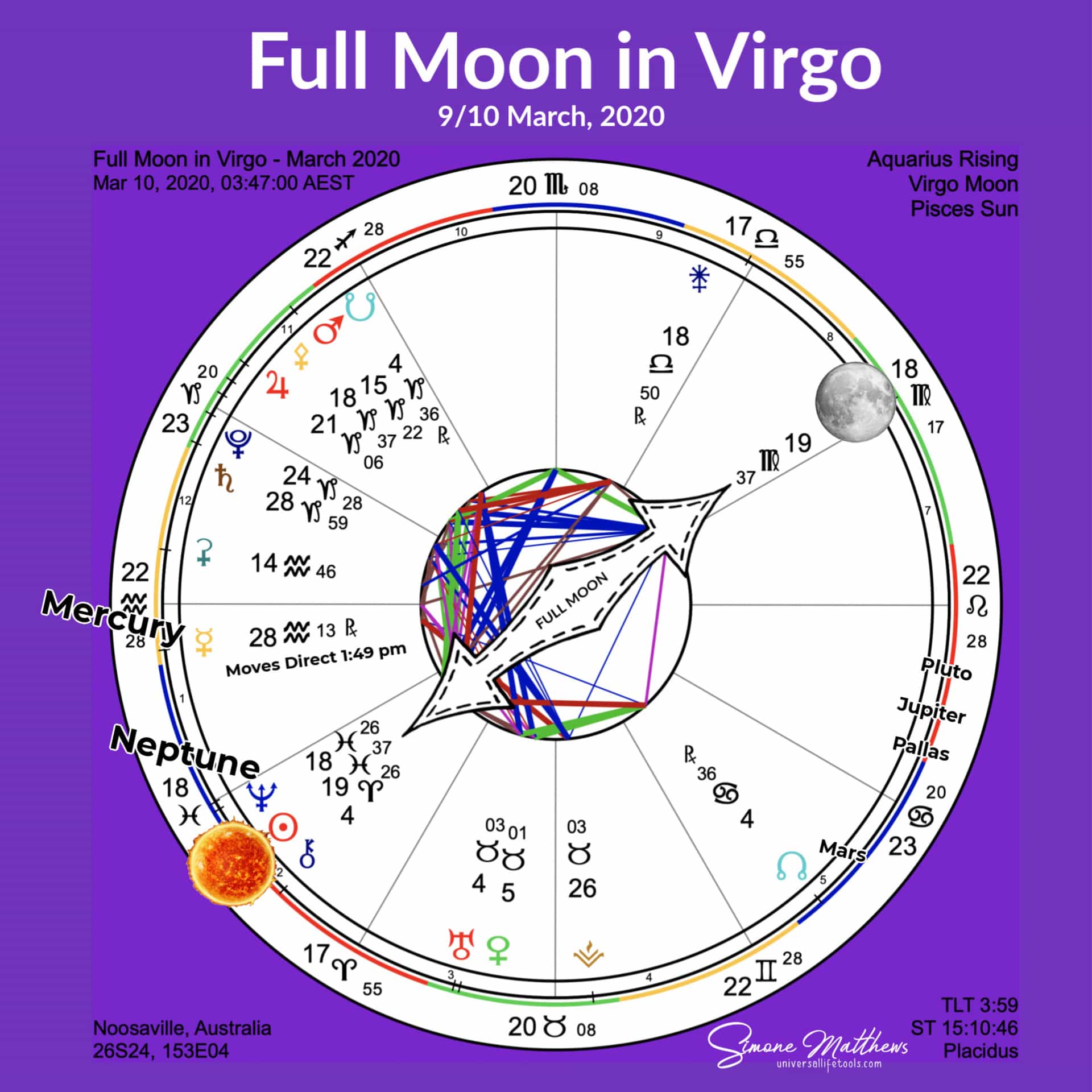 Virgo symbolises the Virginal Maiden – representing purity, the natural world in splendid perfection, the healing powers of the natural realm. She represents self-transformation, how we nourish our body, minds & Souls. Ruled by Mercury, she represents the feminine archetype of Mercury the messenger planet – feeling, intuitive expression.
With our Moon in Virgo opposing the Sun in Pisces, she is whispering to us through the stars, through nature, through the wind to listen to the deep callings of our Souls.
During this Moon, particularly as planet Mercury moves direct just hours after the Full Moon, we have the opportunity to become conscious of where we are holding on, controlling or becoming fixated on our plans.
Plans are great. Preparing a structure for your life can be helpful. As the saying goes 'fail to prepare, prepare to fail'. However, plans must also be flexible, consciously adjusted & tweeked.. or even at times plans call for being dumped completely as you let yourself receive the wisdoms gained from your endeavors.
The thing is – letting go is REALLY hard to do at times. We sometimes become fixated on HOW a PLAN must flow. The EXACT steps a plan MUST take to create a goal. We control ALL the VARIABLES of the plan in order to feel a sense of comfort – maybe from a fear of failure or to ensure a desire outcome is reached within YOUR timeframe.
Letting go is not failure, but rather a recognition of lessons learnt & wisdoms gained and then creating the space for a new Golden Door of opportunity to open for you.
This Full Moon is about letting go of every precise (and often exhausting) minute detail and falling into the warm & oozy feeling of your intuition. Plans aren't necessarily linear… and in fact, often those curve balls in your plans is where the real magick is found.
You may find you will be faced with choices of letting go of something that you know in your heart is not for you, even though your mind/ego is grappling with cutting something loose as you may have invested time, money, energy, love into it. Just let it go. What is this Full Moon whispering to you. You know you know the answer, it is just your ego that you are grappling with that is keeping you stuck!
A Higher Wisdom
We are being bathed in a higher knowing, a deeply ancient wisdom this Full Moon. You may find your lucid dreams are 'showing' you a greater potential for your life thanks to the Piscean Sun conjunct Neptune this Full Moon.
Neptune is the planet of the mysterious, the illusionary and beyond the confines of the program. It calls us to gain insights from higher states of conscious/awareness/dream state. In it's polarity, Neptune can also represent the hypnotic trance like state of delusion.
Personally, I feel this Full Moon is a deep insight into not only the trance of humanity (eg Corona Virus, and Toilet Paper Gate), but also a deep reflection where are you 'pretending' to yourself that what you are doing (be it work, relationships, health, lifeplan etc) is REALLY in your best interests, or of sacred service to the whole.
There are many many pathways to the same destination. Is the pathway you are currently on REALLY the right pathway for you ? Or is their a voice, a whisper on the wind, a reverberant knowing in your Heart that it is time to shift gears & alter paths ? Is all the work, service & growth you have woven these past years, now holding you in its womb and calling you to step up!
Let the magic unfold this Full Moon. Enter the dream. Allow the mystery, the deeper dream of the Cosmos reveal itself through you. Let it emerge unencumbered. Let go of all the details. There is a time & place for that as 2020 unfolds & a new era is birthed. This Full Moon is about ANCHORING your illuminated Cosmic Dream.