Right Relationship. Blessed Connection. That is the theme of our August Full Moon in Aquarius, as she reflects the light of the Sun in Leo.
This Full Moon is about moving beyond the 'stuff' that fosters separation in our lives, and instead taking our selves to a higherplace. A place that seeks connection, that moves into a loving relationship with the immense diversity of life and ultimately inspires all sentient beings to shine in their inherent greatness.
Our August Full Moon will also challenge us, as she makes a hard square to Uranus. But I believe through adversity we have the potential to uncover our true selves as we riseup to the challenges through Divine Will & Sacred Grace.
Full Moon in Aquarius
Moon AQUARIUS (11.460) & Sun in LEO (11.460)
Tuesday, 4 August, 2020 – 1:58 am AEST (Australia)
View times in your City/Country>


Moon – past, intuition, unconscious, emotions, feelings
Sun – now, identity, consciousness, self-esteem, expression

Aquarius (Air) – humanitarian, determined, individualistic, rebellious, pioneer, independant
Leo (Fire) – leader, affectionate, generous, outgoing, stubborn, authoritative, courageous, warm-hearted
Aquarius Full Moon
The Moon (our inner-world) at 11.460 AQUARIUS, an air sign that embodies individuality, independence, fringed with eccentricity, but is also divinely humanitarian. Hey, I a married to a blessed Aquarian, so I am of course biased, but I do love them!
And our Moon is opposing the Sun at 11.460 LEO, a fire sign that commands leadership, having the courage to stand tall and be 'out there' in the world. Believing in yourself and standing proud in your voice, your gifts, being YOU.
And to add into the Mix of things, our Aquarius Full Moon & Leo Sun are both making a rather hard square (90 degree) angle to Uranus at 10.460 Taurus. Uranus is ruler of Aquarius (along side Saturn), and the theme for Uranus is 'expect the unexpected'. Uranus is like a wildcard of the pack, unpredictable, original and out of the box thinking. Uranus can spark revolutions as it has its gaze on more humanitarian, freedom loving and unconventional pursuits.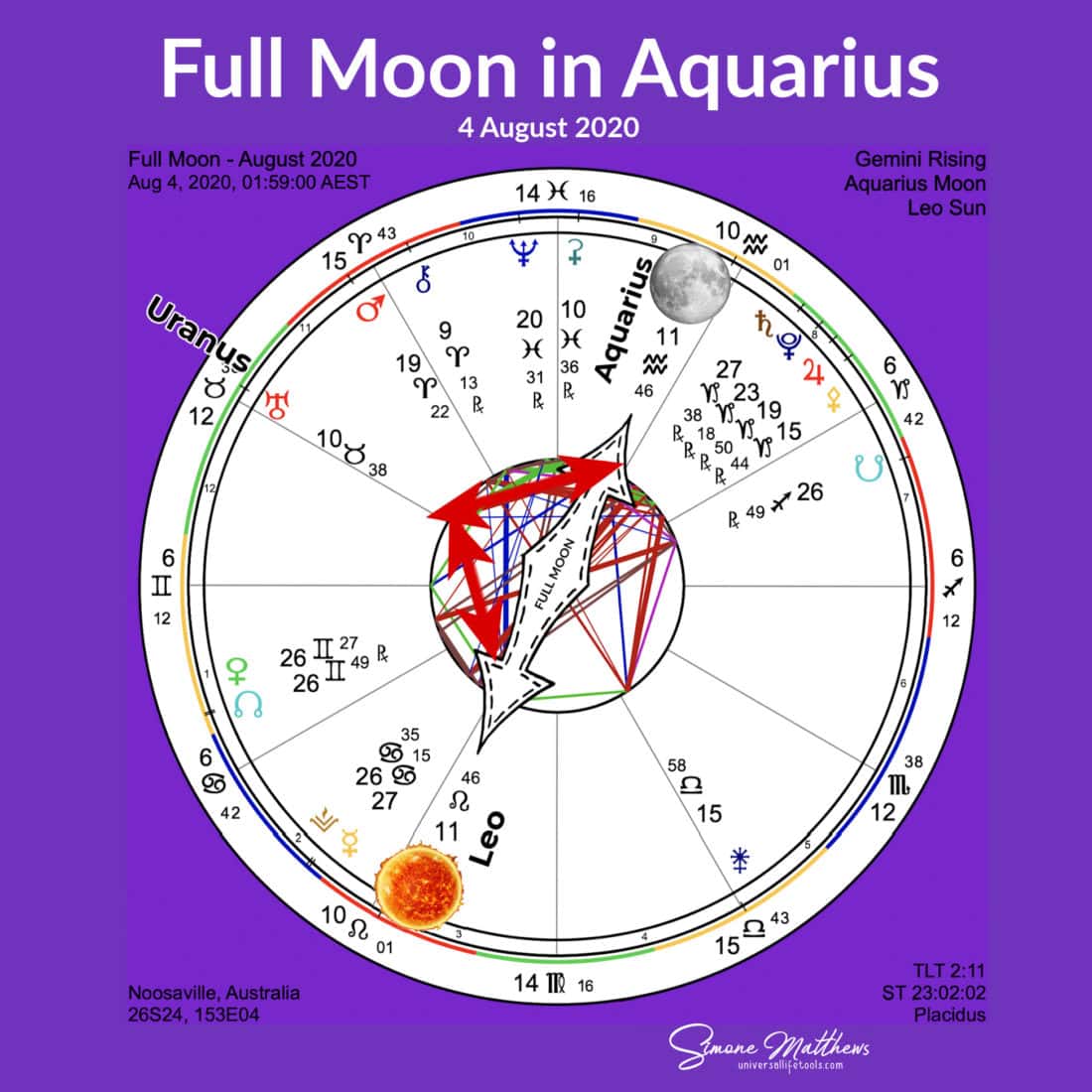 I feel that our August Full Moon is taking our consciousness, our awareness to a higher place. Beliefs about ourselves, who we thought ourselves to be within the world. There will be a shattering of illusions, limitations that society have placed on our freedoms… and a whole new WORLD VIEW will open up to us before our very eyes.
Humanitarian Aquarius, illuminated by the larger than life Leo Sun, is being shaken up by the rebellious nature of Uranus. This Full Moon is calling us to get out of our heads. Shatter the paradigms of the past. Transcend the limitations created by belief systems that are now hanging by a thread, and that no longer bear the weight of evolved science.
A new science is opening up to our consciousness, a science that doesn't disregard consciousness, and the energy of the Human Heart. A science that is a bridge between Heaven and Earth. A science of Art, Medicine, Healing, Society, Relationships, Finance, Soulful Purpose that embodies the notion that we not only live within the Cosmos, but the Cosmos also lives within us!
As the NEW WORLD view begins to unfold deep within our hearts, like a blossoming lotus, we will find ourselves called to question RELATIONSHIP.
Who are we ?
Who are we in relationship to each other ?
Who are we in relationship to the stars ?
And who do we wish to be in relationship to this emerging NEW WORLD ?
You may feel your Heart is being shattered wide open to feel into these questions and answer deep from the Heart of the Cosmos itself. Are we really separate ? Is the microbial realm really our enemy ? What could be the gift of this moment and how can I embrace and flourish this gift ON PURPOSE ?
As we come into the annual Lion's Portal on the 8 August (I will write more about this next week), we are offered the opportunity to take ourselves higher place and move into Right Relationship with life itself. It is from this place we have the power to move mountains. We no longer fight against the tide, but rather flow with natures inherent intelligence.
Rather than go to war, we choose love.
Rather than shame, we choose empathetic compassion.
Rather than separate ourselves, we connect even deeper.
This Full Moon let Uranus in earthy Taurus get you back to nature. Barefoot on the Earth. Face (and your naked body if you can manage it) to the Sun. Let Mother nature open your eyes to the love & inter-connectivity of all things. Trees. Birds. Bees. Oceans. A Leaf. Mountains. Lakes. Blade of Grass. Forest Floors. And even the unseen world of microbes.
As I share in my new Lightrition your Life Course – Did you know that there are more viruses here on Earth than stars in the Cosmos ? And did you know that the ancestors of our human mitochondria are bacteria? Or do you know that humans wouldn't survive or be able to adapt to a changing Earth environment without Bacteria, Fungi & Virus? The microbial world are essential to our wellbeing, and infact 99% of the genetic material within our bodies is not our own, it is microbial ! And all of us are part of each other, we are part of other human beings.
We thrive through connection. Nature's lightcodes are infused within our DNA, and they are being LIT UP during this Full Moon as Uranus takes our minds beyond the program of separation.
My advice… Turn the TV off. Don't scroll through endless feeds of negative media. Get our into nature and follow the calling of your heart. She knows.
My heart, my love, my blessings to you on this Full Moon.