Our Scorpio New Moon heralds a time of deeply intense dissection of our inner-world, as well as a flourishing of our primal sensuality & rapturous passions.
She is a little intense… actually off the richter scale… but with all deep inquiries, the light/potential/joy to be experienced at the end of the tunnel is all worth it!
Scorpio New Moon
This weekends Scorpio New Moon is calling us to get naked with ourselves, to shed the masks, the fears, the illusions, the beliefs that no longer resonate to the person we are now, and our Soul-self that is yearning to be unleashed.
To do this, we must be prepared to dive deep, look down the deepest barrel of psyche, wade through the grief, the hurt, the sadness and come face-to-face with the most uncomfortable parts of ourselves that we may have consciously/unconsciously divorced ourselves from.
Scorpio in its 'greater potential' helps you see behind the facade and uncover the truths. Through 'death' (transition) we can truly 'rebirth' (awaken) it a joyful and luminous lightness of BEing. We can see that our perceived failures, regrets, griefs and shattered hearts of the past didn't actually break us (though it may have felt like this at the time), but rather were all stepping stones in this experience of being Human… and opening our Hearts to BE all that we know ourselves to be, simply LOVE.
New Moon Aspects
One of the reasons behind this intensely emotional New Moon is that the energy is building as we come into our The Great Conjunction of Jupiter & Saturn in December 2020. You can see on the chart below that Jupiter & Saturn are moving closer & closer together with each day.
During our Scorpio New Moon, Pallas (Wisdom), Jupiter & Pluto are squaring Venus (Love & Beauty), whilst Vesta (archetypal High Priestess) is in opposition to Ceres (Earth Mother). And Juno (relationships, committment) is coming up close to our New Moon too. These aspects takes us even deeper into Scorpio's journey of death/rebirth/transformation. A journey into the darkest recesses of self, including our sexuality, our desires and rapturous sensuality.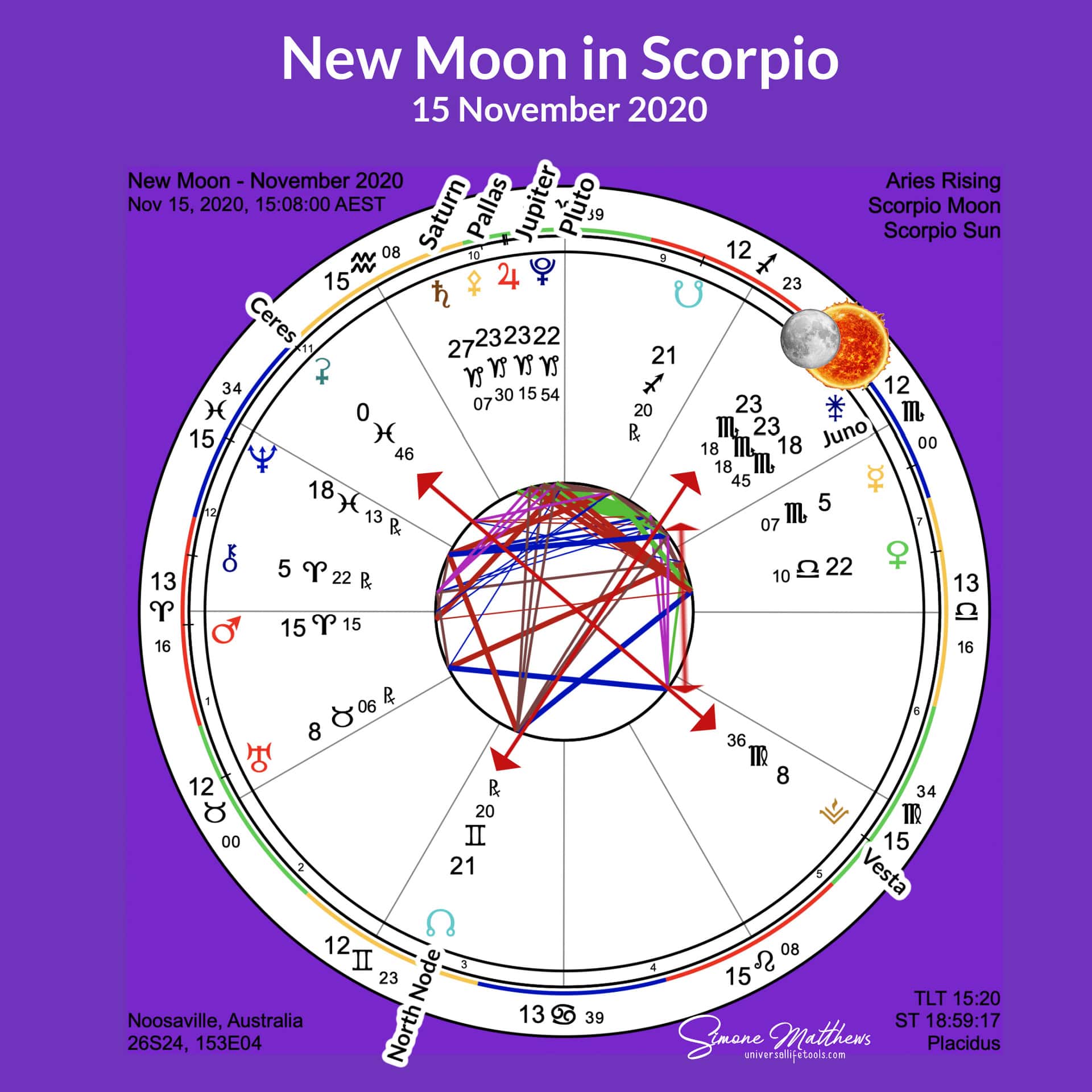 Our New Moon will empower us to heal our sensual/sexual aspect of ourselves. To let go of labels such as victim, traitor, cheater, abuser and the like… and instead raise ourselves into a higher octave of quantum forgiveness. Forgiveness does not absolve others of their actions, bur rather frees you to take your power back, harness the energy of your sexuality and enter into a cosmic union with LIFE. Watch how EVERYTHING in your life changes through forgiveness.
A gentle reminder this New Moon, be conscious of Scorpio in its 'shadow' which can whip up a rage of discontent, blame & devious manipulation. Ouch, beware of the 'sting' of a human scorn !
Choose a higher ground this Scorpio New Moon and 'see' the shadow from a place of non-judgement in order to be empowered to emerge as the beautiful butterfly in full flight.