This week over 11 Million people have been in lockdown in Australia, which represents close to 50% of the Australian population. With less than
35 active 'cases'
of COVID Australia Wide
, & the majority of these 'cases' in Quarantine, Australians have been 'mandated' to maskup and stay home.
Since January 1, 2021, there has been 1 death from COVID Virus here in Australia.
In comparison,
there have been 335 deaths following COVID vaccination, and a huge 33,807 adverse reactions following vaccination – including a wide variety of reactions including Bells Palsy, Blood Clotting, Guillain-Barr
é
, Myocarditis, Pericarditis, to name a few.
And if you have an Adverse Reaction to any COVID jabs, all of which are still in Stage III Clinical Trials, then you have no access to ANY
financial compensation.
Even after clinical trials, it important to not be blinded by the illusion that Vaccines undergo
stringent assessments by the TGA
(our Australian version of the FDA in the United States).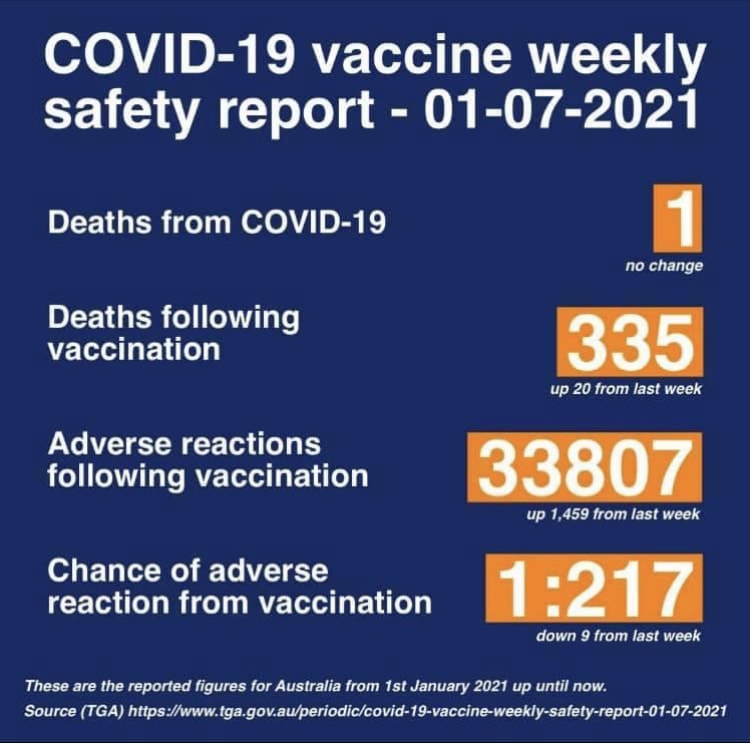 It seems incredulous when you look at the above data, that National Cabinet this week made the jabs compulsory for all Aged Care Workers here in Australia. And even our Western Australian Premier Mark McGowan is backing mandatory COVID jabs for mine site workers. What's next, our Teachers ?
Feeling into into the trauma that is palpable in Australia & all over the world this week, I penned the following FaceBook update – I know my Reason – which I have copied & pasted below. YES I know, FB of all things… but I am on there to share with my beloved friends on occasion. I know of many friends who are being shamed in their communities for following their heart & the inner-truth… hence I hope that my post may bring a little Grace to your life in this moment.
There are two basic motivating forces: fear and love.

When we are afraid, we pull back from life. When we are in love, we open to all that life has to offer with passion, excitement, and acceptance. We need to learn to love ourselves first, in all our glory and our imperfections. If we cannot love ourselves, we cannot fully open to our ability to love others or our potential to create.

Evolution and all hopes for a better world rest in the fearlessness and open-hearted vision of people who embrace life.

~ John Lennon
I know my Reason
What a beautiful morning out & about in the world. It doesn't take much energy to give a beaming smile to those that pass you by, or offer warm & kind eyes through exchanged glances. You never know what maybe happening in another persons world… so kindness & generosity of heart is free to give, yet the ripple effect maybe profound.
Whilst 99.9% of the people around me we were wearing masks (it was a morning of errands starting with an early morning appt, followed by the PO, Bank, Grocer & even Salvos), I experienced so much GG this morning (Godliness & Graciousness) that I actually came home so much richer for the experience.
I truly believe with whole heart that each of us are here on Earth for a Reason. I know my Reason, and I choose to live that Reason each and every day. My Reason may not resonate with you, you may even think my reason is silly (or ignorant, or selfish, or unspiritual… I've heard it all)… but alas it is MY REASON & no other persons reason… cause my reason is between me & God. Just like your reason is between YOU & God (or whatever nectar of LOVE you partake in).
When I wake each day, I breathe in the sunrise and ask to be shown my Reason for that day. What I am to give in reciprocity for this amazing thing we call life, and how I am to serve a greater love that breathes me into existence.
Over the last 18 months I have done my best to walk the talk of my Reason each and every day. In doing so, I have been shamed, belittled, and called some of the most atrocious names that I dare not put in print! I have lost loved ones & friendships as I discovered that those that I thought loved me unconditionally, did in fact have a 'condition' of who/what I should be in their eyes.
Through it all, I have endeavoured to keep my head held up high, my bare feet planted firmly on the Earth, and just like the 4 Toltec Wisdoms, have done my best to be impeccable with my word. I have cried a lot, grieved and balanced it all with big belly laughs too… allowing myself to fall into that place of luscious softness. That inner-feeling/knowing that I am where I am meant to be in this moment, growing & evolving in reverence with this beautiful life.
In walking my Reason each and every day, I have come to a place of deep Peace, Radiance of Spirit & most luminous Waves of Love that I have ever experienced within my life. My soul-friendships have blossomed into a gloriously abundant Eden. My heart for my children & their partners has gone quantum. And my Love for my darling husband
Shaun Matthews
has moved to another dimension, our hearts entwined in sacred Grace.
Whilst chaos whirled this morning (aka the evolving lockdowns here in Oz), my honey sent me a video of the most glorious rainbow he captured. The polarity displayed so eloquently. And how nature contains all the 'news' we need.
Now to planning our next steps. Becoming community-sufficient with our water, our power, our food. Big plans are unfolding in the days, weeks & months ahead… the LOVE is rising.
May we all find a place within ourselves where we can take ourselves higher, and trust/respect that the choices each of us are making in this moment are serving our individual Spirit Reasons. The world is certainly a much more beautiful place to live in when we do.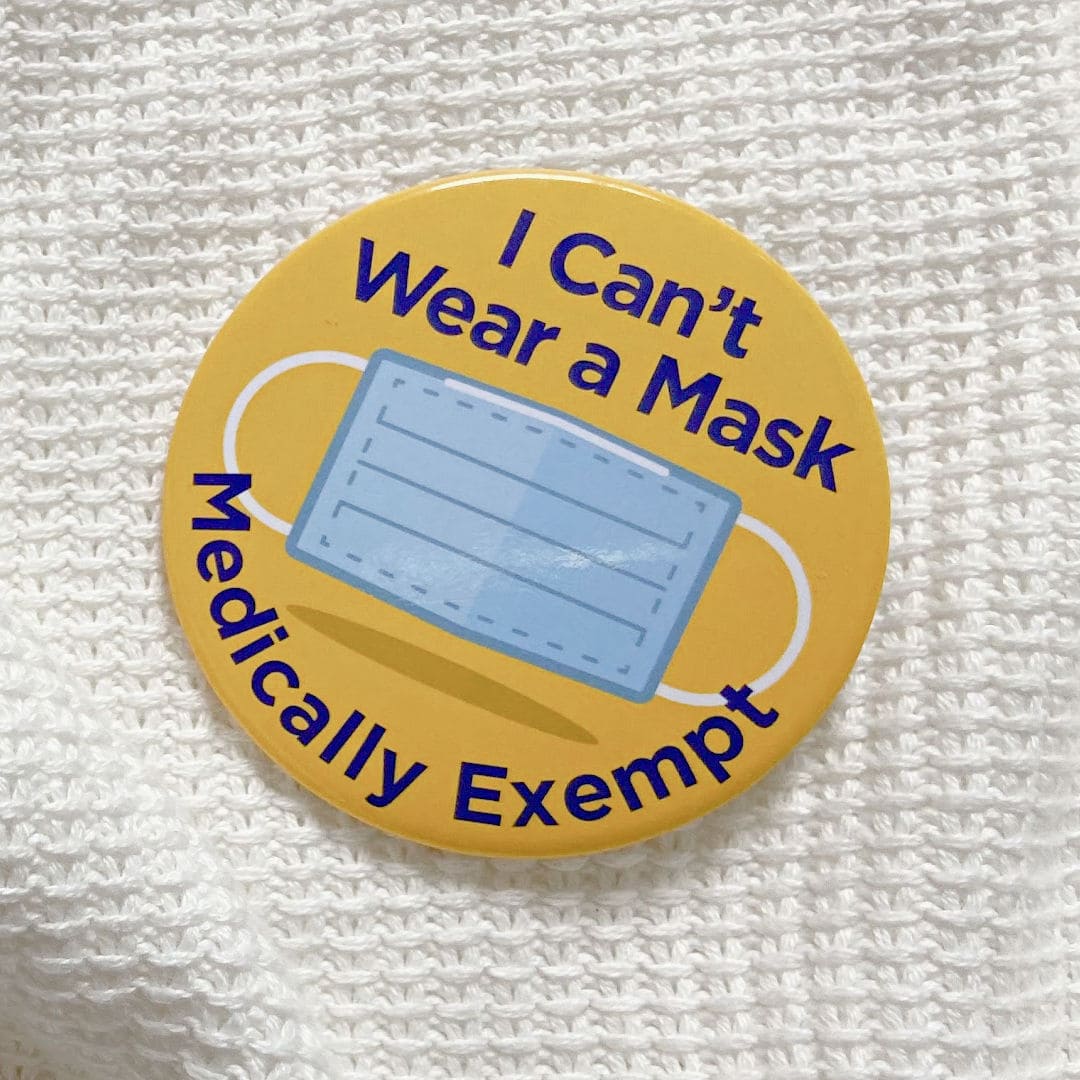 PS I shouldn't
need to wear this badge
(pictured above), as I follow my Reason, but alas I am also human, so I do. I find it brings comfort to others, opens up generous & wonderfully engaging conversations with strangers, and touchingly elicits many warm-smiling eyes. If you see me out-n-about, I always carry spares if you need one too
Or you can pick one up for yourself.

Connection, our True Identity
A beautiful friend of mine, an Indigenous Australian here on the Sunshine Coast – Jandamarra Cadd – posted a live video to his FB this week. A raw, heartfelt & deep insight into this feelings of this moment.
You may not agree with everything he says, but alas the deeper truth within his heart may ring bells of truth for you also. Sharing below an extract of his LIVE, and you can read more about Jandamarra's work here.