Children are sacred. As parents, guardians, teachers and caring adults we have a moral, ethical and soulful obligation to protect them from harm. We are their voice in a world of so much noise, censorship & criminal subjugation of the facts. We hold children's heart & souls in our hands. We owe it to this next generation emerging to be FULLY informed in all facets of COVID Vaccination in order to make decisions that do no harm to our blessed Children of the Earth.
As I have shared many times throughout 2021, Children have had to endure school closures, being cut off from friends and relatives, cancelled medical and dental appointments, masks in the classroom and now, they face huge emotional pressure to have a vaccine they don't need. Over the last 2 years we have forced them to carry a burden that was never theirs to carry. No child should have to suffer in order to protect adults, especially the vast majority of adults who have had the vaccination themselves and are apparently protected (proven to now be incorrect) from severe illness and death. Some have claimed that children need to be vaccinated in order to keep schools open. If this is the case, we are vaccinating against politics — not a virus.
Like many countries around the world, Australia this week (January 10, 2022) started to roll out COVID jabs to 5 to 11 year old children, which experts around the world have labelled the most dangerous vaccines in human history. On a personal level I find this rollout devastating to say the least. Real world data clearly shows that. If only Governments & Regulatory Agencies had the gumption to humbly admit they were wrong, let the public know that bad batches have been discovered, and endeavour to do everything in their power to make things right. Unfortunately politics is not about truth & transparency, it is about power & control.
Sharing with articles, studies, videos and expert opinions from around the world that highlight the reason WHY children should not be jabbed with Stage III clinical trial mRNA COVID vaccines. May this information help you to make FULLY INFORMED Consent decisions for Children's Health & Wellbeing.
Open Letter to all Australians
I am the cofounder of QHPA.org. a group of Medical, Complementary and Allied Health Professionals who believe in the fundamental freedom of every individual to choose their own medical treatments, procedures and healthcare options.. Last last year we were a signatory to an important Open Letter to Australian politicians and regulatory agencies calling for the halt to the roll out of the covid vaccination programme to Australian children. Joining forces with key medical networks both in Australia and internationally, this formal letter contains up-to-date research and references, and makes the strong conclusion that vaccination of children is neither safe nor warranted.
Please DOWNLOAD this crucial open letter and distribute to all parents, grandparents, teachers and those concerned Australian citizens who care about the future of our children in Australia.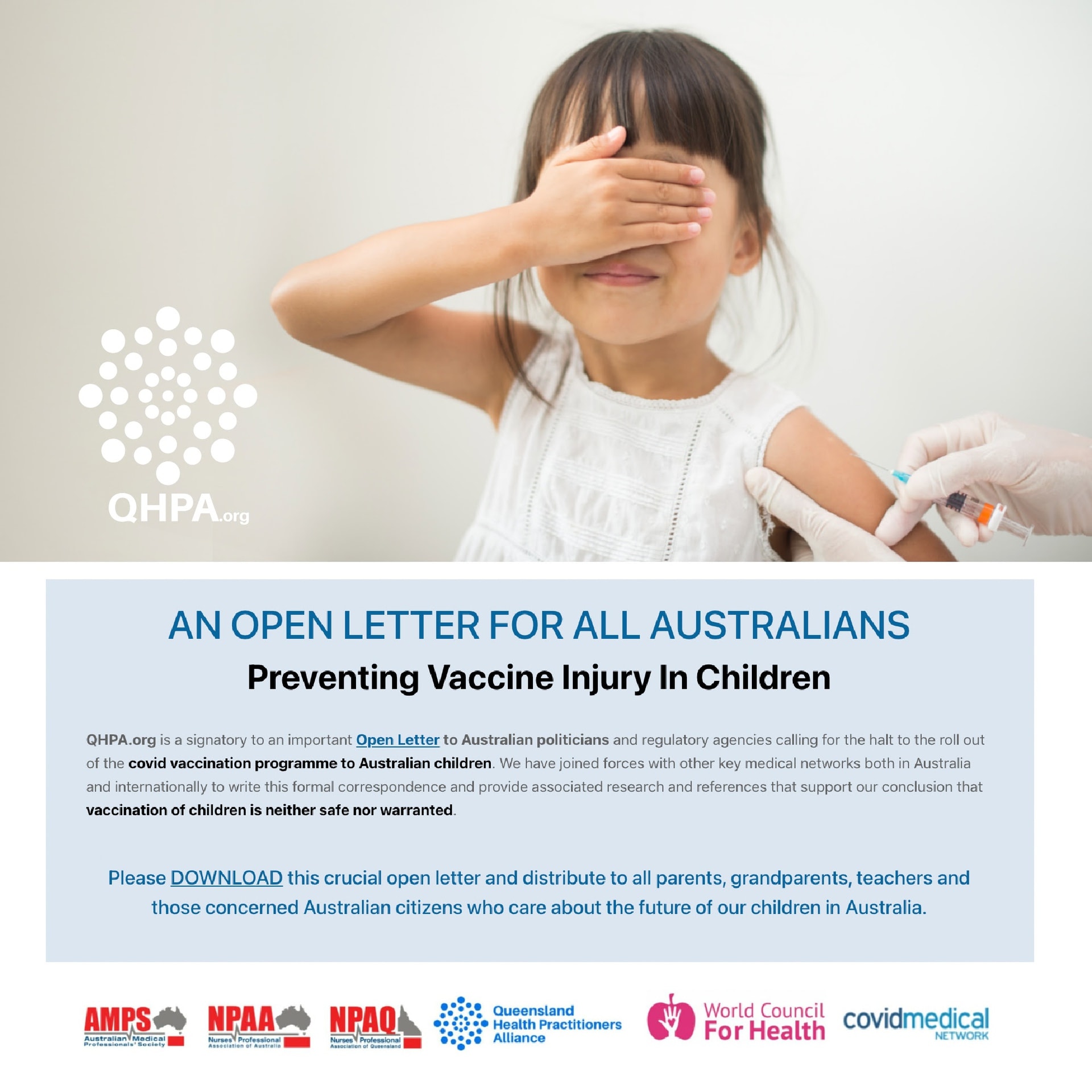 Dr Robert Malone
Dr Robert Malone – the inventor of mRNA technology – is an an internationally recognized scientist/physician and the original inventor of mRNA vaccination as a technology, DNA vaccination, and multiple non-viral DNA and RNA/mRNA platform delivery technologies. he holds numerous fundamental domestic and foreign patents in the fields of gene delivery, delivery formulations, and vaccines: including for fundamental DNA and RNA/mRNA vaccine technologies.
Dr Malone clearly states that there is no benefit for your children or your family to be vaccinating your children against the small risks of the virus. In addition to the video below, I highly recommend these well referenced articles by Dr Malone:
Here is a transcript from the above Video
My name is Robert Malone, and I am speaking to you as a parent, grandparent, physician and scientist. I don't usually read from a prepared speech, but this is so important that I wanted to make sure that I get every single word and scientific fact correct. I stand by this statement with a career dedicated to vaccine research and development. I'm vaccinated for COVID and I'm generally pro-vaccination. I have devoted my entire career to developing safe and effective ways to prevent and treat infectious diseases.
Before you inject your child – a decision that is irreversible – I wanted to let you know the scientific facts about this genetic vaccine, which is based on the mRNA vaccine technology I created. There are three issues parents need to understand:

The FIRST is that a viral gene will be injected into your children's cells. This gene forces your child's body to make toxic spike proteins. These proteins often cause permanent damage in children's critical organs, including
Their brain and nervous system
Their heart and blood vessels, including blood clots
Their reproductive system
And this vaccine can trigger fundamental changes to their immune system
The most alarming point about this is that once these damages have occurred they are irreparable
You can't fix the lesions within their brain
You can't repair heart tissue scarring
You can't repair a genetically reset immune system, and
This vaccine can cause reproductive damage that could affect future generations of your family

The SECOND thing you need to know about is the fact that this novel technology has not been adequately tested.
We need at least 5 years of testing/research before we can really understand the risks
Harms and risks from new medicines often become revealed many years later
Ask yourself if you want your own child to be part of the most radical medical experiment in human history
One FINAL point: the reason they're giving you to vaccinate your child is a lie.
Your children represent no danger to their parents or grandparents
It's actually the opposite. Their immunity, after getting COVID, is critical to save your family if not the world from this disease
In summary: there is no benefit for your children or your family to be vaccinating your children against the small risks of the virus, given the known health risks of the vaccine that as a parent, you and your children may have to live with for the rest of their lives. The risk/benefit analysis isn't even close. As a parent and grandparent, my recommendation to you is to resist and fight to protect your children.
Parents with Questions
Sharing with you resources from Community Organisations that are asking the hard questions and deeply caring about the future of our children.
HART – Health Advisory & Recovery Team
HART is a group of highly qualified UK doctors, scientists, economists, psychologists and other academic experts. We came together over shared concerns about policy and guidance recommendations relating to the COVID-19 pandemic.
HART have penned the following open letters & articles outlining their concerns regarding Children & COVID Vaccines.
Covid Medical Network
The COVID Medical Network is a group of Australian Senior Medical Doctors & Health Professionals concerned about the health impacts of the lockdowns used in response to the SARS-CoV-2 outbreaks across Australia. In this OPEN LETTER to the ATAGI chairman, they request that the vaccination rollout be cease for Australian Children 5 to 11 year olds – citing 9 concerns.
PANDA – Pandemics Data & Analytics
There is no medical or public health case for the mass vaccination of children and young people, or for coercive or restrictive measures affecting those who are unvaccinated for the COVID-19 vaccines. It is a case of all risk with zero benefit.
Please view the following Resources & Videos from PANDA:
"Ten reasons why children and young people should not get the COVID-19 vaccines"


THERE IS THUS NO MEDICAL OR PUBLIC HEALTH CASE FOR THE MASS VACCINATION OF CHILDREN AND YOUNG PEOPLE, OR FOR COERCIVE OR RESTRICTIVE MEASURES AFFECTING THOSE WHO ARE UNVACCINATED.
Children's Health Defence
The following articles by Children's Health Defence references data that shows Pfizer COVID Vaccine Fails Risk-Benefit Analysis in Children 5 to 11 and that children are at risk of life-long health problems from COVID Vaccine. Top Ten reasons not to let your child get the COVID Shot.

Over 15,000 Doctors & Scientists Declaration
15,000 physicians and medical scientists recently published the Rome Covid Declaration, to alert citizens to the deadly consequences of disrupting life-saving treatment and suppressing open scientific discussion.
WE, THE PHYSICIANS OF THE WORLD, united and loyal to the Hippocratic Oath, recognizing the imminent threat to humanity brought forth by current Covid-19 policies, are compelled to declare the following: THAT HEALTHY CHILDREN SHALL NOT BE SUBJECT TO FORCED VACCINATION (view supporting evidence) – also detailed below.
Vaccinating Children Means Unnecessary Risks
Canadian Covid Care Alliance
The Canadian Covid Care Alliance is an alliance of over 500 independent Canadian doctors, scientists, and health care practitioners. They have produced the following Video + Downloadable slides raising concerns over the Pfizer Vaccine for both Adults & Children
Vaccination & Transmissability of SARS-CoV-2
Tayag Y
Stop calling it a pandemic of the unvaccinated. The Atlantic.


Transmissibility of SARS-CoV-2 among fully vaccinated individuals
https://www.thelancet.com/journals/laninf/article/PIIS1473-3099(21)00768-4/fulltext

Singanayaman A Hakki S Dunning J et al.
Community transmission and viral load kinetics of the SARS-CoV-2 delta (B.1.617.2) variant in vaccinated and unvaccinated individuals in the UK: a prospective, longitudinal, cohort study.
Lancet Infect Dis. 2021; (published online Oct 29.)


Wilder-Smith A
What is the vaccine effect on reducing transmission in the context of the SARS-CoV-2 delta variant?.
Lancet Infect Dis. 2021; (published online Oct 29.)


Bergwerk M Gonen T Lustig Y et al.
COVID-19 breakthrough infections in vaccinated health care workers.
N Engl J Med. 2021; 385: 1474-1484


Hagan LM McCormick DW Lee C et al.
Outbreak of SARS-CoV-2 B.1.617.2 (delta) variant infections among incarcerated persons in a federal prison—Texas, July–August 2021.
MMWR Morb Mortal Wkly Rep. 2021; 70: 1349-1354

Acharya CB Schrom J Mitchell AM et al.
No significant difference in viral load between vaccinated and unvaccinated, asymptomatic and symptomatic groups infected with SARS-CoV-2 delta variant.
medRvix. 2021; (published online Sept 29.) (preprint).
Doherty Modelling Report
The Doherty Institute provides modelling in response to the Covid pandemic to the National Cabinet. The Chief Health Officer and politicians refer to the Doherty Modelling in most press conferences and in the media.
The Doherty Modelling Report states;
"Expanding the vaccine program to the 12–15-year age group has minimal impact on transmission and clinical outcomes for any achieved level of vaccine uptake."
If this report by the Doherty Institute is a guideline for the National Cabinet, why are they adamant on vaccinating school children when reportedly it changes NOTHING?
Conflicts of Interest in Australia's Vaccination Policies
The Informed Medical Options Party demands transparency. Not only should conflicts of interest be permanently disclosed in all government websites and literature, but ALL specialists and institutions who have a financial conflict of interest, should refrain from the promotion of vaccination, advice to government or involvement in vaccination policy formulation. Vaccination policy should be formulated and reviewed by Microbiologists, Virologists, and Immunologists who have no conflicts of interest. Potential COI outlined below in two parts: INDIVIDUALS and ORGANISATIONS.
Psychology, Mass Formation, Children
The following video about global Psychology & Mass Formation may help to understand these changing times, and why people do the things they do. Professor Mattias Desmet is a professor of clinical psychology at Ghent University and holds a masters degree in statistics. He has been discussing this phenomenon regularly, explaining why people willingly give up their freedoms, and how to break free from this as a society. The discussion also includes reflections on COVID Jabs & children.
Legal Actions
Whilst QHPA is undertaking its own legal action, there are many other actions taking place in Australia to help protect our children. Please watch the two video below which include discussion of potential extent of adverse events in children.
Meryl Dorey and Julian Gillespie, retired barrister, sat down to discuss the up-coming court case against the Department of Health. This is now being expanded into an injunction to stop the roll-out of COVID jabs for children aged 5-11 years old.
Julian explains how our government is lying about the number of deaths in our country (both from COVID-19 and vaccines), the shadow body really calling the shots behind the rollout, discoveries about how many injuries we are really seeing in Australia and around the world, and more.
And is this last video, Julian talks about the legal action against the TGA, the injunction to stop the roll-out of COVID jabs for children aged 5-11 years old. and extrapolating out the numbers, the sadly anticipated adverse events in children from the jab.
GAIIH – Global Alliance Integrated Hearts & Health
GAIHH is spearheaded by Australian former psychologist, Ros Nealon-Cook. Ros released a video discussing her concerns for the mental health impacts on the community of Australia's COVID-19 restrictions and policies which resonated across community sectors, not only the mental health sector. You can view Ros' video here.