Part of my intention of creating my Health Freedom Resources is to enable 'informed consent', giving people the ability to deeply research that which is being censored in order to make informed decisions about their health.
Whilst I have been very clear about my personal stance on the COVID jab, I do believe the choices we make are between ourselves and our 'God'. However, when legislation enables Children 11-17 years to give consent to the COVID jab without parental consent, I believe this is both immoral and a mis-use of legislative power. The coercive techniques employed are in direct violation of the Nuremberg Code, and completely uncalled for as children are at extremely low rise of COVID.
I have written about this travesty to our Children previously, you may wish to read my other posts:
Children, Masks, Lockdowns & COVID Vaccination – What you need to know
Injecting Children with COVID Vaccines – DO NOT do it!
Do NOT Sacrifice your Child to COVID jabs
Remember, this experimental Jab is still in Stage III clinical trials, has had NO longterm studies on children and more & more children who have had the jab have experienced adverse events (such as myocarditis), including death. Ex Pfizer VP Michael Yeadon stated that children are 50 Times More Likely to Die From COVID Vaccine than from the virus.
In addition to serious Adverse Events & even Death from the COVID Jab, after more than a year of isolation, widespread financial insecurity and the loss of an unprecedented amount of classroom time, experts say many of the youngest Americans have fallen behind socially, academically and emotionally in ways that could harm their physical and mental health for years or even decades. YET… these unscientific mandates (lockdowns, masking, medical coercion etc) and still continuing.
YOUTH Adverse Events & Death
Here is the latest Government data from VAERS (United States) as at 25 June 2021, regarding COVID Jab Adverse Events & Deaths for Children 12 to 17 years of age. [If anyone has a resource for Government Canadian Data for adverse events, please let me know].

Here is the story of 12 year old Maddie de Garay, it is heartbreaking that fellow humans and experimenting on our youth. Lets protect & be fierce warriors of keeping our children safe and out of the hands of those that choose profit & power over human life.
Please read more about Maddie's heartbreaking story here.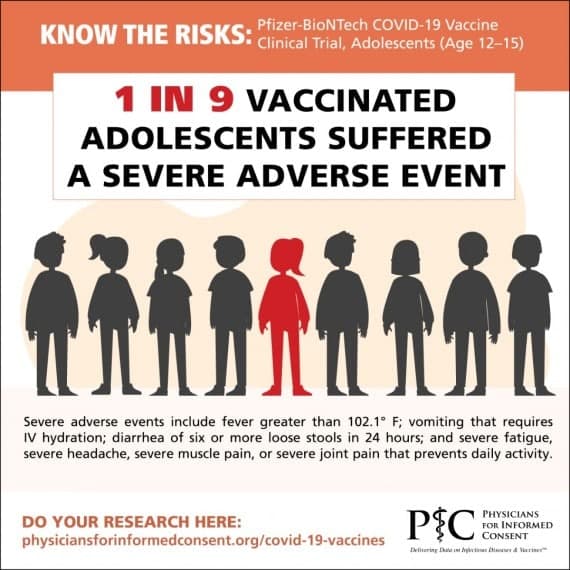 Action4Canada
I watched this wonderful interview today of Dr Sherri Tenpenny interviewing Tanya Gaw, the founder of Action4Canada.
This wonderful organisation – Action4Canada – is helping to save children from being coerced into having the COVID jab, plus they are taking legal action against the Canadian Federal and BC governments in response to their extreme emergency measures. Measures not supported by science or facts and which have caused a great deal of harm to the majority of Canadians.