This week, as we come into our Solar Eclipse on the 11 August 2018 (I will write more about this in the next couple of days), we have the annual 8-8 Lions Gateway Portal flooding the Earth in Galactic Waves of LOVE on August 8, 2018 ☼
Sharing my energetic insights on our 8-8 Lions Gateway Portal, as well as a summary of energies in the leadup to our 8-8 alignment that are exponentiating our experiences for our 2018 alignment – starting August 8, 2018 and ending August 23, 2018.
Image Credit: Sander Wehkamp
Celestial Events leading up to 8-8 Lions Gateway
Leading up to this years 8-8 Lions Gateway, the energy has been building with the following celestial events:
Summer/Winter Solstice on the 21 June, 2018
Sun Conjunct Sirius (Sirius, Dog Star, aligns with Sphinx the 'Lion') on the 5 & 6 July, 2018
Partial Solar Eclipse on the 13 July, 2018
Sun entered Leo 'the Lion' on the 22 July, 2018
Planetary New Year 2018 commenced on the 26th July (just like it does every year), as our 13 Moon Calendar ended on the 25 July 2018, our 'day out of time' – a reset, recalibration & rest day. (13 Moons x 28 days = 364 days + 1 day out of time).
Full Moon Total Lunar Eclipse on the 28 July 2018
Partial Solar Eclipse on the 11 August 2018 (article coming soon)
Sun moves out of Leo & enters Virgo on the 23 August 2018 (8-8 Gateway ends).
Quite a build up of energy don't you think in the leadup to our 8-8 Gateway!
What is the 8-8 Lions Gateway ?
Each year on the 8 August 2018, as the Sun rises on the ascendant, it forms a trine of energy with the Star Sirius & our planet Earth.
This triangular (trine) portal of energy, which funnels Galactic LOVE Waves from our Galactic Centre & Sirius through to Planet Earth, is our annual energetic upgrade of Planetary New Year energy.
As I talk about in my Sacred Ancient Wisdom eCourse, the wisdom teachings of the Thoth Egyptian Mystery School came from the Star Sirius. In fact at the time when the Sphinx (great Lion) was built, it faced Leo (the Lion) constellation at the March Vernal Equinox, and then at the Summer June Solstice each year the Spinx faced Sirius at the time of the annual flooding of the Nile.
On a side note, Pythagorus (570 BC – 495 BC) studied under Thoth for 22 years in Egypt (studied music, astrology, astronomy, philosophy, medicine, universal laws). Socrates (469 BC – 399 BC) then studied under Pythagorus, Plato (427 BC – 347 BC) studied under Socrates, & Aristotle (384 BC – 322 BC) studied under Plato. The wisdom teachings of both Plato (platonic solids / sacred geometry) & their energetics (earth, fire, air, water), & their relationship to our DNA – I share in depth in my Crystal Light Healing® Level III eCourse as chanelled teachings from Thoth / Metatron.
The energy frequencies of Sirius
The Fixed Star Sirius is 8.6 Light years from Earth (approx 81,362,000,000,000 km). It is a Binary Star System A & B – with the white dwarf Sirius B (see the small dot on the image below) orbiting Sirius A (the larger shining circle) every 50 years – creating a DNA spiral rotation. Sirius A is double the mass of our Sun and collectively Sirius is 25 times more luminous than our Sun.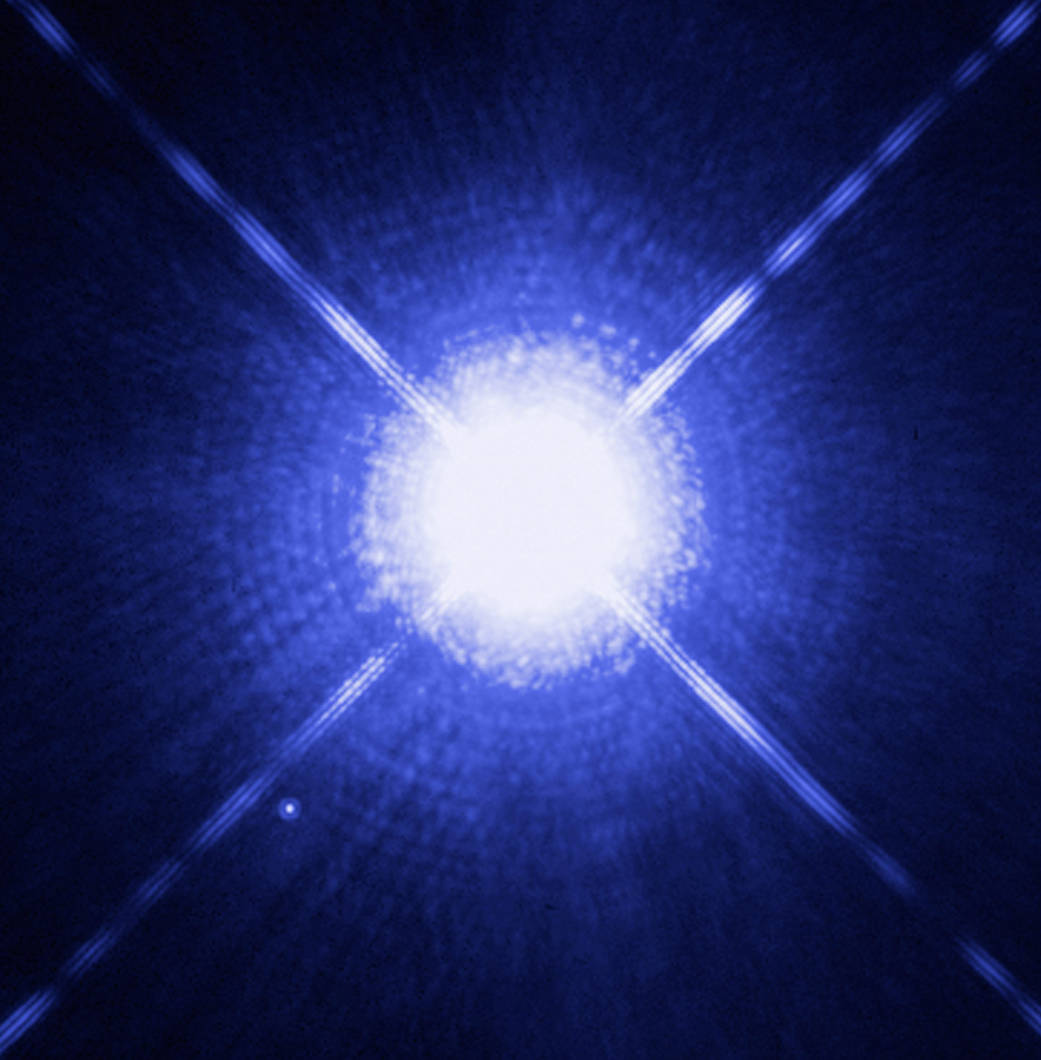 The Sirius portal (inside the DNA Spiral created by A&B) weaves 7th Dimensional frequencies through the Gold Ray of Creation. It is our integration of the Divine Masculine and how we use our Energy (yang) – as a Soul having a Human experience here on Earth.
Ancient civilisations – such as Atlantis & Egypt worked with the 'technology' of Sirius to power their cities, levitate, teleport, build the pyramids etc… In the Crystal Light Healing®, Sirius is our representation & sacred acknowledge of 'I AM Solar' and in Essence of Angels® Archangel Uriel (through Archangel Michael at our Solar Plexus) is the sacred keeper of this Ray.
As Galactic LOVE Waves emanate from the Galactic Centre, through Sirius & into the Earth each year on the 8 August, star code Sirian consciousness is activated within us here on Earth. Energy travels in octaves from Sirius, into our Solar Plexus… (refer to Wisdom Courses – 104 Sound & Colour & 105 Dimensions), igniting within us the Courage to own & surrender to the full MAGNIFICENCE of our Solar LIGHT within.
8-8 Lions Gateway – A LIGHT activation Portal
The loving words of Marianne Williamson, from her book A Return to Love: Reflections of a Course in Miracles, have always tinkled a deeper truth with me each year on our 8-8 Lions Gateway:
Our deepest fear is not that we are inadequate, our deepest fear is that we are powerful beyond measure. It is our LIGHT not our Darkness that frightens us.
It is the LIGHT from our Galaxy (our Greater Central Sun), through the Solar Sun of Sirius and into our own Solar LIGHT Plexus, that helps us to re-remember the TRUTH of who we are and have the COURAGE & deepest vulnerability to OWN & LOVE our LIGHT – the LIGHT of Creation that shines through us.
We ask ourselves, Who am I to be brilliant, gorgeous, talented, and fabulous? Actually, who are you not to be? You are a child of God. Your playing small does not serve the world. There is nothing enlightened about shrinking so that other people will not feel insecure around you. We are all meant to shine (our LIGHT), as children do. We were born to make manifest the glory of God that is within us. It is not just in some of us; it is in everyone and as we let our own LIGHT SHINE, we unconsciously give others permission to do the same. As we are liberated from our own fear, our presence automatically liberates others.
Thus our 8-8 Lion's Gateway Portal is a wakeup activation that affects each & everyone of us (whether we are conscious of it or not), to stand up & humbly SHINE our LIGHT brightly. To awaken to a greater LOVE & live our lives with Grace.
When we humbly embrace the LOVE of Creation through us, miracles happen, the world changes, we play our small part in the greater unfolding of Heaven on Earth.
All my LOVE to you this 8-8 Lions Gateway 2018,
OmAhOm
xx Simone M. Matthews