Oh gorgeous family, how are you? What a HUGE & extraordinary global shift we are all experiencing at this time.
Our Aries New Moon is sooooo what is drawing us to LIGHT, as the bigger themes/ways of our life are crumbling after January's Saturn & Pluto conjunction… & Saturn transiting Aquarius… who's ripples will be felt throughout 2020.
Sharing with you some positive insights to take to Heart this New Moon. And if you feel the need for a whole lotta loving at this turbulent time, I invite you to view our KINDNESS CIRCLE Gift Page – and download FREE GIFTS from our Community. From our Heart to YOURS in service of a World more Beautiful.
My Heart is with you, we can do this TOGETHER.
Aries New Moon
Moon & Sun in Aries (4.120)
Tuesday, 24 March 2020
7:28 pm AEST (Australia)
View times in your city

Moon – Past, Unconscious, Intuition, Feeling
Sun – Now, Conscious, Identity, Expression
ARIES (Fire) – Independant, Impatient, Courageous, Leader, Spontaneous, Optimistic, Proud
Our March NEW MOON falls in the Zodiac sign of ARIES – this is the perfect time, after lasts weeks Equinox and our upcoming Major Conjunction (more about that in a moment) to stand in the light of YOU
The firey energy of this Aries New Moon will feel like a new chapter is opening in your life, a deep impulse, a strong inner desire to walk your truth, own your LIGHT and break free from any restrains of family or social conditioning. I know, this may seem crazy while we are in social distancing, isolation or quarantine… but what a PERFECT time to move inward & really challenge your INNER-STORY.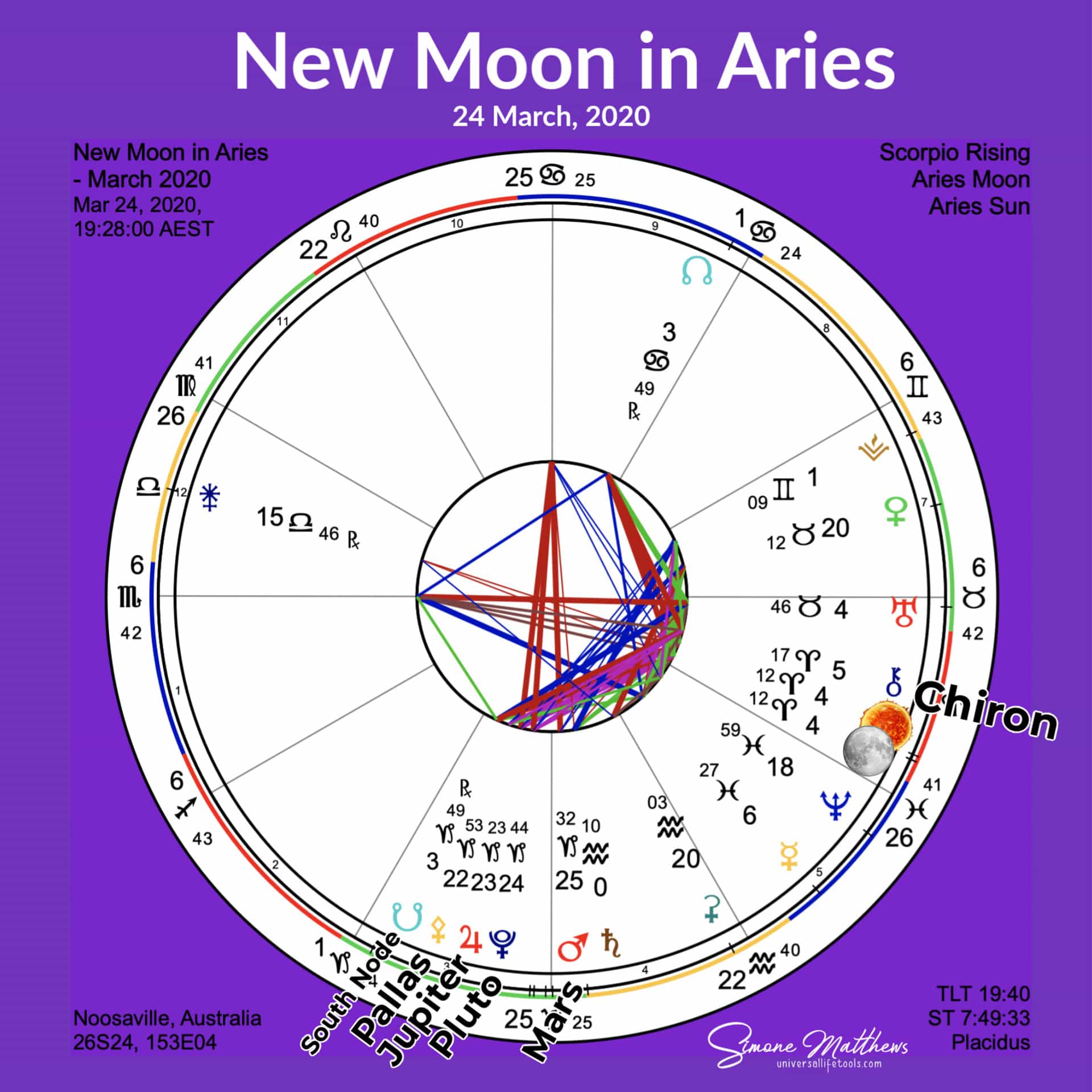 You may feel a restless passion to get things done, a sense of frustration or impatience at anyone/anything that gets in your way and a blinding fervour that becomes all consuming… mixed with a tinge of cabin fever !
You will feel the push to take that leap of faith into something new. Aries is saying don't overthink it, unduly question the impulse or just dip your toe in to test the waters. Aries is saying NOW is the time, make the leap a big one, just do it and don't look back.
However, I highly recommend that you use this time of distancing, isolation or quarantine to embrace the passion that is welling up inside of you, such that when you emerge from your cocoon you have the steps to open your wings & fly in the new soaring direction of your Heart, Humanitys Global Heart.
The words, thoughts, intentions & visions we hold TODAY create our WORLD of TOMORROW. What is Aries guiding you towards ? What is this inner-time of self-reflection showing you… moving forward what changes can you make feel LIGHTer, not so tied to the clock/time, or note being lost in the pandemic of workaholism, struggle & survival.
My advice during our March Aries New Moon is to surrender to the inspiration & passion that will rise up you during this time of distancing, isolation or quarantine. Let go of the need to control/dominate what you are feeling and allow your Heart-n-Soul to lead the way.
You have the opportunity to recognise within yourself this New Moon that YOU, yes YOU are here to make a difference, and it is time to step into the LIGHT of that truth with grace and ease. SHE is RISING, create the space for her Fierce Grace to rise with wild abandon & step-up to what you came here to BE, SHARE & SERVE.
A Deeper Dive
There are many other planetary influences that are contributing to the vibrancy of our Aries New Moon – as you can see from the Astro Chart above.
With ASTEROID CHIRON (the wounded healer) conjunct this NEW MOON, you will be called to introspectively revisit your wounds – with Women or the Mothering figures in your life (the Moon) and Father/Father Figures in your life (the Sun). And with everything happening on the planet at the moment, and Aries being so fiery, you maybe charged up into processing the greater wound of humanity. How can you not only heal yourself, but be a part of the change that helps heal one another ?
PALLAS, JUPITER, PLUTO & MARS are all dancing close together in CAPRICORN. Asteroid Pallas (warrior women, strong, beautiful, courageous & beholding creative intelligence & ageless wisdom), Jupiter (expansion), Pluto (transformation) & Mars (firey energy)… this of course is all leading up to our HUGE Pluto-Jupiter conjunction in just over a weeks time on April 4/5 – the beginnings of a new 12 year cycle.
PLUTO-JUPITER conjuncts three times this year in April, June & November 2020. Pluto-Jupiter conjunct seeks to expand and awaken humanity to the fragility of life and our own mortality. Jupiter's expansive wisdom, tempered with Pluto's vying for extremes, takes our awareness to extremes of polarity – from the very beginnings of creation through to the possibility of an end ?
Will we finally 'see' the web of life and the timeless natures of our Souls ? The sacred beauty of the inter-connection of all LIFE ? The knowingness that we are ALL ONE ?
All my LOVE & Heart & Soul Blessings to you this New Moon. There is a new story being written, and the birthing pains are coming on thick & fast at this time.
This is a time to hold each other (even if that means from afar), to lift each other up, share your gifts, to stand strong & support one-another as we get through this together. Remember we are better together, and only as strong as a weakest link. The shadow is being unmasked, the veil is lifting, Earth is healing… and us beautiful humans are on the event horizon of co-creating a New Earth Story. BE LOVE.