We will continually update this page with new articles, scientific studies, videos & information. Please also see our Individual Country Pages for Adverse Events – United States Adverse Events, United Kingdom Adverse Events, and Australia Adverse Events.
Before reading below, I highly recommend watching this Video of World renowned experts (physicians, scientists, lawyers, activists etc.) discussing the many unanswered questions regarding the safety and effectiveness of the COVID vaccine. And also consider reading this article on the censorship of intelligent & critical discussion of Vaccines & Government responses.
And I also recommend these two videos discussing the possible adverse effects of AstraZeneca Vaccine due to its contents of Chimpanzee Virus, Aborted Foetal Cells & GMOs and Oxford-AstraZeneca's link to eugenics.
Vaccine Approval
The AztraZeneca Vaccine is still undergoing it's STAGE III Clinical Trials (due for completion in February 2023). The Vaccines have been emergency approval for use in the United States and temporary authorisation in the United Kingdom, and provisional approval in Australia. Essentially this means that the Vaccines are approved for short-term use even though clinical trials have NOT been completed & the vaccine is not officially approved. Another way of looking at this is that HUMANITY has been signed up for a GLOBAL Clinical Stage III Trial. And keep in mind too that mutations could render current Covid vaccinesineffective in a year or less,meaning Governments will be 'mandating' yearly shots on the advice of BigPharma.

How the Vaccine Works
The AstraZeneca vaccine uses a common cold virus (adenovirus) that infects chimpanzees, which has been weakened so that it can't cause any disease in humans, and is genetically modified to code for the spike protein of the human SARS-CoV-2 virus. This means that when the adenovirus enters vaccinated people's cells it also delivers the spike protein genetic code. This causes these people's cells to produce the spike protein, and helps teach the immune system to recognise the SARS-CoV-2 virus. There are numerous reports of the development of blood clots in young people causing severe disease and death following AstraZeneca Covid-19 vaccination. Experts are pointing out that the vaccines may be triggering an autoimmune response: COVID genetic vaccines may have a direct role in spurring autoimmune response against platelets that may clinically manifest in thrombocytopenia, haemorrhage, and blood clots. Consequently many countries are now suspending the rollout of the AstraZeneca vaccine or limiting it to the older generations.
Immunity of Liability
Governments around the world have granted full immunity of liability against any claim of loss caused by, arising out of, relating to, or resulting from the manufacture, distribution, administration, or use of medical countermeasures, including COVID-19 vaccines (United States, European Union, Australia). With a LONG historical correlation of Adverse Events from Vaccines, including more recently the COVID Vacc, what then keeps the 'morality & ethics in check' of BigPharma choosing safe vaccines over profit ? Just this month it was announced that AstraZeneca chief to receive $27.5m pay packet for his services this year. As COVID vaccines drive record profits, is it any wonder BigPharma are pushing for 3rd Shots + Annual Boosters. With a LONG historical correlation of Adverse Events from Vaccines, including more recently the COVID Vacc, what then keeps the 'morality & ethics in check' of BigPharma choosing safe vaccines over profit ?
Profits over Health ?
As COVID vaccines drive record profits, is it any wonder BigPharma are pushing for 3rd Shots + Annual Boosters. Essentially, Big Pharma doesn't want healthy people, it wants customers. A new report by People's Vaccine Alliance reveals 9 New 'Vaccine Billionaires' Amass Combined Net Worth of $19.3 Billion During Pandemic. And $3 Billion in taxpayer money is being used to make these people even richer!
Ethics & Morality
Many people don't seem to realize it, but nearly every vaccine manufacturer currently profiteering from covid-19 vaccines has a long history of criminal fraud, bribery, kickbacks and faked science. This fact has even been covered by the corporate news media over the years. AstraZeneca has a long history of illegal practices, having paid out over $1.1 Billion USD in fines due to criminal violations – such as fraudulently marketing unapproved drugs to elderly & children, paying kickbacks to Doctors to market unapproved drugs, false claims as to actions of drugs, corrupting clinical trials & designing clinical trials to support the marketing of drugs, not declaring financial incentives to FDA panel members (who approve drugs) and not to mention lawsuits filed by patients due to drug injury etc. Federal Government is urging AstraZeneca (through CSL) to incorporate mRNA technology in future drugs. Not to mention the ethics around testing of drugs on Animals… is this the best we can be as Human Beings ? Why would anyone trust this company ?
Plus… COVID Vaccines May Not Work on Millions Who Have Underlying Conditions, Yet CDC Continues to Recommend They Get the Shot!
Read more about Safety concerns here.
Read list of AstraZeneca Vaccine contents here.
AstraZeneca under scrutiny again.
Concerns with Aborted Foetal Cells, GMOs & Eugenics
Note too that AstraZenenca has also been renamed Vaxzevria, the Swedish medicine agency Läkemedelsverket announced based on data from the European Medicines Agency (EMA).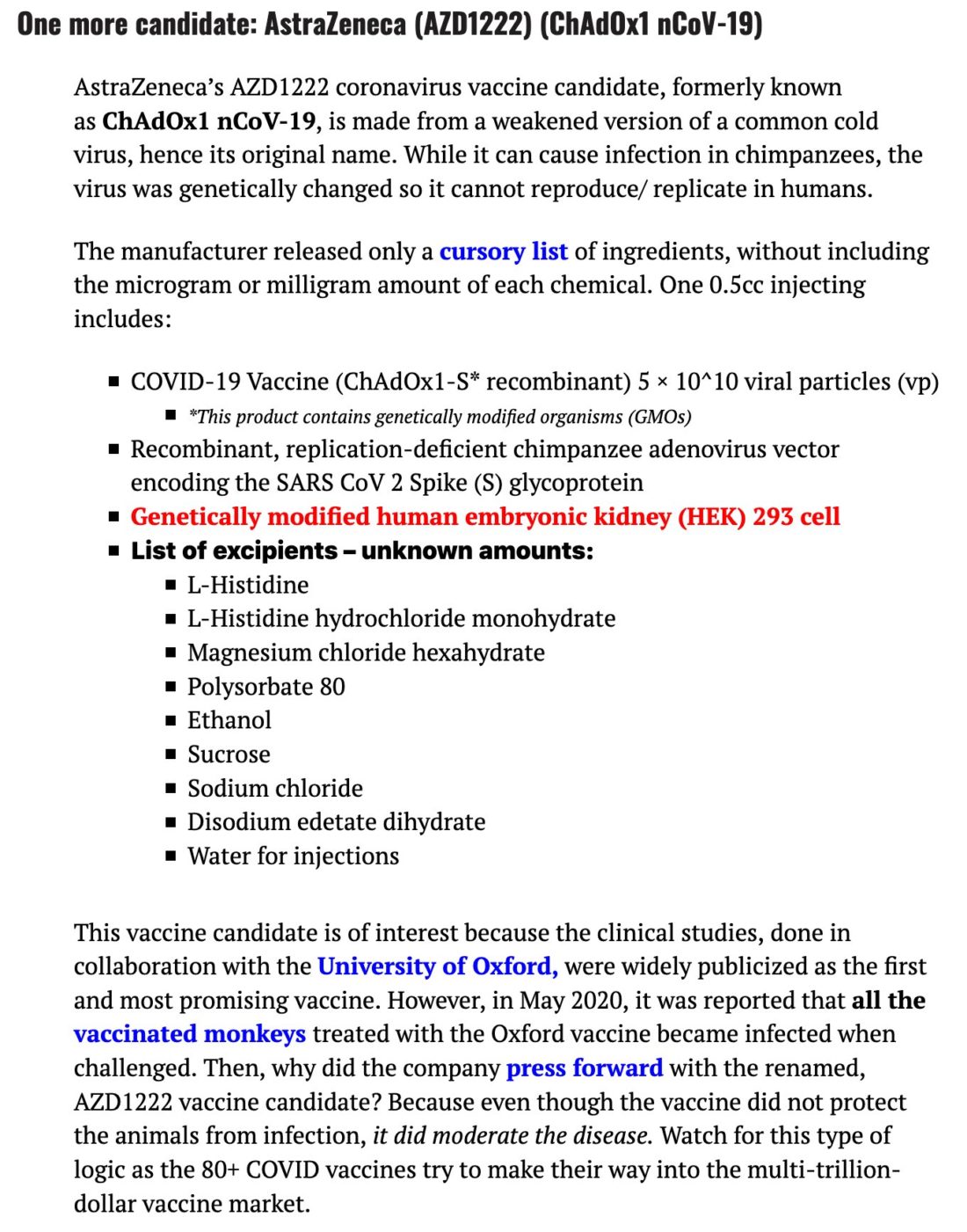 How to Report Adverse Reactions ?
If you have experienced any side-effect/adverse reaction after receiving a vaccine, or as a healthcare professional, your patient has experienced an adverse reaction, you can report your reaction via the Global Website www.vaxxtracker.com Adverse Reactions should ALSO be reported in your own country as follows:
Australia – TGA: See our Australian Page
New Zealand: NZPHVC.otago.ac.nz
United States: VAERS.hhs.gov
United Kingdom: coronavirus-yellowcard.mhra.gov.uk
View Reported Adverse Reactions
United States – OpenVaers.com
United Kingdom – Gov.uk
Australia – TGA.gov.au – DAEN
Media Reports Adverse Reactions – AstraZeneca Vaccine
Are Conversations About COVID Vaccines Fracturing Your Family? Here's What You Need to Know.
https://childrenshealthdefense.org/defender/conversations-covid-vaccines-what-you-need-to-know/
READ: The Reason I say NO to the Masks & the Experimental Vaccine
https://www.universallifetools.com/2021/04/the-reason-i-say-no/
May 28, 2021 – More Deaths Reported After J&J, AstraZeneca Vaccines, Plus Researchers Link AstraZeneca to Strokes in Young Adults
The AstraZeneca and Johnson & Johnson COVID vaccines came under scrutiny again this week as more reports of deaths — largely due to blood clot disorders — surfaced in Belgium, Canada and Greece, [& Australia] and a new report linked the AstraZeneca vaccine to strokes in young adults.
May 27, 2021 – Nine cases of blood clots related to vaccines reported this week
Nine instances of blood clots and low blood platelets have been reported nationwide in connection with the AstraZeneca vaccine in the past week, the Therapeutical Goods Administration (TGA) has announced. Please note that the TGA has not yet released the raw data of all Adverse Events, Australian Citizens are relying in the TGA to drip-feed them with information. Are the numbers much bigger ?
May 26 – 2021 – Six more Deaths from Experimental Jabs
Health Impacts News puts together more faces to the names of recent deaths & injuries. A 27-year-old competitive archer Mr. Haziq Kamaruddin was training for a chance to represent Malaysia in the 2021 Tokyo Summer Olympics, he received the first dose of experimental Pfizer mRNA on April 13 & second dose on May 4 and died on May 14 – an autotopsy found bloodclots in this heart. Bill Shakespeare aged 81, 1st man in the UK to get Pfizer jab died of an "unrelated illness" 5 months after receiving the Pfizer-BioNTech jab. 26 Year old man named Chance Sula died 2 weeks after 1st does of Moderna jab from blood clots leading to a seizure & heart attack. 39 year old Jennifer Apolloni had a stroke & died 4 days after Pfizer jab. 78 year old Bollywood composer Raam Laxman (aka Vijay Patil) died six days afer second AstraZeneca Jab. 74 year old Clive Haddon died 2 weeks after AstraZeneca Jab, after excruciating pain from bloodclots.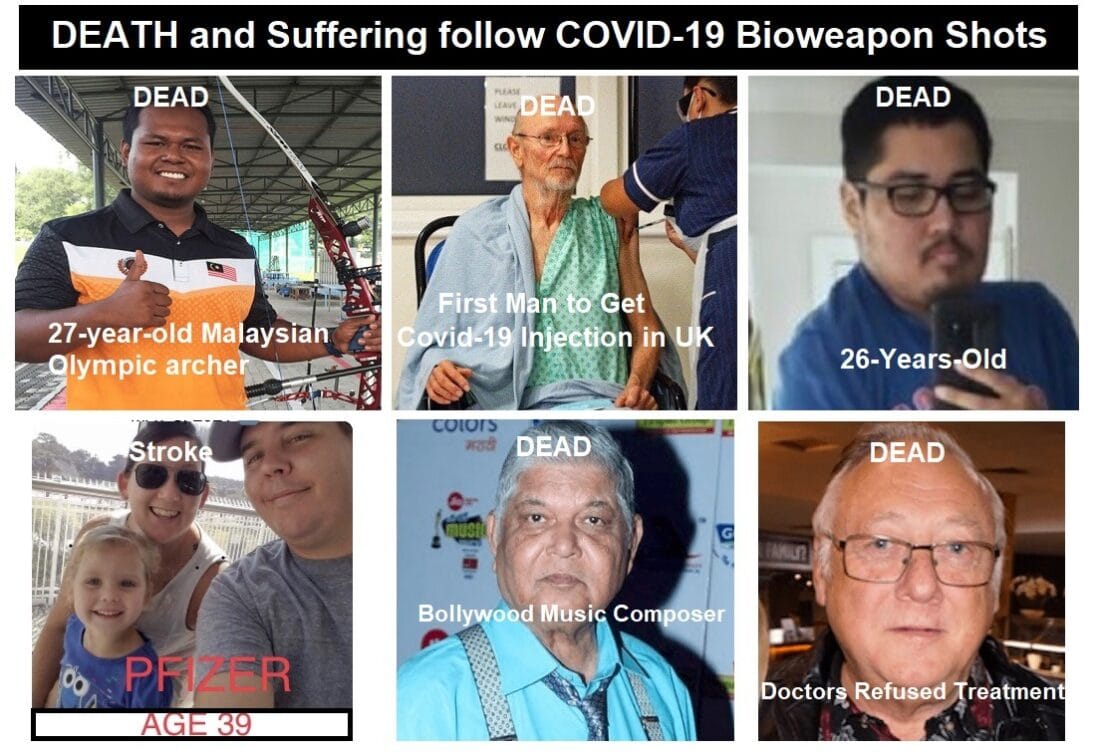 May 25, 2021 – 39 year old model dies
39 year old British Fashion model Stephanie dubois died from a bloodclot days after AstraZeneca jab.
May 24, 2021 – AstraZeneca causes formerly healthy father to lose two meters of intestine following blood clot
43-year-old father – Shaun Mulldoon from Canada to lose about six feet of his intestine after the injection triggered a deadly blood clot inside his abdomen.

May 24, 2021 – More deaths from around the World from the Experimental Jabs
Health Impact News puts together a faces to the names of recent deaths & injuries. 27 Year Old Model Stephanie Dubois Dies After AstraZeneca Vaccine. Helga Groening died A Few Days After Her Covid Vaccine. 32 Year Old Daniel Spampanato Dead After Covid Vaccine. 18-year-old Australian nurse in training develops three blood clots after AstraZeneca shot. Ohioan Juan Ramirez Dies After Complications From Pfizer Vaccine. Brenda Lee Pettit Died Within 24 Hours Of Her Moderna Vaccine. 39 Year Old Marilyn Gotay Dead 12 Hours After Moderna Vaccine. 35 Year Old Alpa Tailor Dies After Complications From Astra Zeneca Vaccine.
May 24, 2021 – Woman suffers BloodClot after receiving AstraZeneca
A 39-year-old British woman died in a Cypriot hospital after a blood clotting incident after receiving the AstraZeneca Covid-19 vaccine, the official Cyprus News Agency said Monday.
May 21, 2021 – More Deaths from the COVID Jab
COVID VAxx Deaths/Adverse Events: Dana Ottmann: 32-year-old German psychologist develops blood clots, dead 12 days after AstraZeneca shot, Natalia Johnson: 37-year-old professional ballerina dead two weeks after experimental COVID-19 shot (which jab unknown), Bill Scott: Syracuse teachers union president dead in another near-term experimental Pfizer shot, Olivia Kingree: 75-year-old Wisconsin woman dies of COVID-19 two months after second Moderna shot, Shaun Mulldoon: 43-year-old Canadian man has nearly seven feet of intestines removed after severe AstraZeneca "rare" blood clots & Air Force Veteran Bernard "Bernie" White died after Complications From Moderna Vaccine.
May 18, 2021 – Researchers find 1,000 different proteins in AstraZeneca's covid vaccine linked to deadly blood clots
Prof. Andreas Greinacher says Stray proteins along with a preservative used specifically in the AstraZeneca jab known as ethylenediaminetetraacetic acid (EDTA), are directly responsible for causing the blood clots

May 17, 2021 – Mainstream doctors are REFUSING to see or treat vaccine-damaged patients because they don't want to get involved in "controversial" diagnoses. PLUS So many people are suffering adverse events from covid vaccines that an entire Reddit subgroup was created to discuss the details. YET Ohio just announced a $1 million vaccine lottery for experimental covid injections
May 17, 2021 – Eric Clapton 'Feared He Would Never Play Again' After AstraZeneca Vaccine, Says 'Propaganda' Overstated Safety
The 76-year-old musician, who lives in the UK, said "propaganda" described the AstraZeneca vaccine as "safe for everyone." In the U.S., vaccine makers are running ad campaigns on TV and social media targeting the vaccine-hesitant.

May 17, 2021 – AstraZeneca Woes Persist as Vaccine Side Effects Generate Headlines
AstraZeneca's woes continue as blood clot causes man to lose half his intestine, India reports 26 cases of blood clots and Indonesia suspends 45,000 doses following death of 22-year-old man.

May 13, 2021 – More frequent side-effects reported mixing Pfizer and AstraZeneca Covid jabs
However, UK trial found two doses of the same vaccine triggered less adverse reactions. Meanwhile the CDC says it is ok to get a COVID Vaccine alongside other Vaccines.
May 13, 2021
7 New Bloodclot cases after AstraZeneca Vaccine
The new cases of thrombosis with thrombocytopenia syndrome (TTS) were revealed in the Therapeutic Goods Administration's COVID-19 vaccine weekly safety report on Thursday.
May 12, 2021 – Slovakia suspends use of AstraZeneca as a recipient dies.
Slovakia's Health Ministry said on Tuesday it was suspending the use of AstraZeneca's COVID-19 vaccine for people getting their first doses, after experts reviewed the death of a 47 year old woman.
May 12, 2021 – Brazil Suspends AstraZeneca Vaccine After Pregnant Woman Dies
Brazil's federal government on Tuesday suspended AstraZeneca's vaccine for pregnant women after an expectant mother in Rio de Janeiro died from a stroke possibly related to the vaccine, Reuters reported. The 35-year-old woman, who was 23 weeks pregnant, died of a hemorrhagic stroke on Monday after checking into a hospital five days earlier.
May 11, 2021 – 2 Brazilian States Suspend Giving Covid-19 Vaccines to Expectant Mothers after Death of Pregnant AstraZeneca Recipient
On Monday night, the National Health Surveillance Agency (Anvisa) recommended the immediate suspension of the use of AstraZeneca's Vaxzevria jab in pregnant women. In a statement the regulator said its decision was the result of "adverse" reactions to vaccines, adding that people getting a Covid-19 jab should seek professional advice in situations not currently covered by the product information.
May 9, 2021 – Study Finds Higher Risk of Blood Clots With AstraZeneca/Oxford University's COVID-19 Vaccine
A new cohort study published in the British medical journal The BMJ on May 5, 2021 found increased rates of blood clots in veins, or "venous thromboembolism," in people who received a first dose of AstraZeneca/Oxford University's experimental COVID-19 vaccine (AZD1222) compared to blood clot rates in the broader population.

May 10, 2021 – Expert Panel Calls On Norway To Ditch AstraZeneca And Johnson & Johnson Covid Vaccines Over Blood Clot Risks
An expert panel in Norway recommended the country drop vaccines made by AstraZeneca and Johnson & Johnson from its Covid-19 immunization campaign due to a small risk of rare blood clots, the group announced Monday, a decision that could potentially set back the country's efforts to offer a shot to all adults by a month.

May 10, 2021 – EU Regulators Call on Pfizer, Moderna, AstraZeneca for More Data on Heart Inflammation, Guillain–Barré Syndrome
EU regulators Friday called on Pfizer and Moderna to provide additional data related to the companies' COVID vaccines and a potential link to heart inflammation. The European Medicines Agency's safety committee also asked AstraZeneca for data related to reports of Guillain–Barré syndrome in people who received the AstraZeneca vaccine, and they recommended Pfizer and Johnson & Johnson (J&J) update their labels with side effect warnings.
May 8, 2021 – British authorities slammed for their SLOW RESPONSE over AstraZeneca vaccine side effects
UK Doctor & many others pointed his finger at U.K. authorities for their lack of transparency regarding serious reactions from the vaccine.
May 6, 2021 – Australian Deaths / Injuries from AstraZeneca Vaccine
A healthy 55-year-old man from New South Wales, Australia died eight days after getting vaccinated against COVID-19. The 71-year-old Sydney resident passed away after receiving the AstraZeneca vaccine. 48 Year old Genene Norris from the New South Wales Central Coast died on April 14, six days after she got inoculated with the AstraZeneca vaccine. A total of five other cases of blood clots in Australia were linked to the AstraZeneca vaccine – A woman from Western Australia and a man from Melbourne – both in their 40s. Meanwhile, three Australians from different parts of the country developed blood clots between nine and 26 days post-vaccination. A 35-year-old woman from New South Wales, a 49-year-old man from Queensland and an 80-year-old from Victoria state were all hospitalized after receiving coronavirus vaccines.
May 6, 2021
Tasmanian man, 70, hospitalised with suspected blood clotting after receiving AstraZeneca vaccine
A 70-year-old Tasmanian man is in hospital with a suspected case of blood clotting after receiving a dose of the AstraZeneca COVID vaccine, authorities have announced.

May 5, 2021
Tragedy Continues to Strike Families with Loved Ones Dying After being Injected with Experimental COVID Shots – AstraZeneca / J&J
A 50-year-old woman in Canada, a 61-year-old woman in Orange, California, and a 58-year-old man in Minnesota are three more casualties following COVID-19 injections.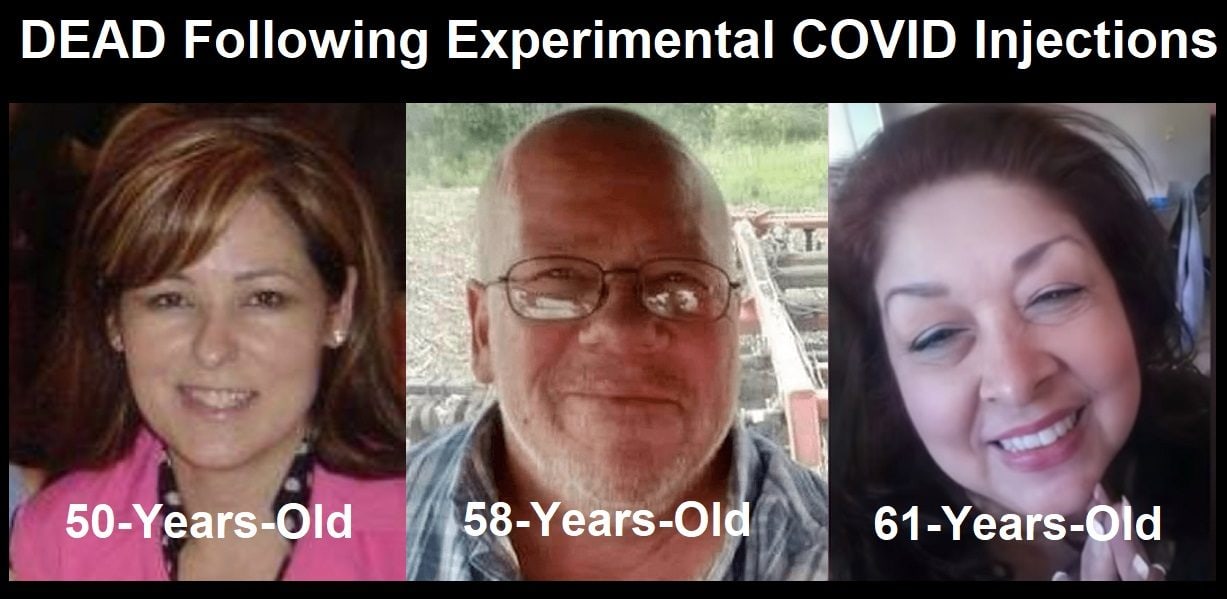 May 5, 2021 – Canada Confirms Second Death Linked to AstraZeneca, Becomes First Country to Approve Pfizer for Young Teens
A 50-year-old Canadian woman died from a rare "vaccine-induced" blood clot condition linked to AstraZeneca's COVID vaccine. Health Canada said the Pfizer-BioNTech vaccine is now safe to give to children ages 12 and up, making Canada the first country in the world to approve giving COVID vaccines to younger age groups. Dr. Supriya Sharma, chief medical adviser for Health Canada, confirmed the approval.
May 5, 2021
Alberta Confirms Blood Clot Disorder Death Linked to AstraZeneca Vaccination
An Alberta woman in her 50s has died from a rare blood clot disorder after receiving the Oxford-AstraZeneca COVID-19 vaccine.
May 5, 2021
Canada – Deaths from COVID Vaccine
Person in their 60s received the vaccine in mid-April and developed symptoms a week later, was admitted to hospital and died two days later. It is the third reported death in Canada from the rare blood-clotting syndrome known as vaccine-induced thrombotic thrombocytopenia, or VITT. A 54-year-old Quebec woman died last month after receiving the AstraZeneca vaccine, and Alberta officials announced on Tuesday night the death of a woman in her 50s.
May 4, 2021
A Queensland man says he "almost died" after getting the AstraZeneca vaccine in the latest blood clot case authorities are investigating.
65-year-old, of Shute Harbour, said he went into a coma and is still recovering from a stroke caused by a brain bleed. He was rushed to hospital on April 1, five days after receiving the vaccine.
May 3, 2021
Experimental Adenovirus COVID Injections Continuing to Kill Younger, Middle-Aged People
The AstraZeneca and Johnson & Johnson experimental adenovirus COVID shots seem to be killing younger, middle-aged people at a higher rate than the mRNA shots from Pfizer and Moderna. Here are the stories of some of the victims who have died following the injections and devastated their families.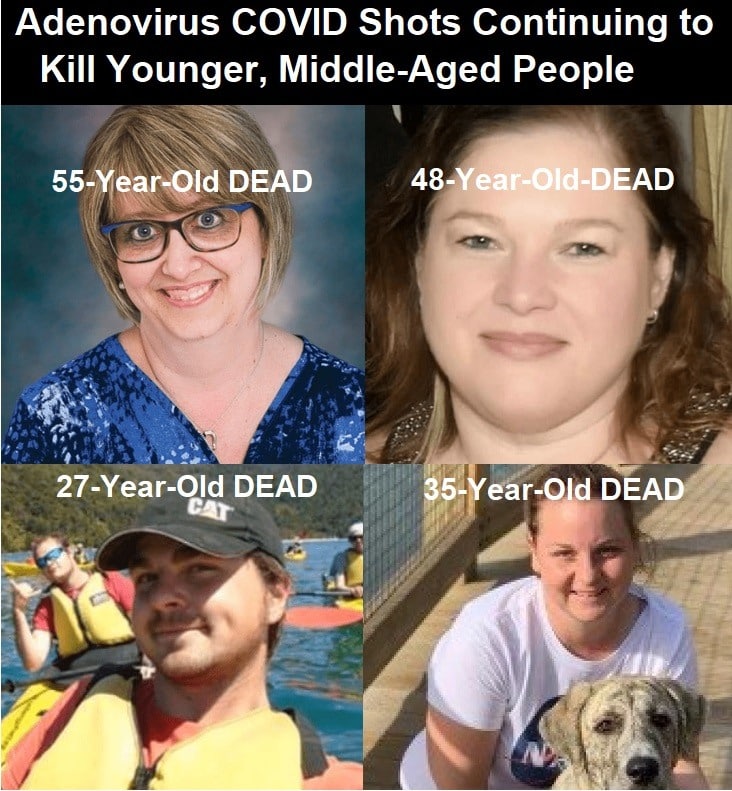 May 2, 2021
Family of Teacher Who Died After AstraZeneca Shot Seeks Answers
Cinzia Pennino, a 44-year-old science teacher from Palermo, Italy – It was 11 days after Ms. Pennino had received her first dose of the AstraZeneca PLC Covid-19 vaccine. A week later, she died in the hospital
April 29, 2021
Biden to dump 60 million blood clotting Covid-19 vaccines from AstraZeneca on India
Joe Biden is planning to "gift" AstraZeneca's Wuhan coronavirus (Covid-19) shots to India as a pretend act of goodwill.
April 29, 2021
UK Death Toll From Blood Clots After AstraZeneca Jab Rises to 41
The UK medicines regulator has said that 41 people have died after developing blood clots following vaccination with the Oxford/AstraZeneca COVID-19 vaccine, an increase of nine deaths from last week's figures.

April 27, 2021
Quebec Reports Blood Clot Death of Woman After Receiving AstraZeneca Vaccine
MONTREAL—The Quebec government has announced that a woman in her 50s has died of a blood clot that occurred after receiving the Oxford-AstraZeneca vaccine.
April 27, 2021
Fewer than 50% of over-50s willing to get AstraZeneca vaccine – Australia
Just 46% of those over the age of 50 said they were willing to take either the AstraZeneca or the Pfizer vaccine, with 39% saying they were unwilling to take the recommended AstraZeneca jab. Another 14% said they were unsure.

April 21, 2021
Family of Italian woman who died after Oxford-AstraZeneca vaccine launches legal action
The family of an Italian woman who died weeks after having the Oxford-AstraZeneca coronavirus vaccine have told Sky News they are taking legal action to establish whether the jab was to blame. After the Jab on March 11, 55-year-old Augusta Turiaco, from Messina, Sicily, developed a high temperature and a very bad headache, before going for blood tests and ultimately scans that identified blood clots. She fell into a coma on 28 March and died on 30 March – 19 days after having the AstraZeneca injection. The family's lawyer, Daniela Agnello, told Sky News: "The excellent state of health of Ms Turiaco, the absence of previous pathologies, the very short period of time between the administration of the vaccine, the appearance of the first illnesses and the very serious clinical picture and then death." The legal proceedings launched by the family are just one of a number of cases across Europe being mounted against AstraZeneca.
April 21, 2021
Poll reveals confidence in AstraZeneca's coronavirus vaccine plummets amid reports of jab increasing clotting risk
According to a poll – public trust in Oxford-AstraZeneca's coronavirus vaccine dipped across Europe after leaders delayed the rollout of the vaccine due to fears that it causes blood clots in recipients. It wasn't clear if the poll had been conducted before or after the European Medicines Agency (EMA) ruled that the Oxford-AstraZeneca vaccine wasn't linked to a higher clotting risk.

April 19, 2021
Women Complaining of Severe Menstrual Disorders post COVID Injections – Even if They Did Not Get the Shots!
Severe cramping, heavy bleeding for days on end, post-menopausal women all of a sudden menstruating again, irregular periods, and more are all being reported by women after being injected with a COVID experimental shot. But another phenomena is being reported: these symptoms are being reported among women who did NOT get the injections also, but have been around those who have. Article in New York Times April 20 – No, We Don't Know if Vaccines Change Your Period
April 19, 2021
Woman 34, dies after AstraZeneca Vaccine
Kimberley Lockwood was just 34 when she died following a "catastrophic brain bleed" 10 days after having her AstraZeneca coronavirus vaccine, her shellshocked husband, Damien, said. Kim had the vaccine on March 14 and two days after she obviously had a bad headache, felt a bit coldy and symptoms like that. On March 22 she went to work as normal and I went to work but got a phone call near to the end of the working day and was told she was getting really bad headaches and her vision was going blurred…. 2 days later Kimberley had suffered a "catastrophic" bleed on the brain and would not survive.
April 19, 2021
Blood-clotting illness PVT 30x more prevalent in Moderna, Pfizer Covid-19 recipients than AstraZeneca – Oxford researchers
A potentially fatal blood-clotting disease is 30 times more common among people who have received the Covid-19 vaccines produced by Moderna and Pfizer than those given the troubled AstraZeneca jab, researchers have found
April 19, 2021
National cabinet agrees to fast-track AstraZeneca vaccinations for over-50s
A plan to fast-track vaccinations for the over-50s will be finalised this week after state and territory leaders agreed "in principle" to change the national rollout strategy. "The medical advice remains that the AstraZeneca Covid-19 vaccine is safe and recommended for Australians over 50 years old and all states will continue to be prioritised AstraZeneca for Australians over 50 years old."April 19, 2021
'We Were Flying Blind': A Dr.'s Account of a Woman's J.&J. Vaccine-Related Blood Clot Case
The disorder is rare, but so severe that the vaccine is on hold while experts weigh the risks and alert doctors and patients about symptoms and treatment.
April 19, 2021
The Blood Clot problem is multiplying
To answer these questions, scientists will have to figure out the biology behind this rare blood condition: what exactly causes it; when and why it happens. This is not an easy task. While the evidence available so far is fairly limited, some useful theories have emerged…. Read Theories…
April 19, 2021
TGA admits minors mistakenly given AstraZeneca vaccine and says woman's death an 'atypical case'
More than a dozen teenagers as young as 14 have been given the AstraZeneca jab despite there being no vaccine approved for use in minors in Australia, as the Therapeutic Goods Administration confirmed the same jab was "likely" linked to the death of 48-year-old New South Wales woman Genene Norris.
April 17, 2021
NSW (Australia) woman's fatal blood clotting likely linked to AstraZeneca COVID vaccine, Therapeutic Goods Administration says.
The TGA met late on Friday afternoon to investigate the link between the inoculation and her death and now says the blood clots in the arteries and veins and low platelet count Ms Norris presented with does indicate a correlation.
April 16, 2021
Norway's Health Experts Recommend Banning AstraZeneca Jab As Nordics Get Cold Feet
Denmark decided to ban the AstraZeneca-Oxford COVID-19 jab over the risks of rare but sometimes fatal cerebral blood clots. And in the latest sign that the Nordic nations are fixing to block the AstraZeneca jabs, as leading public health experts in Norway officially recommended that their government implement a similar ban.
April 16, 2021
Scientists Warn Pfizer, Moderna Vaccines May Cause Blood Clots too
The Johnson & Johnson and AstraZeneca COVID vaccines are under the microscope for their potential to cause blood clots, but scientists warn Pfizer and Moderna vaccines pose similar risks.
April 16, 2021
Norway postpones decision on AstraZeneca vaccine
Norway will take more time to assess whether to resume the use of the AstraZeneca (AZN.L) vaccine against COVID-19 or stop it altogether, health minister Bent Hoeie said on Thursday.
April 15, 2021
'Mix and match' UK Covid vaccine trial expanded
Adults over 50 who have had a first dose of Pfizer or AstraZeneca can apply to take part in the Com-Cov study. Their second dose could be the same again, or a shot of Moderna or Novavax. Chief investigator on the trial Prof Matthew Snape, from the Oxford Vaccine Group, said he hoped to recruit 1,050 volunteers who had already received one dose on the NHS in the past eight to 12 weeks. More than 800 people are already taking part in the research and have received two doses of either Pfizer, AstraZeneca or a mix.
April 15, 2021
48-year-old woman who received a COVID-19 vaccination and developed blood clots hours after has died in NSW – Australia.
The woman, from the Central Coast, was vaccinated last Friday and developed blood clots within 24 hours, before being put on dialysis. She was placed in an intensive care unit and died yesterday. It's not yet known whether the woman received the AstraZeneca vaccine – which has been linked to blood clotting in recipients – or the Pfizer vaccine.
April 15, 2021
Danish health official passes out while announcing suspension of AstraZeneca vaccine
The head of the Danish Medicines Agency fainted during a press conference announcing that Denmark has become the world's first nation to permanently halt use of the British-made and abortion-tainted mRNA-derived Oxford/AstraZeneca vaccine. Tanja Erichsen was immediately taken to the hospital and has since recovered. The cause of her unexpected blackout is not yet publicly known.
April 14, 2021
Denmark Permanently Halts AstraZeneca COVID Shots
Denmark has become the first country to permanently halt the use of AstraZeneca's COVID-19 vaccine following its possible link to very rare cases of blood clots. The Danish health authority said on Wednesday that, following its own review, the country's vaccine rollout would continue without the AstraZeneca shot, as it warned of a "real risk of severe side effects."
April 14, 2021
Ireland to stop giving AstraZeneca vaccine to most under 60
Ireland will stop using the Oxford/AstraZeneca COVID-19 vaccine on most people under the age of 60 because of the potential danger of rare blood clots, complicating a delay-prone rollout.
April 13, 2021
Rare Immune Response May Cause Blood Clots After AstraZeneca Vaccine
Researchers suggest the development of serious blood clots alongside falling levels of platelets in people who received the AstraZeneca vaccine is an immune response resembling a reaction to the drug heparin.
April 13, 2021
Canada Receives Report of Blood Clot Linked to AstraZeneca
OTTAWA—A Quebec woman is the first in Canada to develop a blood clot after being vaccinated with the Oxford-AstraZeneca vaccine. The news came as Health Canada said it was investigating reports of clots linked to the Johnson & Johnson vaccine in the United States.
April 13, 2021
Second clotting disorder in Australia
On Tuesday, a second case of the clotting disorder was reported in Australia, out of 700,000 doses of the AstraZeneca vaccine administered.
April 12, 2021
AstraZeneca's Farxiga fails phase 3 COVID-19 test
Hope that AstraZeneca's diabetes and heart failure drug Farxiga might treat patients hospitalised with COVID-19 have been dashed after the drug failed to make an impact in a phase 3 trial.
April 11, 2021
Timetable for AstraZeneca COVID-19 Vaccine Rollout Scrapped
New timetable to be created. 40 Million doses of Pfizer available by the end of 2021.
April 8, 2021
AstraZeneca COVID-19 vaccine blood clotting cause still 'unknown'.
Authorities have also said the AstraZeneca vaccine could still be used in adults under 50 if "the benefits are likely to outweigh the risks for that individual and the person has made an informed decision based on an understanding of the risks and benefits".
April 8, 2021
AstraZeneca blood clot concern sees Australian government name Pfizer as preferred vaccine for adults under 50
Australian health authorities have advised the Pfizer vaccine should be given to Australians aged under 50, amid concerns of rare blood clots potentially linked to the AstraZeneca vaccination.The federal government's expert medical taskforce met on Thursday to consider the use of the AstraZeneca vaccine, following advice from the European Union's medical regulator that "very rare cases of blood clots" were a side effect in the weeks after the vaccine was administered.The United Kingdom has already decided to offer other vaccines, such as the one produced by Pfizer, to people aged under 30.

April 8, 2021
Australian government reviewing latest UK, Europe AstraZeneca vaccine advice
Australia's expert medical taskforces are urgently reviewing the latest AstraZeneca advice from Europe and the UK. The European Union's medical regulator has listed blood clots as a very rare side effect of the AstraZeneca vaccine, while the UK regulator has decided to offer an alternative shot for those aged under 30.
April 7, 2021
YOUNG NURSING STUDENT IN QUEENSLAND, Austraila
23 year old woman, 4 hours after receiving her first dose of the AstraZeneca (experimental) 'vaccine', she started to non stop shake and suffer nausea. 10 days later experiencing severe neurological damage/inflammation where her whole body tremors 24/7.
April 7, 2021
Oxford pauses AstraZeneca COVID-19 vaccine study on kids after reported blood clots
A small UK trial testing AstraZeneca COVID-19 vaccine in children and teenagers has been paused as the University of Oxford waits for more data on rare blood clotting issues in adults who received the shot.
April 7, 2021
London doctor describes 'unprecedented' level of sickness after COVID injection
In a strongly worded letter to the British Medical Journal, Dr. K. Polyakova has pointed to "unprecedented" levels of staff sickness following the COVID-19 injections, describing the "coercion and mandating" of the injection as reminiscent of a "Nazi dystopia." She wrote that she was "struggling" to understand "the failure to report the reality of the morbidity caused by our current vaccination program within the health service and staff population."
April 6, 2021
Italy makes vaccination mandatory for healthcare workers
Italy has become the first country in Europe to make vaccination against covid-19 mandatory for healthcare workers. Whether the decree is constitutional is still not clear, and many commentators believe that future legal cases regarding vaccination are likely.

April 6, 2021
EMA Contradicts Senior Official's Claim of 'Clear Link' Between AstraZeneca Vaccine and Blood Clots
Hours after a senior European Medicines Agency official told media there was a "clear" link between AstraZeneca's vaccine and blood clots, the agency issued a statement saying it has "not yet reached a conclusion and the review is currently ongoing."
April 6, 2021
AstraZeneca vaccine and blood clots link 'clear', says top health official
Marco Cavaler, Chair of the Evaluation Team at European Medicines Agency (EMA) has said that there is a link between AstraZeneca's COVID-19 vaccine and blood clots. "In my opinion, we can say it now, it is clear there is a link with the vaccine". Cavaleri added that the EMA would say there is a link although the regulator would not likely be in a position this week to give an indication regarding the age of individuals to whom the AstraZeneca shot should be given.
April 5, 2021
Italy – Two More Teachers DEAD After AstraZeneca COVID Shot
AstraZeneca changed the name of its experimental COVID-19 viral vector shot to Vaxzevria to help salvage its reputation and sales. Unfortunately the rebranding has not stopped what is quickly approaching genocide in Italy. 55 year old Mrs. Augusta Turiaco received the first dose of the AstraZeneca shot on March 11, immediately felt ill after the shot. Severe headaches persisted for days, to the point that that she could no longer function. She was admitted to Policlinico Gaetano Martino on March 24. Doctors diagnosed her with cerebral hemorrhage due to thrombosis. In other words, it was yet another blood clotting issue caused by the AstraZeneca shot. 46 year old Ms. Cinzia Pennino was a science professor at Don Bosco Institute in Palermo She received her first AstraZeneca shot on or around March 17 and was admitted to Paolo Giaccone Polyclinic in Palermo on March 24 in critical condition. Intensive care doctors diagnosed her with "extensive deep thrombosis." Yes, more blood clots.

April 2, 2021
Scottish woman develops severe and painful rashes all over her body immediately after getting AstraZeneca coronavirus vaccine
Leigh King, 41, a hairdresser from North Lanarkshire in Scotland, said her skin flared up almost immediately after she got her first dose of the Oxford-AstraZeneca vaccine on March 12. The rashes covered her face, chest, stomach, back, arms and legs. The rashes remained two weeks later and she's still sore and in a lot of pain.

April 2, 2021
Man admitted to hospital with blood clots after receiving AstraZeneca coronavirus vaccine
A 44-year-old man has been admitted to a hospital in Victoria (Australia) with blood clots, several days after receiving the AstraZeneca vaccine.
April 1, 2021
French drug agency links AstraZeneca vaccine with blood clots
Less than two months after its conditional marketing authorization by the European Medicines Agency (EMA) at the end of January, the controversial AstraZeneca COVID-19 vaccine was linked last Friday with cases of thrombosis, by the French Drug Agency (ANSM, Agence nationale de sécurité du medicament).
April 1, 2021
Ilaria Pappa: 31-year-old Italian professor dead three weeks after AstraZeneca viral vector shot
AstraZeneca continues its crimes against humanity as yet another young victim dies from blood clots, suffering an ischaemic stroke.
April 1, 2021
UK Refuses to Suspend AstraZeneca COVID Shots as Other Nations Have
95 New Deaths Recorded this Week in the UK Following AZ COVID Shot
March 31, 2021
Canada Does About Face on AstraZeneca Vaccine, Citing Blood Clot Concerns
After previously defending AstraZeneca's COVID vaccine, Canadian health officials on Monday suspended its use in people 55 and under, pending outcome of a detailed risk-benefit analysis.
March 31, 2021
AstraZeneca vaccine suspended for under-60s in two German cities after 'rare blood clots'
The decision came after the country's medical regulator announced it had received a total of 31 reports of rare blood clots in recent recipients of the AstraZeneca vaccine. Nine of the people died, and all but two of the cases involved women aged 20 to 63, the Paul Ehrlich Institute said. Read More.
March 30,2021
Norwegian doctor says AstraZeneca jab is, in fact, causing deadly blood clots
As the world awaited a decision by the European Medicines Agency (EMA) as to the fate of the AstraZeneca and University of Oxford vaccine injection for the Wuhan coronavirus (Covid-19), a doctor in Norway had already determined it to be unsafe.
March 28, 2021
Entire Italian City in Shock as Another Italian Professor is DEAD Following the AstraZeneca COVID Injection
37 year old Zelia Guzzo, fell ill 12 days after the jab and died of a cerebral hemorrhage 3 weeks after the shot. A criminal investigation is now underway.
March 28, 2021
Ukrainian military member dies TWO DAYS after getting the AstraZeneca coronavirus vaccine
A female member of the Ukrainian military died two days after getting the AstraZeneca COVID-19 jab. The Ukrainian Ministry of Healthcare confirmed the death on its website March 24,
March 26, 2021
31-Year-Old Italian Professor DEAD following the Experimental AstraZeneca COVID Injection
Mrs. Ilaria Pappa received the first dose of the Oxford-AstraZeneca viral vector shot on February 28, according to IlGolfo24.it. Everything seemed fine until she got ill two weeks later. The 31-year-old professor went to Cardarelli Hospital on March 16. Doctors worked tirelessly to figure out what was wrong. She was placed into a medically-induced coma on March 20 after suffering a ischemic stroke (blood clot).
March 25, 2021
2 Men Dead at Senior Care Home following Experimental Pfizer COVID Injections – Australia
An investigation has been launched by the Therapeutic Goods Administration after two residents at a Port Macquarie aged care home developed pneumonia and died within days of getting the COVID-19 vaccine.
March 25, 2021
VAX FRAUD: AstraZeneca fudging data to declare its coronavirus jab "safe and effective"
The Data Safety Monitoring Board (DSMB) sent a notice both to AstraZeneca and to two government health agencies expressing worry that the England-based drug giant is using "outdated information" to declare its jab is "safe and effective."
March 25, 2021
Surgeon Warns Vaccinating People Infected With COVID Could Cause 'Avoidable Harm'
Dr. Hooman Noorchashm – People who have already been infected with COVID could be at risk of serious injury, including death if they have the COVID Vaccine. "I think it's a dramatic error on part of public health officials to try to put this vaccine into a one-size-fits-all paradigm … We're going to take this problem we have with the COVID-19 pandemic, where a half-percent of the population is susceptible to dying, and compound it by causing totally avoidable harm by vaccinating people who are already infected … the signal is deafening, the people who are having complications or adverse events are the people who have recently or are currently or previously infected [with COVID]. I don't think we can ignore this."As The Defender reported earlier this month, Noorchashm believes that a #ScreenB4Vaccine campaign could save millions from vaccine injuries.

March 25, 2021
Why the credibility of AstraZeneca's vaccine data matters
An independent trial review board says AstraZeenca may have included outdated information about its clinical trial results in a press release. Ultimately, the company will have to present a full set of clinical data to the FDA, and the FDA will conduct a thorough and public review, as it has with the other vaccines.
March 25, 2021
Finland extends probe of AstraZeneca jab but to resume use for those aged 65 and over
The institute is still looking into two cases of blood clots in Finland and said it needed more time to complete its investigation, which will be finished on April 6 the earliest.
March 24, 2021
Female Military Member Dies After COVID-19 Vaccine, Showed No Side Effects
Ukraine's health agency has reported that a female military member died after receiving AstraZeneca's CoviShield CCP virus vaccine. The woman had underlying heart problems and other underlying health conditions
March 24., 2021
Two Danes suffer from brain hemorrhage after getting AstraZeneca coronavirus jab
Two healthcare workers in Denmark developed brain hemorrhages after they received AstraZeneca's Wuhan coronavirus vaccine. The two health care workers experienced brain bleeds within 14 days of getting the jab. One of the patients has died as of writing, while the other one remains in critical condition.
March 23, 2021
New research points to link between AstraZeneca vaccine and blood clots
Researchers at the Greifswald teaching hospital in northern Germany said Friday they've discovered how the AstraZeneca COVID vaccine could cause blood clots that could lead to rare thrombosis in the brain, public broadcaster Norddeutscher Rundfunk reported.
March 22, 2021
A Ukrainian servicewoman who died two days after taking the AstraZeneca CoviShield vaccine had not complained of any ill effects after taking the shot
The statement urged the public not to jump to conclusions about the death, which is still being investigated, and said the woman had chronic cardiovascular disease and other comorbidities. Nine other people were given the vaccine from the same batch on the same day and had no ill effects, it said.
March 22, 2021
New Research Points to Link Between AstraZeneca Vaccine and Blood Clots
Researchers in Norway and Germany say they've identified antibodies that provoke immune reactions leading to the type of cerebral blood clots experienced by some people who received AstraZeneca's COVID vaccine. The German team, led by professor Andreas Greinacher, said in a statement that AstraZeneca's vaccine may, in some cases, prompt overactivation of platelets in the blood, which can lead to potentially deadly clots. As NPR reported, Greinacher said it's similar to what happens with a condition called heparin-induced thrombocytopenia.
March 21, 2021
27 year old Georgian Nurse died ONE DAY after AstraZeneca stab
A Georgian nurse who went into anaphylactic shock after receiving the first dose of the British AstraZeneca Covid-19 vaccine has died. YET.. AstraZeneca has the audacity to say that their Vaccine is safe – this coming from a Company with a history of making fraudulent claims. The Astra rollout only started in Georgia on March 15, and Nurse Megi Bakradze had her shots on film followed by interviews, but within an hour went into anaphylactic shock and died within 24hrs.
March 21, 2021
Danish regulator says woman who died after AstraZeneca jab had "unusual symptoms" including from blood clots
The Danish Medicines Agency (DKMA) said a patient who died of a blood clot after getting the AstraZeneca COVID-19 vaccine exhibited "unusual symptoms." Aside from bleeding, the 60-year-old woman had a low number of blood platelets and clots in small and large vessels. Denmark's drug regulator added that a few similar cases were found in Norway and in the side effects database of the European Medicines Agency (EMA).
March 19, 2021
Norwegian media says some people "have to die" from coronavirus vaccines as a sacrifice to humanity
Now, we are being told that it is a virtue for someone to risk death from getting jabbed – "It probably sounds very brutal. But some must be sacrificed in the war against the corona. That's the way it is in all wars. This time it may well be me."
March 18, 2021
AstraZeneca & Cellulitis
After Australia's Health Minister was diagnosed with bacterial cellulitis after his vax, and the official government announcement was it had NOTHING to do with the Vax, IMOP created the following Press Release. It has been widely reported that Minister Hunt has been diagnosed with cellulitis, however a possible connection with his vaccination has been quickly dismissed by the media. Post-vaccination neutropenia [2] is well documented, and neutropenia predisposes one to cellulitis [3], so to summarily dismiss the link between Mr Hunt's symptoms and the vaccination he received is not justified. In pre-licensure clinical trials [4], transient haematological changes from baseline (neutropenia) were observed in 46% of participants in the AstraZeneca vaccine group compared with 7% in the MenACWY vaccine group.
March 18, 2021
EU Regulators: AstraZeneca Vaccine 'May' Cause Blood Clots, But Still 'Safe and Effective'
The European Medicines Agency said today the Oxford-AstraZeneca COVID vaccine "may be associated with very rare cases of blood clots," but the vaccine is "safe and effective" and countries should continue to use it.
March 16, 2021
20+ Countries Suspend Use of AstraZeneca Vaccine, But Regulators Insist 'Benefits Outweigh Risks'
WHO and the EMA are investigating reports of blood clot-related injuries and deaths after the AstraZeneca COVID vaccine, but both say there's no reason to stop using the vaccines. Australia today (17 March) is ramping up it's rollout into Stage 1B.
March 16, 2021
Teacher Dies Hours After Getting AstraZeneca COVID Shot in Italy – Manslaughter Investigation Launched
A manslaughter investigation has reportedly been launched in Italy over a 57-year-old clarinet teacher who passed away on Sunday, less than 24 hours after having the first dose of the AstraZeneca COVID-19 vaccine. Prosecutors in the northern Italian region of Piedmont have also reportedly seized nearly 400,000 doses of the AstraZenca COVID vaccine. Magistrates in Sicily ordered the seizure of a separate batch of AstraZeneca vaccines last week following the sudden deaths of two men who had recently been inoculated.
March 16, 2021
European medical regulator backs AstraZeneca COVID-19 vaccine as Sweden and Latvia pause use
The benefits continue to outweigh the risks

March 16, 2021
Overview of Blood Clots & AstraZeneca Vaccine
Discussion Article & Links to resources including reported Blood Clot Adverse Events
March 15, 2021
Germany, Italy, France and Spain suspend AstraZeneca vaccine rollout amid blood clot concerns
The European Union's four largest nations have suspended the use of the AstraZeneca COVID-19 vaccine after reports in some European countries of serious side effects in recipients. Germany, Italy and France announced they would be pausing their rollout of the vaccine pending an assessment from the European Medicines Agency (EMA), which is meeting on Thursday, March 18. Spain suspended the use of the vaccine for at least two weeks. Cyprus and Slovenia also announced they would be putting use of the vaccine on hold until after the EMA meeting. France has suspended but hoped could resume "if the EMA gives the green light". Denmark and Norway stopped giving the shot last week after reporting isolated cases of bleeding, blood clots and a low platelet count. Iceland and Bulgaria followed suit before Ireland and the Netherlands announced suspensions on Sunday. Austria and Spain have stopped using particular batches and prosecutors in the northern Italian region of Piedmont earlier seized 393,600 doses following the death of a man hours after he was vaccinated. Piedmont was the second Italian region to do so after Sicily, where two people died shortly after having their shots.
March 15, 2021
Ireland halts use of AstraZeneca vaccine
Ireland temporarily suspended the use of the AstraZeneca Covid-19 vaccine on Sunday following a report from Norway of patients developing blood clots post inoculation. The Norwegian Medicines Agency on Saturday said there were four new cases of serious blood clotting in adults after taking the vaccine.
March 12, 2021
Thailand delays vaccine rollout over blood clot fears
Thailand has delayed the rollout of the AstraZeneca's Covid-19 vaccine over reports of blood clots
March 12, 2021
9 European Nations Suspend Experimental AstraZeneca COVID Vaccines Due to Fatal Blood Clots
See Article – Denmark, Austria, Norway, Estonia, Lithuania, Luxembourg, Latvia, Iceland and Italy have all reportedly stopped their plans to use the AstraZeneca vaccine.

March 12, 2021
Italy bans AstraZeneca batch following two deaths in Sicily
Italian health authorities have ordered the withdrawal of a batch of AstraZeneca coronavirus vaccine following the deaths of two men in Sicily who had recently been inoculated – Stefano Paterno, a 43-year-old navy officer, and Davide Villa, a 50-year-old policeman, who had both received shots from AstraZeneca's ABV2856 batch.

March 12, 2021
Denmark, Norway, Iceland suspend AstraZeneca COVID shots after blood clot reports
Health authorities in Denmark, Norway and Iceland say they have temporarily suspended the use of AstraZeneca's COVID-19 vaccine after reports of the formation of blood clots in some who have been vaccinated.Austria earlier stopped using a batch of AstraZeneca shots while investigating a death from coagulation disorders and an illness from a pulmonary embolism.Still, the European medicine regulator EMA said the vaccine's benefits outweighed its risks and could continue to be administered.
March 12, 2021
WHO Says No Reason to Stop Using AstraZeneca Jab
The World Health Organization said Friday there was no reason to stop using AstraZeneca's COVID-19 vaccine after several countries suspended the rollout over blood clot fears.
March 10, 2021
Australian Health Minister Greg Hunt was admitted to hospital 2 days after the AstraZeneca Vaccine.
Diagnosis – bacterial cellulitis. Looking that UK Adverse Events Data, Cellulitis as at the 24 Feb 2021 had been experienced by 104 people after the AstraZeneca Vax, and resulted in 1 death.
March 8, 2021
First Week of COVID Experimental Vaccines in South Korea: 7 DEAD and More than 2,800 Injured
South Korea finished its first week of rolling out long-awaited Covid-19 inoculations in the country with thousands of suspected adverse reactions to AstraZeneca's vaccine, seven of which resulted in deaths.
8 March 2021
Austria suspends AstraZeneca vaccine after death + serve reaction
Authorities in Austria have suspended inoculations of a batch of the AstraZeneca vaccine while they investigate the death of one person after receiving a jab. The Federal Office for Safety in Health Care (BASG) said it received reports that a 49-year-old woman died as a result of severe coagulation disorder after receiving the jab. A 35-year-old woman also developed a pulmonary embolism after the vaccine and is recovering. Both women received jabs of the Oxford vaccine from the same batch.
7 March 2021
Mix & Match Vaccines & Efficacy
AstraZeneca boss says vaccine effective against variants and maybe best to mix the first and second vaccine doses from different companies to provide a better approach. I consider this to be an abhorrent medical practice of which NO studies have been performed to prove this efficacy let alone long-term health consequences.
4 March 2021
SA to lead the nation with AstraZeneca COVID-19 vaccination.
Australia's rollout of the Oxford-AstraZeneca COVID-19 vaccine will begin on Friday March 5, with the first doses to be administered in South Australia.
February 28, 2021
Scientists at Oxford University (Oxford-AstraZeneca Vaccine) have suggested that people may need to have a coronavirus vaccination not once, not twice, but EVERY time they want to travel out of their home country.
The scientists published a report in the Royal Society Journal last week that acknowledged there is little data on how efficient or long lasting the current vaccines are, and so it is likely that countries will require a recent vaccination. Having endless vaccinations when there is no indication of how effective they are, or what long term side effects there may be sounds absolutely mental, but that is what is being suggested!!!
February 24, 2021
Hospitals in France forced to SLOW DOWN covid vaccinations as healthcare workers fall ill in droves.
When the experimental covid vaccine was first rolled out at the University Hospital of Brest in Brittany, a staggering 25 percent of the vaccinated healthcare workers fell ill. Many suffered from severe headaches, high fever, chills, sore muscles and consequentially, could not go to work. The rate of vaccine injury was so high, the hospital had to stop vaccinating the healthcare workers altogether. The VACCINE, not the virus, is leading to intermittent staff shortages in hospitals throughout France. The hospital initially agreed to tolerate a vaccine injury rate as high as ten percent, but saw between 50 and 70 percent of the vaccinated workers fall ill! How long will populations permit this dangerous experiment? As vaccine injury becomes accepted as a normal sacrifice "for the greater good," many people are refusing the AstraZeneca vaccine for conscientious reasons.
February 24, 2021
54-year-old man dies after taking COVID-19 vaccine Covishield in Delhi
Ramesh Kumar was administered the coronavirus vaccine – Covishield on February 17, and soon a day after that he started developing uneasiness."My father received his first shot of Covishield vaccine on February 17. [Covishield is the local name for the Oxford-AstraZeneca vaccine developed in the UK]. That day, when he returned home, he started feeling uneasy and the very next day, was running temperature, which lasted for 2-3 days," Kumar's son Dheeraj was quoted as saying. He then suddenly collapsed, and rushed to hospital where he died of health implications.
February 22, 2021
Medical Coercion & disregard of Human Rights.
Even though Dr. Marty Makary, a surgeon and a professor at the Johns Hopkins School of Medicine and Bloomberg School of Public Health, believes that the coronavirus will be "mostly gone" by April due to herd immunity being reach, Govts are still choosing to perform a mass crime against humanity. Whether it be penalising people with massive fines (relative to income) in Indonesia or performing mass human experiments against citizen will by vaccinating an entire Brazilian City. In 1984-esq style, the Whitehouse has enlisted Social Media Giants to suppress Vaccine (mis) information by deleting posts that deviate from the official statement. And defense forces are 'pressuring' to get vaccines 'its your duty' rather than your choice whilst imparting false information about safety which shows clear intent to coerce and not inform. And with the mass COVID vaccination program now in full swing, we are hearing of more and more reports suggesting the fundamental right and legal requirement of Administrators of emergency use vaccines to inform vaccine recipients of the potential risks is not being upheld. Is this criminal negligence ?
February 18, 2021
WHO Approves AstraZeneca Vaccine for Emergency Use, But Some Nations Say 'No Thanks'
The controversial vaccine, which Bill Gates has heavily invested in, is being rejected by some countries over widespread concerns about side effects and efficacy. Multiple adverse reactions were reported during the 2020 AstraZeneca trials, including spinal cord damage consistent with transverse myelitis, death and acute neuro encephalopathy.

February 18, 2021
AstraZeneca Vaccine Faces Resistance in Europe After Health Workers Suffer Side-Effects
Health authorities in some European countries are facing resistance to AstraZeneca's COVID-19 vaccine after side-effects led hospital staff and other front-line workers to call in sick, putting extra strain on already-stretched services.
February 16, 2021
AstraZeneca Vaccine for the over 65s ?
TGA boss John Skerritt said elderly patients had showed a strong immune response in clinical trials, but there were not enough participants to conclusively determine efficacy for that group. AstraZeneca Australia president Liz Chatwin said the evidence to date suggested elderly recipients produced a strong immune response and tolerated the vaccine well. Yet Germany has decided NOT to recommend AstraZeneca for over 65s due to insufficient data. And South Africa has suspended the AstraZeneca rollout completely.
February 16, 2021
46 Nursing Home Residents in Spain Die Within 1 Month of Getting Pfizer COVID Vaccine
Forty-six nursing home residents who had received their first dose of Pfizer-BioNTech's fast-tracked vaccination against COVID-19 at the beginning of January had died by the end of the month, Spanish media have reported.
February 15, 2021
42,649 reported adverse reactions including 90 deaths in 4 week period administration of AstraZeneca Vacc
Download the 4 week UK Govt Report here to view published Adverse Reactions 4 January to 31 January 2021. You can download reports at any time from the UK Government Website.
February 13, 2021
European doctors shun Oxford-AstraZeneca vaccine amid reports of side effects
The Oxford-AstraZeneca vaccine is getting the thumbs down from doctors in France and Italy who are suffering side effects and claim it is less effective than other vaccines.

February 13, 2021
AstraZeneca starts trials on children 6 to 17
UK – 240 children aged from 6 to 17 will get the AstraZeneca Vacc in a clinical trials. The control group in the trial will not have a saline placebo, but rather the Meningitis Vacc.
February 11, 2021
Astrazenca Vaccine on Children
AstraZeneca beings trials on children 12 to 18 year olds next month (March 2021),
February 11, 2021
21,032 reported adverse reactions including 34 deaths in 3 week period administration of AstraZeneca Vacc
Download the 3 week UK Govt Report here to view published Adverse Reactions 4 January to 24 January 2021. You can download reports at any time from the UK Government Website.
February 10, 2021
A series of knocks: Oxford/AstraZeneca's bumpy road to Covid vaccine confidence
From doubts about efficacy in older people to questions about variants, scientists have faced a battle to convince the public and regulators
February 10, 2021
AstraZeneca's COVID-19 vaccine has been confusing from the start
South Africa announced this week that it's stopping the use of the AstraZeneca-Oxford COVID-19 vaccine after a small study found that it wasn't effective against mild and moderate disease. It's another hit for the AstraZeneca-Oxford vaccine, which has been dogged by shaky relationships with regulators and limited transparency for months. But it's also a confusing result: the small trial wasn't able to figure out if the vaccine could protect against severe disease and death, just that it didn't perform well against mild and moderate cases.
February 10, 2021
WHO expert panel recommends wide use of AstraZeneca COVID vaccine
The benefits of the COVID-19 vaccine developed by AstraZeneca and Oxford University outweigh any risks and the shot should recommended for use, including in people aged 65 and older, a World Health Organization panel said on Wednesday.
February 10, 2021
Italy – teachers balk at AstraZeneca vaccine plans
Italy's main teachers' union complained that it hadn't been consulted about the decision to start up the vaccine drive for teachers ahead of schedule, with some of the first 250,000 AstraZeneca doses that arrived over the weekend. The union said school workers were questioning whether to accept the AstraZeneca vaccine given its "claimed lower vaccination coverage compared to the more effective Pfizer and Moderna vaccines."
February 10, 2021
South Korea to Approve AstraZeneca as First COVID-19 Vaccine, Including for Elderly
South Korea on Wednesday said it would grant its first approval for a coronavirus vaccine to AstraZeneca, and will allow use in people 65 years or older, despite advisory panels' warning of a lack of data on its efficacy for the elderly
February 8, 2021
New data on AstraZeneca vaccine add to worries over coronavirus variant from South Africa
Vaccine is only 22% effective at reducing mild to moderate disease.And it's unknown whether the shot still protects immunized patients from severe disease or hospitalization from COVID-19 caused by the variant, known as B.1.351.

February 7, 2021
South Africa Suspends AstraZeneca COVID Vaccine Roll-out
South Africa has suspended the use of the Oxford/AstraZeneca coronavirus vaccine in its immunisation programme until a committee of scientists advises on the best way to proceed. Health Minister Zweli Mkhize's announcement on Sunday came after trial data showed the vaccine developed by drugmaker AstraZeneca and the University of Oxford offered only limited protection against mild and moderate disease caused by the 501Y.V2 coronavirus variant first identified in South Africa. Australian Health Minister Greg Hunt says he is still confident in the AstraZeneca vaccine, despite South Africa's plans to pause their rollout of the shot.
February 7, 2021
Katie Price's son Harvey rushed to hospital after he reacts to Covid vaccine
18-year-old Harvey, received the Oxford/AstraZeneca jab, he is disabled and considered high-risk. However, since getting his first dose on Friday, he's now been rushed into London's Great Ormond Street Hospital. A close source to the family has said that Harvey was "was shaking uncontrollably." He also had a high temperature of 39.9
February 2, 2021
Australia's plan for vaccinating teachers and students
Teachers and students are back in the classroom this week for a new school year. Here, SBS News looks at where they fit into Australia's coronavirus vaccine rollout and how authorities are planning to keep them safe. The University of Oxford, which developed a vaccine with AstraZeneca Plc, is planning initial tests in 12- to 18-year-olds next month (February 2021). At Oxford, the university plans to recruit about 120 children in both the 12-to-18 and 6-to-11 age groups and then AstraZeneca will then run a larger trial for children in the U.S. The company declined to provide information on the size or timing of that study.
January 30, 2021
US children will 'hopefully' get vaccines in late spring or early summer, says Fauci
Children in the US will "hopefully" start to be vaccinated against Covid-19 by late spring or early summer 2021, Dr Anthony Fauci said last Friday. The University of Oxford, which developed a vaccine with AstraZeneca Plc, is planning initial tests in 12- to 18-year-olds next month (February 2021). At Oxford, the university plans to recruit about 120 children in both the 12-to-18 and 6-to-11 age groups and then AstraZeneca will then run a larger trial for children in the U.S. The company declined to provide information on the size or timing of that study.
January 29, 2021
329 Deaths + 9,516 Other Injuries Reported Following COVID Vaccine, Latest CDC Data Show
The numbers reflect the latest data available as of Jan. 22 from the CDC's Vaccine Adverse Event Reporting System website. Of the 329 reported deaths, 285 were from the U.S., and 44 were from other countries. The average age of those who died was 76.5.
January 28, 2021
Germany won't recommend Oxford jab for over-65s due to 'insufficient data'
Health experts advising the German government are recommending that the Oxford/Astrazeneca vaccine shouldn't be given to the elderly. The Standing Vaccine Commission, from Berlin's Robert Koch institute, say there is 'insufficient data currently available to ascertain how effective the vaccination is above 65 years'.
January 17, 2021
51 adverse reactions reported & 1 person hospitalized in Delhi as India begins world's largest Covid-19 vaccination program
At least 51 healthcare workers (out of 4,319) in India's capital suffered minor adverse reactions after receiving the jab. The most common side effects were dizziness and headache, with several people reported tightness in the chest and were administered medical treatment, while one individual experienced a serious health emergency after suffering from headache, rashes, respiratory distress, and tachycardia after taking the vaccine. India granted emergency approval to two variants of the Covid-19 vaccine earlier this month: Bharat Biotech's Covaxin, and Covishield, a jab based on the AstraZeneca/Oxford formula and manufactured by the Serum Institute of India. Both shots are being used in India's capital.
January 17, 2021
AstraZeneca Chimpanzee Adenovirus & Aborted Human Foetal Cells
Dr Brian Hooker outlines the potential serious injury from the AstraZenaca Vaccine due to Vaxx containing Chimpanzee Adenovirus GMO & culturing in Human Embryonic Kidney cells ie Aborted Human Foetal Cells.
January 12, 2021
Most Australians will get the AstraZeneca coronavirus vaccine, but priority groups will receive the Pfizer drug. What's the difference?
COVID Vaccines are coming to Australia in late February 2021. Chief Health Officer Paul Kelly said most Australians would receive the AstraZeneca drug as part of the Government's strategy because "we are making it here". And the Federal Government outlined its plan to administer the Pfizer vaccine to "first-priority groups" because Australia will get that drug first, but only in a limited supply. Read Full Article abc.net.au

December 31, 2020
Oxford/AstraZeneca vaccine rollout plan changed following approval
Rollout of the Oxford vaccine will begin on 4 January in the UK – a single first dose of the Oxford/AstraZeneca vaccine, with a booster jab within three months, in a bid to return the country to some normality by the spring, the prime minister has said.The Pfizer/BioNTech vaccine already in use needs to be stored in the long-term at -70C and is hard to deploy. The Oxford vaccine, however, can be kept in a normal fridge at 2-8C and is easily transported from UK factories, meaning it will not have to be kept in central hospital and community hubs, enabling a swift rollout to GP practices and care homes.

December 12, 2020
AstraZeneca Under Scrutiny Again as Countries Spend Billions Purchasing Its Low-Cost Vaccine
AstraZeneca's COVID vaccine faced new controversy this week after a trial participant in India alleged that the vaccine caused him serious "neurological and psychological" symptoms. The accusation was the latest in a series of complaints or concerns surrounding Covishield, the AstraZeneca vaccine being developed in partnership with Oxford University.
December 4, 2020
AstraZeneca vaccine trial participant injured
A participant in India's AstraZeneca COVID vaccine trials reported to the Serum Institute, which is sponsoring the trial, that he developed acute neuro encephalopathy (a condition similar to what autistic children experience) after receiving the vaccine. "We should be very concerned about the tremendous levels of adverse events in all the COVID vaccine trials, and the obfuscation around who was in the trials."
November 20, 2020
I'm an epidemiology professor and I have some genuine concerns about the AstraZeneca Covid vaccine. Here's why…
As the world awaits the roll-out of a vaccine to combat coronavirus, the announcement of AstraZeneca's trial results this week was greeted with enthusiasm by some and scepticism by others. I believe there will be better options.
November 19, 2020
Open debate is the answer… NOT making immunisation compulsory
As we edge ever closer to a Covid vaccine, the arguments for making it mandatory grow ever louder. This is wrong. I will be first in the queue to get it, but forcing people to do so breaches their human rights.

September 19, 2020
AstraZeneca, Under Fire for Vaccine Safety, Releases Trial Blueprints
Experts are concerned that the company has not been more forthcoming about two participants who became seriously ill after getting its experimental vaccine.
April 9, 2020
Pathogenic priming likely contributes to serious and critical illness
SARS-CoV-2 has some unexplained pathogenic features that might be related to the table of putative pathogenic priming peptides. Exposure to these specific peptides – via either infection or vaccination – might prime patients for increased risk of enhanced pathogenicity during future exposure due either to future pandemic or outbreaks or via universal vaccination programs. While the mechanisms pathogenesis of COVID-19 are still poorly understood, the morbidity and mortality of SARS has been extensively studied. Thus, the involvement of pathogenic priming in re-infection by COVID-19 is a theoretical possibility; of course no vaccine against SARS-CoV-2 has yet been tested in animals and therefore we do not yet know if pathogenic priming is in fact expected. Such studies should be undertaken before use of any vaccine against SARS-CoV-2 is used in humans. NOTE: In 2021, the Pfizer, Moderna & AstraZeneca Vaccines have NOT been tested in animals, instead HUMANS are being used as guinea pigs during this mass experiment on humanity.
2020/2021
Australia's Vaccine Agreements
Australia has entered into 4 separate agreements for the supply of COVID-19 vaccines, if they are proved to be safe and effective – Pfizer, AstraZeneca, Novavax & COVAX Facility Vaccines.
Difference between Traditional Vaccines & mRNA Vaccines
Most other vaccines work by administering the Spike protein (a small portion of a Virus) directly into your body, or by introducing an attenuated or inactivated virus that contains the Spike protein. In these types of traditional vaccines, the Spike protein was previously made in a vaccine production facility.
However, in an RNA vaccine, there is no Spike protein in the vaccine. Instead, the vaccine provides your cells with instructions on how to build the Spike protein. Essentially, your cells have become the vaccine production factory. After some time, this delivered RNA will be destroyed by our cells, and the cells will stop producing the Spike protein.
What this means is, is that the mRNA Vaccines essentially inject a Computer Operating System into your body that runs programs, telling your body what to do. Moderna call this the 'Software of Life'.
Hence mRNA Vaccines (Moderna & Pfizer) do not meet the legal definition of a Vaccine. It is a medical device, not a drug because it meets the CDRH definition of a device. It is not a living system, it is not a biologic system, it is a physical technology – it happens to just come in the size of a molecular package.
Please note that the AstraZeneca is NOT an mRNA Vaccine, the above info relates to Moderna & Pfizer only. Though AstraZeneca does have plans to begin investment in mRNA technology.

Doctors around the World – DO NOT get the COVID Vaxx
World Doctors Alliance – An independent non-profit alliance of doctors, nurses, healthcare professionals and staff around the world who have united in the wake of the Covid-19 response chapter to share experiences with a view to ending all lockdowns and related damaging measures and to re-establish universal health determinance of psychological and physical wellbeing for all humanity. View on Telegram.
Great Overview – COVID Vaccines & Mandates
Before reading below, I highly recommend watching this 35 minute video, that provides a clear & concise overview of the COVID Vaccines & Mandates, including where to go from here!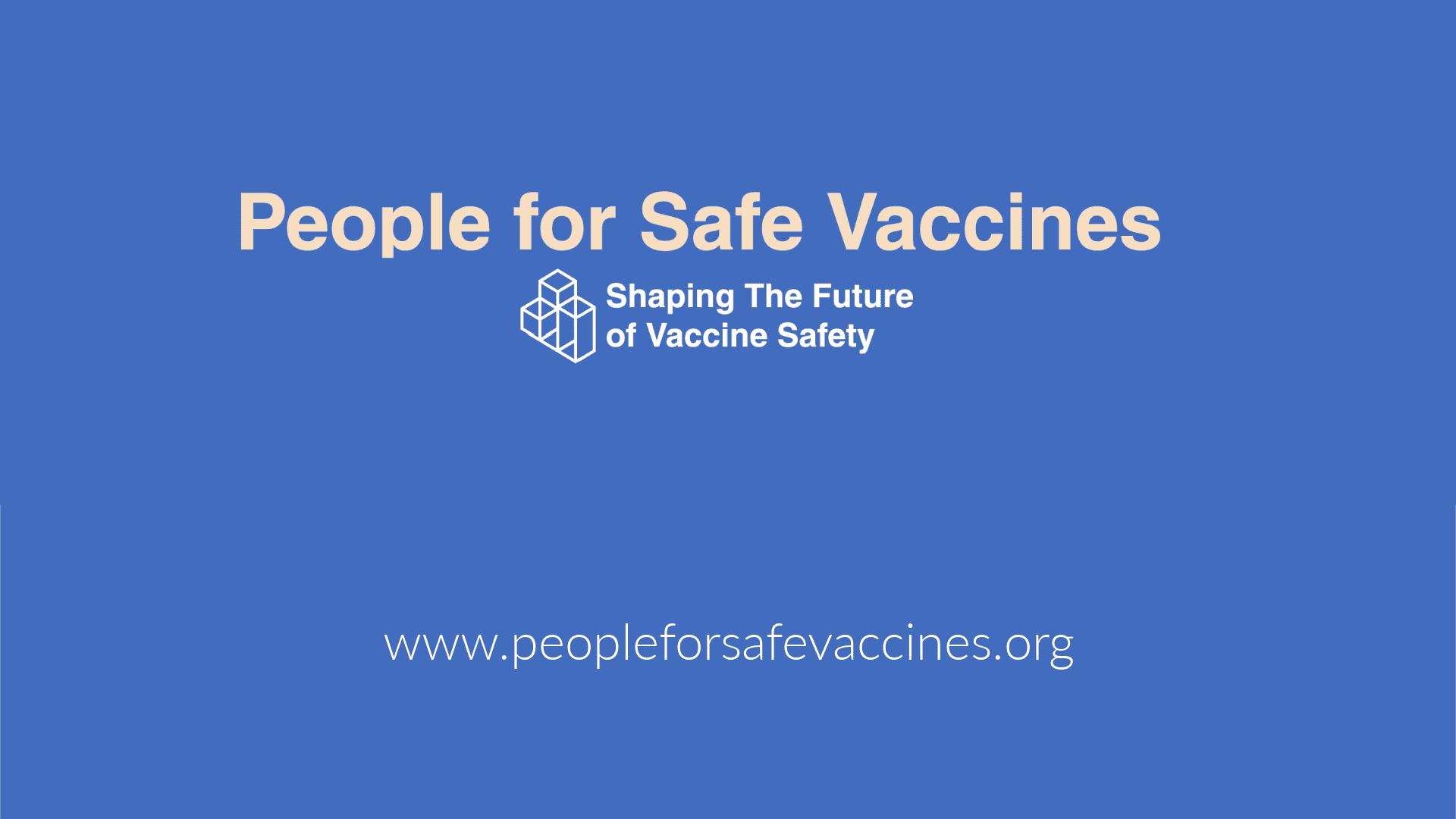 People for Safe Vaccines
If you are being coerced into having a COVID Vaccine, then please visit our Global Health Freedom page and click on Health Advocacy from the posts menu. On this page you can find an organisation in your City/Country that will help you know your rights and what you can do regarding your Health Freedom.
If you are based in Australia, I highly recommend PeopleforSafeVaccines.org
How Will We Know That a COVID-19 Vaccine is Safe?
Children's Health Defense has created a video of Dr. Liz Mumper's presentation titled "How Will We Know That a COVID-19 Vaccine is Safe?" This presentation is the result of a collaborative effort between Dr. Mumper and the team of doctors, scientists, and researchers affiliated with CHD.