We will continually update this page with new articles, scientific studies, videos & information. Please also see our Individual Country Pages for Adverse Events –United States Adverse Events, United Kingdom Adverse Events, and Australia Adverse Events.
Before reading below, I highly recommend watching this Video of World renowned experts (physicians, scientists, lawyers, activists etc.) discussing the many unanswered questions regarding the safety and effectiveness of the COVID vaccine. And also consider reading this article on the censorship of intelligent & critical discussion of Vaccines & Government responses.
Vaccine Approval
The Moderna Vaccine is still undergoing it's STAGE III Clinical Trials (due for completion in October 2022). The Moderna Vaccine have been emergency approval for use in the United States, Australia, and the United Kingdom. Essentially this means that the Vaccines are approved for short-term use even though clinical trials have NOT been completed & the vaccine is not officially approved. Another way of looking at this is that HUMANITY has been signed up for a GLOBAL Clinical Stage III Trial. And keep in mind too that mutations could render current Covid vaccinesineffective in a year or less,meaning Governments will be 'mandating' yearly shots on the advice of BigPharma.

Immunity of Liability
Governments around the world have granted full immunity of liability against any claim of loss caused by, arising out of, relating to, or resulting from the manufacture, distribution, administration, or use of medical countermeasures, including COVID-19 vaccines (United States, European Union, Australia). With a LONG historical correlation of Adverse Events from Vaccines, including more recently the COVID Vacc, what then keeps the 'morality & ethics in check' of BigPharma choosing safe vaccines over profit ?
Profits over Health ?
As COVID vaccines drive record profits, is it any wonder BigPharma are pushing for 3rd Shots + Annual Boosters. Essentially, Big Pharma doesn't want healthy people, it wants customers. A new report by People's Vaccine Alliance reveals 9 New 'Vaccine Billionaires' Amass Combined Net Worth of $19.3 Billion During Pandemic. And $3 Billion in taxpayer money is being used to make these people even richer!
Ethics & Morality
Many people don't seem to realize it, but nearly every vaccine manufacturer currently profiteering from covid-19 vaccines has a long history of criminal fraud, bribery, kickbacks and faked science. This fact has even been covered by the corporate news media over the years. Moderna (modeRNA) is a biotechnology company that focuses on the development of mRNA drugs. It's philosophy is built upon the premise of BIOHACKING nature, the biology of life, to outsmart & improve upon the Human Genome. It must be noted that over the 10 years that the company has been in operation not ONE mRNA drug/vaccine has found success through trials & made it to market. It is interesting to note too, that as the Moderna Covid Vacc reached it's Stage III trials, company execs cashed in 10 of millions of their stock. Not to mention the ethics around testing of drugs on Animals… is this the best we can be as Human Beings ?
95% Effective ?
Are Pfizer and Moderna misleading the public about the efficacy of their COVID vaccines by withholding the fact that there's another way to parse their data — one that has more real-world significance? The BMJ's Doshi has shown that vaccine manufacturers are not above inappropriately excluding data, deviating from study protocols (and then hiding the deviations), using unofficially unblinded study groups and keeping raw data (even when taxpayer-funded) to themselves. One way for the public to push back against this "strategic chicanery" and lethal "coincidences" is to follow the lead of rigorous questioners like Doshi, querying the "trustworthiness and meaningfulness" of reported results at every step.
Plus… COVID Vaccines May Not Work on Millions Who Have Underlying Conditions, Yet CDC Continues to Recommend They Get the Shot!
Read more about Safety concerns here.
Read list of Moderna Vaccine contents here.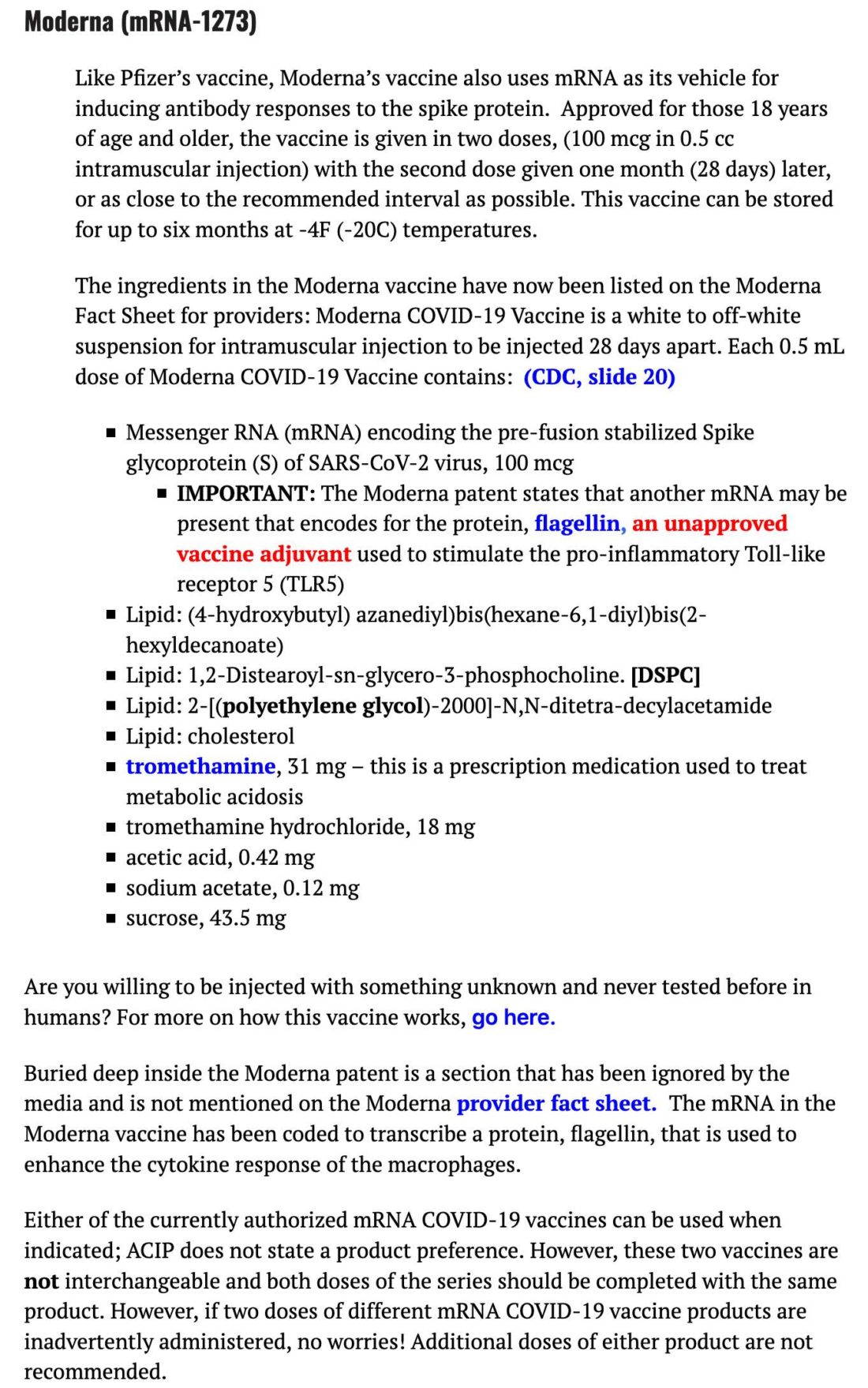 How to Report Adverse Reactions ?
If you have experienced any side-effect/adverse reaction after receiving a vaccine, or as a healthcare professional, your patient has experienced an adverse reaction, you can report your reaction via the Global Website www.vaxxtracker.com Adverse Reactions should ALSO be reported in your own country as follows:
Australia – TGA: See our Australian Page
New Zealand: NZPHVC.otago.ac.nz
United States: VAERS.hhs.gov
United Kingdom: coronavirus-yellowcard.mhra.gov.uk
View Reported Adverse Reactions
United States – OpenVaers.com
United Kingdom – Gov.uk
Australia – TGA.gov.au – DAEN
Media Reports Adverse Reactions – Moderna Vaccine
Are Conversations About COVID Vaccines Fracturing Your Family? Here's What You Need to Know.
https://childrenshealthdefense.org/defender/conversations-covid-vaccines-what-you-need-to-know/
READ: The Reason I say NO to the Masks & the Experimental Vaccine
https://www.universallifetools.com/2021/04/the-reason-i-say-no/
May 26 – 2021 – Six more Deaths from Experimental Jabs
Health Impacts News puts together more faces to the names of recent deaths & injuries. A 27-year-old competitive archer Mr. Haziq Kamaruddin was training for a chance to represent Malaysia in the 2021 Tokyo Summer Olympics, he received the first dose of experimental Pfizer mRNA on April 13 & second dose on May 4 and died on May 14 – an autotopsy found bloodclots in this heart. Bill Shakespeare aged 81, 1st man in the UK to get Pfizer jab died of an "unrelated illness" 5 months after receiving the Pfizer-BioNTech jab. 26 Year old man named Chance Sula died 2 weeks after 1st does of Moderna jab from blood clots leading to a seizure & heart attack. 39 year old Jennifer Apolloni had a stroke & died 4 days after Pfizer jab. 78 year old Bollywood composer Raam Laxman (aka Vijay Patil) died six days afer second AstraZeneca Jab. 74 year old Clive Haddon died 2 weeks after AstraZeneca Jab, after excruciating pain from bloodclots.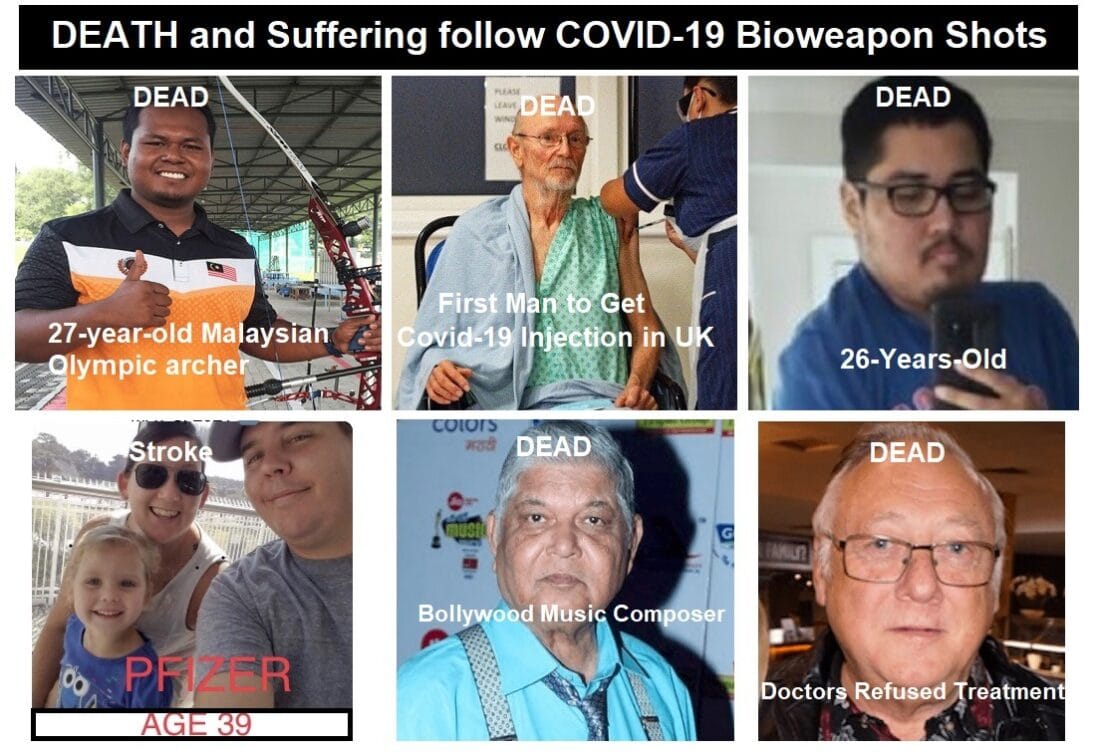 May 24, 2021 – More deaths from around the World from the Experimental Jabs
Health Impact News puts together a faces to the names of recent deaths & injuries. 27 Year Old Model Stephanie Dubois Dies After AstraZeneca Vaccine. Helga Groening died A Few Days After Her Covid Vaccine. 32 Year Old Daniel Spampanato Dead After Covid Vaccine. 18-year-old Australian nurse in training develops three blood clots after AstraZeneca shot. Ohioan Juan Ramirez Dies After Complications From Pfizer Vaccine. Brenda Lee Pettit Died Within 24 Hours Of Her Moderna Vaccine. 39 Year Old Marilyn Gotay Dead 12 Hours After Moderna Vaccine. 35 Year Old Alpa Tailor Dies After Complications From Astra Zeneca Vaccine.
May 24, 2021 – CDC Investigating Reports of 'Mild' Heart Problems in Teens, Adolescents After COVID Vaccine
Cases of myocarditis in young people, more often in males, more often following dose two and within four days of vaccination with Pfizer or Moderna.
May 20, 2021 – Pfizer, Moderna CEOs: COVID-19 vaccine boosters could be needed as early as September
The earliest people to be vaccinated for COVID-19 may need booster shots as early as September, the CEOs of Pfizer and Moderna said.
May 19, 2021 – Medical Freedom Advocates to Hold Rally at Rutgers as Students Push Back Against Vaccine Mandates
In protest of the university's COVID vaccine mandate, Legislators, students, community representatives and others will speak on the topic of informed consent at a health freedom rally at Rutgers University this Friday, May 21 at 11 a.m. ET
May 17, 2021 – Moderna vaccine causes blood clots in Colorado resident
A 49-year-old resident of Brighton, Colorado, Jeff Johnson, claimed the Moderna vaccine against COVID-19 caused him to develop blood clots in his leg.

May 17, 2021 – Mainstream doctors are REFUSING to see or treat vaccine-damaged patients because they don't want to get involved in "controversial" diagnoses. PLUS So many people are suffering adverse events from covid vaccines that an entire Reddit subgroup was created to discuss the details. YETOhio just announced a $1 million vaccine lottery for experimental covid injections
May 13, 2021 – More frequent side-effects reported mixing Pfizer and AstraZeneca Covid jabs
However, UK trial found two doses of the same vaccine triggered less adverse reactions. Meanwhile the CDC says it is ok to get a COVID Vaccine alongside other Vaccines.
May 13, 2021 – Here's what a Moderna executive said about the possibility of a COVID-19 booster shot
Moderna's chief executive on Wednesday discussed the biotech's progress in developing a booster shot against COVID-19 variants, saying the company hopes to have authorization from the Food and Drug Administration on one of three booster strategies by the end of the summer or early fall (August/Sept 2021).
May 10, 2021 – EU Regulators Call on Pfizer, Moderna, AstraZeneca for More Data on Heart Inflammation, Guillain–Barré Syndrome
EU regulators Friday called on Pfizer and Moderna to provide additional data related to the companies' COVID vaccines and a potential link to heart inflammation. The European Medicines Agency's safety committee also asked AstraZeneca for data related to reports of Guillain–Barré syndrome in people who received the AstraZeneca vaccine, and they recommended Pfizer and Johnson & Johnson (J&J) update their labels with side effect warnings.
May 7, 2021 – 48-Year-Old Surgeon DEAD after Mocking "Anti-vaxxers" and Writing His Own Obituary after Moderna COVID Injections
Dr. Thomas Flanigan received the first dose of experimental Moderna mRNA on January 6, according to his Facebook page. He received the second dose on February 3. He wrote many mocking posts on Facebooks It is reminiscent of the Polish doctor a couple of months ago.He died between eight and 12 weeks after the shots. We will begin referring to these as near-term deaths caused by experimental mRNA or viral vector shots. Dr. Flanigan leaves behind a wife and three children ages 10 to 14.

May 7, 2021 – CDC Reports 2 More Infant DEATHS Following Experimental COVID Injections During Clinical Trials.
2-year-old baby girl in Virginia who died 5 days after she was injected with Pfizer. 1-old baby boy in Florida who suffered convulsions and seizures after the Moderna shot and died 2 days later.
May 5, 2021
Why Moderna Could Triple Its COVID Vaccine Sales Next Year
First, Moderna anticipates that coronavirus variants will fuel demand for booster vaccines. Second, the company knows that governments around the world recognize the advantages of messenger RNA (mRNA) vaccines.

May 3, 2021
COVID-vaccinated can 'shed' spike protein, harming unvaccinated
In their latest issue brief, America's Frontline Doctors (AFLDS) warned how spike proteins resulting from experimental COVID-19 gene therapy vaccines have the capacity to 1.) pass through the "blood-brain barrier" causing neurological damage, 2.) be "shed" by the vaccinated, bringing about sickness in unvaccinated children and adults, and 3.) cause irregular vaginal bleeding in women.
May 3, 2021
Orange County Woman's Death After 2nd Dose of Moderna Vaccine Spurs Concern from Family
The Orange County coroner's office is investigating the death of a woman who passed away several days after getting her second Moderna vaccine. The family says the mother and grandmother was healthy before she got her shot and that her sudden death came as a shock.
April 29, 2021
Moderna to Boost Covid-19 Vaccine Production to Meet Rising Global Demand
Moderna Inc. plans to spend billions of dollars to boost production of Covid-19 vaccines and potentially triple its yearly output of doses in 2022, as the company seeks to meet rising global demand.
April 27, 2021
Pentagon Tracking 14 Cases of Heart Inflammation in Troops After COVID-19 Shots
The Defense Department is tracking 14 cases of heart inflammation, or myocarditis, in military health patients who developed the condition after receiving either the Pfizer or Moderna COVID-19 vaccine.
April 27, 2021
59-Year-Old Israeli Fashion Icon Alber Elbaz DEAD After Being "Fully Vaccinated" for COVID-19
Since it is being reported that he was "fully vaccinated," that means he probably received two doses of one of the experimental COVID injections, most likely either the Pfizer or Moderna mRNA shot, both of which are available in France.
April 26, 2021
NIH to Study Allergic Reactions to Pfizer, Moderna Vaccines, But Trial Design Raises Questions
The study was announced one day after UK researchers identified polyethylene glycol (PEG) as the compound that triggered a woman's allergic reaction to the Pfizer vaccine, yet guidelines for the U.S. study don't mention PEG or other vaccine ingredients.
April 26, 2021
Pro-Vaccine Cybersecurity Expert Dan Kaminsky DEAD at 42 Following Experimental COVID Shot
The New York Post is reporting that 42-year-old Cybersecurity expert Dan Kaminsky has died shortly after receiving an experimental COVID injection.
April 26, 2021
Canadian Doctor Defies Gag Order and Tells the Public How the Moderna COVID Injections Killed and Permanently Disabled Indigenous People in His Community
Dr. Hoffe reports that the result of injecting 900 people among the indigenous First Nations community was that 2 people went into anaphylactic shock, one person died, and several others have suffered what appear to be permanent disabilities. He relates how one of his patients is in so much pain now, that she prefers death to life.

April 26, 2021
"Breakthrough Cases" of COVID-19 Emerging Among Fully Vaccinated Americans
Based on the CDC guidelines, a fully vaccinated person should not expect to test positive for COVID-19 if it has been at least two weeks since the second dose of Pfizer or Moderna vaccine or a single dose of the Johnson & Johnson vaccine. Why then have there been 5,800 confirmed cases of COVID-19 in fully vaccinated persons occurring more than two weeks after vaccination and resulting in almost 400 hospitalizations and 74 deaths?
April 25, 2021
44-Year-Old Pastor DEAD after Moderna COVID Shot
Dr. Kimberly Credit was the first female pastor at the Mount Zion Baptist Church in Boonton Township, New Jersey. She had a master's degree in divinity and a doctorate in ministry, and she was the founder of The Preaching Lab Podcast. Following her second shot, a short time later she died suddenly & without warning.
April 21, 2021
28 year old healthy woman Dies Two Days After Getting COVID-19 Shot in Indiana
A healthy 28-year-old woman in Indiana died unexpectedly at her home on Jan. 21, 2021 two days after receiving an experimental mRNA COVID vaccine. The deceased, Haley Link Brinkmeyer, PhD worked as a physical therapist at the North River Health Campus senior living community in Evansville
April 21, 2021
Victoria announces $50m to fund mRNA COVID-19 vaccine production in Australia, paving way for Pfizer and Moderna manufacturing
The Victorian government is providing $50 million to "kickstart" domestic manufacturing of mRNA vaccine technology. It will take at least 12 months for any of the vaccines to be made in Australia, acting Premier James Merlino said as he made the announcement.
April 19, 2021
Women Complaining of Severe Menstrual Disorders post COVID Injections – Even if They Did Not Get the Shots!
Severe cramping, heavy bleeding for days on end, post-menopausal women all of a sudden menstruating again, irregular periods, and more are all being reported by women after being injected with a COVID experimental shot. But another phenomena is being reported: these symptoms are being reported among women who did NOT get the injections also, but have been around those who have. Article in New York Times April 20 – No, We Don't Know if Vaccines Change Your Period
April 19, 2021
Blood-clotting illness PVT 30x more prevalent in Moderna, Pfizer Covid-19 recipients than AstraZeneca – Oxford researchers
A potentially fatal blood-clotting disease is 30 times more common among people who have received the Covid-19 vaccines produced by Moderna and Pfizer than those given the troubled AstraZeneca jab, researchers have found
April 19, 2021
Canadian gym refuses new memberships to those who've had COVID jab due to fear over side-effects
To put it simply, the unknown health effects of the mRNA vaccines, as well as reported side effects such as viral shedding, seizures and death following the administration of these vaccines, are not covered by our liability.
April 19, 2021
5,800 Americans get coronavirus after receiving two doses of vaccines, 74 dead
After being fully vaccinated against the coronavirus, 5,800 Americans have contracted COVID-19 and 74 have died, according to reports from the U.S. Centers for Disease Control and Prevention (CDC).. Approximately 40 percent of those infected following vaccination were over 60 years of age, and the overall majority, around 65 percent, were women, as of data collected up to April 13.
April 16, 2021
Scientists Warn Pfizer, Moderna Vaccines May Cause Blood Clots too
The Johnson & Johnson and AstraZeneca COVID vaccines are under the microscope for their potential to cause blood clots, but scientists warn Pfizer and Moderna vaccines pose similar risks.
April 16, 2021
Pfizer, Moderna & J&J all linked to Blood Clotting Disorders.
Latest VAERS Data Show Reports of Blood Clotting Disorders After All Three Emergency Use Authorization Vaccines
April 14, 2021
Could spike protein in Moderna, Pfizer vaccines cause blood clots, brain inflammation, and heart attacks?
Dr. J. Patrick Whelan, a pediatric rheumatologist, warned the FDA in December that mRNA vaccines could cause microvascular injury to the brain, heart, liver and kidneys in ways not assessed in safety trials.In his public submission, Whelan sought to alert the FDA about the potential for vaccines designed to create immunity to the SARS-CoV-2 spike protein to instead cause injuries.
April 14, 2021
Moderna hopes to have Covid booster shot for its vaccine ready by the fall, CEO says
"I want to make sure there are boost vaccines available in the fall so that we protect people as we go into the next fall and winter season in the U.S.,"

April 13, 2021
Was rapper DMX killed by a Covid-19 vaccine?
Just days before he reportedly died of a major heart attack, rapper DMX was vaccinated for the Wuhan coronavirus (Covid-19). Born as Earl Simmons, DMX fell into a coma and had to be taken to an ICU not long after being injected, which the mainstream media is blaming on an alleged "drug overdose." The only drug that DMX took, however, was the COVID shot.
April 12, 2021
US begins study of allergic reactions from mRNA coronavirus vaccines, proving covid vaccine long-term safety studies have never been conducted
The U.S. will start a study focusing on the allergic reactions triggered by mRNA COVID-19 vaccines. The trial, conducted by the National Institute of Allergy and Infectious Diseases (NIAID), will examine if people with a history of allergies have a higher chance of experiencing reactions beyond the injection site. It will also look at the biological mechanism behind the allergic reactions the vaccines purportedly trigger.
April 11, 2021
Michigan Journalist Dies Day After Getting COVID-19 Vaccine
Michigan television news anchor and producer Karen Hudson Samuels, 68, was found dead in her home on Feb. 9, 2021 by her husband Clifford Samuels, just one day after receiving a COVID-19 vaccine.
April 9, 2021
Henry Ford Health System to run clinical trial of Moderna vaccine for children
The Henry Ford Health System will contribute to an ongoing national studying the efficacy of the Moderna COVID-19 vaccine in children, in a study similar to the one it conducted with adults last year.

April 8, 2021
Long Island woman tests positive for COVID-19 after second vaccine dose
A woman from Long Island in New York tested positive for COVID-19 despite being fully vaccinated, according to a recent report from Health. Melanie Rosen, a Hewlett-Woodmere School District employee, received the two shots of the Moderna COVID-19 vaccine on Jan. 17 and Feb. 20. She attended the wake of a friend's father on March 15 without wearing a mask. Rosen recalled staying there for over an hour and hugging the 10 or so family members present.
April 8, 2021
47 year old MSNBC Legal Analyst Dead from mRNA Vaxx
Brooklyn defense attorney and television commentator Midwin Charles is dead after what appears to be several days of suffering after receiving at least one experimental COVID shot (unsure whether Pfizer or Moderna).
April 7, 2021
NIH to study allergic reactions to Pfizer and Moderna COVID-19 vaccines
The National Institutes of Health said Wednesday that it has begun a study to explore why some recipients of the COVID-19 vaccines developed by Pfizer and Moderna have seen severe allergic reactions to the shots. Most of the reactions have been seen in people with a history of allergies, the federal research agency said.
April 6, 2021
246 Vaccinated Michigan Residents Diagnosed With COVID, 3 Dead, State Health Dept. Confirms
As many as 246 Michigan residents fully vaccinated against COVID-19 (either Pfizer or Moderna) were later diagnosed with the virus, and three of them died, Michigan Department of Health and Human Services confirmed Monday.
April 3, 2021
Vermont says only "people of color" can receive jab for Covid-19 unless they're over 50
This prioritization of younger "black, indigenous, and people of color" ahead of younger white people is Vermont's way of paying "reparations" to dark people. Vermont, by the way, is one of America's "whitest" states.Vermont is apparently trying to destroy the lives of non-whites before eventually moving on to whites. This is eugenics in action, and yet American society is seemingly so dumbed down at this point that very few are able to see the truth.
April 1, 2021
The Push to Vaccinate
20,000 Holocaust Survivors in New York. The new Nazi Germany ?
March 31, 2021
6000% Increase in Reported Vaccine Deaths 1st Quarter 2021 Compared to 1st Quarter 2020
As can be expected when new experimental "vaccines" that are not approved by the FDA are given emergency use authorization to fight a "pandemic" that is now over a year old, reported deaths following the injections of these shots have now skyrocketed in the U.S. population by over 6000% here at the end of the first quarter of 2021, as compared to recorded deaths following FDA-approved vaccines at the end of the first quarter of 2020.
March 31, 2021
At least 2,050 Americans have died after taking the coronavirus vaccine (so far)
The number of Americans who have died after getting the experimental vaccine has soared to 2,050 as of March 19. This is according to data from the Vaccine Adverse Event Reporting System (VAERS), a federal database that tracks injuries and deaths after vaccination. mRNA vaccines already killed more people in 3 months than a decade of inoculations
March 30, 2021
Obituary for Kansas woman concludes she died from allergic reaction to a coronavirus vaccine
68 year old Jeanie Evans died unexpectedly the day after her vaccine.
March 25, 2021
Kansas City Council Woman DEAD Hours After Receiving Experimental COVID Injection
Ms. Jeanie Marie Evans (68 years old) received the first dose of the experimental mRNA shots (either Pfizer or Moderna) yesterday, according to the Kansas Department of Health and Environment (KDHE). Ms. Evans immediately suffered anaphylaxis, a severe allergic reaction, during the 15-minute waiting period after the experimental shot. She was transported to Stormont Vail Health in Topeka, where she was pronounced dead.
March 25, 2021
Moderna now openly running vaccine experiments on CHILDREN as young as six months old
Phase 2/3 of Moderna's pediatric COVID vaccine trial is now underway, which means that children as young as six months old are being injected with gene-altering messenger RNA (mRNA) in the name of "science." Known as the "KidCOVE study," Moderna's clinical trial includes about 6,750 children, all between the ages of six months and 11 years, from Canada and the United States. Each babe is receiving differently sized injections based on age for the first part of the trial, and how their bodies respond will determine the doses they receive during phase two.
March 25, 2021
Surgeon Warns Vaccinating People Infected With COVID Could Cause 'Avoidable Harm'
Dr. Hooman Noorchashm – People who have already been infected with COVID could be at risk of serious injury, including death if they have the COVID Vaccine. "I think it's a dramatic error on part of public health officials to try to put this vaccine into a one-size-fits-all paradigm … We're going to take this problem we have with the COVID-19 pandemic, where a half-percent of the population is susceptible to dying, and compound it by causing totally avoidable harm by vaccinating people who are already infected … the signal is deafening, the people who are having complications or adverse events are the people who have recently or are currently or previously infected [with COVID]. I don't think we can ignore this."As The Defender reported earlier this month, Noorchashm believes that a #ScreenB4Vaccine campaign could save millions from vaccine injuries.
March 25, 2021
Coronavirus cases rise in states with high vaccination rates, proving yet again the vaccines don't work
The number of COVID cases continue to rise in over a dozen states despite high vaccination rates. On average, around 55,000 new cases are reported each day in the United States. This remains unchanged despite the fact that vaccinations continue to ramp up.
March 21, 2021
Moderna Expects $18.4 Billion in Sales from Its COVID-19 Vaccine This Year
Moderna, Inc. expects to generate $18.4 billion from sales of its experimental mRNA-1273 COVID-19 vaccine being distributed in the U.S. under an Emergency Use Authorization (EUA) granted by the Food and Drug Administration (FDA). This will be the first time that the U.S. based pharmaceutical company will make a profit since it was established in 2010.1

March 19, 2021
Death of 18 year old Teenager
The teenager developed fatigue, body aches and a headache one day after receiving the Moderna vaccine on March 3. On March 5 he complained of chest pain, and died in his sleep later that day.
March 17, 2021
Utah woman dies four days after second dose of Moderna coronavirus jab
A woman from Utah died 4 days after getting the second dose of the Moderna vaccine. Surgical technologist Kassidi Kurill from Ogden got vaccinated on Feb. 1 as part of her job. She experienced discomfort on the morning of Feb. 4 and asked her father to drive her to the hospital. Kurill was subsequently confined, where she died of multiple organ failure Feb. 5.
March 17, 2021
28 year old Woman dies TWO DAYS after getting mRNA vaccine
Twenty-eight-year-old Haley Link Brinkmeyer, physical therapist from Indiana, died Jan. 21 at her home in Evansville following her Jan. 19 vaccination. It is not known whether the physical therapist received the Pfizer/BioNTech or Moderna vaccines.
March 17, 2021
Moderna to launch COVID-19 vaccine trial on children as young as 6 months old
Moderna's trial will enroll nearly 7,000 children from ages 6 months to 12 years in the U.S. and Canada, according to the company.
March 16, 2021
One in four House members has opted not to receive Covid-19 vaccine so far
About one in four members of the House has not been vaccinated against Covid-19 as of early March, despite having had access to the vaccine since December, according to a letter from House GOP Leader Kevin McCarthy obtained by NBC News.
March 16, 2021
mRNA "vaccines" created by Moderna and Pfizer are gene therapies
They fulfill all the definitions of gene therapy and none of the definitions for a vaccine. This matters, as you cannot mandate a gene therapy against COVID-19 any more than you can force entire populations to undergo gene therapy for a cancer they do not have and may never be at risk for
March 12, 2021
Woman with no pre-existing medical conditions dies after second jab
Four days after her 2nd vaccination, she ended up in hospital and was being prepared for a liver transplant to save her life. 39 year old Kassidi Kurill died of organ failure after her liver, heart and kidneys shut down. She had no known medical issues or pre-existing conditions, family members said. Now, her family awaits autopsy results. It comes after four people died and a spate of 153 Utahns reported bad reactions after receiving at least one dose of a coronavirus vaccine, The Sun reports. Dr Erik Christiansen said vaccine deaths are possible and do happen. "Just about every vaccine or anything you do [to] treat someone, when you inject something has a potential for a negative outcome. I'm sure VAERS can verify other vaccines have led to death."
March 11, 2021
Study links Moderna's coronavirus vaccine to painful skin reactions after inoculation
A team of doctors has discovered that Moderna's coronavirus vaccine is causing painful skin reactions in patients about 11 days after inoculation.
March 11, 2021
12 Prominent Scientists and Doctors to EU Regulators: Address 'Urgent' Safety Concerns or Halt COVID Vaccines
In an open letter published this week, a group of 12 prominent scientists and doctors questioned "whether cardinal issues regarding the safety of the vaccines were adequately addressed prior to their approval" by the European Medicines Agency. In their letter, 12 scientists and doctors noted a "wide range of side effects" is reported following vaccination of previously healthy younger individuals with the gene-based COVID-19 vaccines.
March 9.2021
91-year old Ohio man nearly DIED after being given TWO DOSES of the Moderna coronavirus vaccine within four hours
A 91-year-old amputee from Ohio nearly died after "accidentally" being given his second dose of Moderna's Wuhan coronavirus (COVID-19) vaccine twice within just four hours.
March 9.2021
Moderna's Top Scientist: 'We Are Actually Hacking The Software Of Life'
Pure and simple, this is unvarnished, raw Transhumanism. Moderna CEO says mRNA shots are "rewriting the Genetic Code." He calls it "information therapy", says "We are actually hacking the software of life." This should be a red alert for every rational American.
March 8, 2021
Severe Reactions to COVID-19 Vaccine Close Schools in Michigan, Ohio and New York
Schools in three states, Michigan, Ohio and New York were forced to close for a day last month after school staff could not work due to severe side effects from COVID-19 vaccinations.
March 8, 2021
No COVID Vaccine? No Travel, Air Force Officials Say
Officials at Vandenberg Air Force Base told personnel they will not be approved for travel outside the state of California until they've had both doses of the COVID vaccine.
March 7, 2021
40 year old man dies 2 weeks after COVID Vaccine
A man in his 40s died on Jan. 17, 2021 in Nebraska 10 to 14 days after receiving the first dose of a COVID-19 vaccine. The man, whose name has not been released to the public, lived in a long-term care facility and reportedly had several underlying health conditions. The Vaccine was listed as ONE of the causes of Death on the Death Certificate.
March 5, 2021
Miscarriage following mRNA Vaccine
56 Miscarriages/pre-term births following vaccination with experimental mRNA Vaccine per VAERS data.
March 2, 2021
12 Residents Die After First COVID Vaccine in Wales Nursing & Dementia Care Centre
In a tragic story that has been repeated multiple times here at Health Impact News, a nursing home for people with dementia has seen 12 of their residents die shortly after they received one of the experimental COVID mRNA vaccines, while 36 residents and 54 staff are now testing positive for COVID. As in all previous stories we have published like this, the experimental vaccines are not even being considered as a cause.
February 25, 2021
FB Posts concur with VAERS Data
As the number of reported injuries and deaths following COVID mRNA vaccines continues to climb in VAERS, the CDC's official vaccine adverse event reporting system, social media users also point to Facebook posts by people who enthusiastically got the vaccine, but have since died.
February 25, 2021
Moderna forecasts $18.4 billion in COVID-19 vaccine sales in 2021
Moderna's stock price has increased 39% since the beginning of the year to around $150 a share. The stock has risen sevenfold in the last 12 months. Moderna ready to test version of Covid-19 vaccine aimed at worrisome variant. See my article discussing the adverse impact of profit over health.
February 23, 2021
22 Elderly with Dementia Dead in 1 Week After the Experimental mRNA COVID Injection in the Netherlands
RTV Utrecht in the Netherlands reported yesterday that 22 residents have died within the span of 1 week at St Elisabeth Nursing and Guest House in Amersfoort, following injections on January 30th of one of the mRNA experimental COVID "vaccines." Read English translation.
February 23, 2021
COVID-19 vaccines account for a staggering 70% of the annual vaccine deaths
When you look at vaccine-related deaths between January 2020 and January 2021, you find that COVID-19 vaccines account for a staggering 70% of the annual vaccine deaths, and that's while having been available for less than two months.
February 22, 2021
Medical Coercion & disregard of Human Rights.
Even though Dr. Marty Makary, a surgeon and a professor at the Johns Hopkins School of Medicine and Bloomberg School of Public Health, believes that the coronavirus will be "mostly gone" by April due to herd immunity being reach, Govts are still choosing to perform a mass crime against humanity. Whether it be penalising people with massive fines (relative to income) in Indonesia or performing mass human experiments against citizen will by vaccinating an entire Brazilian City. In 1984-esq style, the Whitehouse has enlisted Social Media Giants to suppress Vaccine (mis) information by deleting posts that deviate from the official statement. And defense forces are 'pressuring' to get vaccines 'its your duty' rather than your choice whilst imparting false information about safety which shows clear intent to coerce and not inform. And with the mass COVID vaccination program now in full swing, we are hearing of more and more reports suggesting the fundamental right and legal requirement of Administrators of emergency use vaccines to inform vaccine recipients of the potential risks is not being upheld. Is this criminal negligence ?
February 21, 2021
90year old man received 1st does of Moderna Vax, next day he died
Daniel Thayne Simpson, a retired accountant from Chesterfield Township who served in the Navy during the Korean War, got his first dose of the Moderna COVID-19 vaccine on Feb. 3. He felt tired or something and went to bed early and never woke up.
February 21, 2021
Long-Term Studies Of COVID-19 Vaccines Hurt By Placebo Recipients Getting Immunized
Tens of thousands of people who volunteered to be in studies of the Pfizer-BioNTech and Moderna COVID-19 vaccines are still participating in follow-up research. But some key questions won't be easily answered, because many people who had been in the placebo group have now opted to take the vaccine.
February 21, 2021
Over Half of Military Families do Not Want COVID Vaccines
The Vaccine Reaction is reporting that a recent survey found that 53 percent of U.S. military families do not want to take the experimental mRNA COVID injections.
February 19, 2021
COVID deaths total 929 as of February 12 on the CDC VAERS system
Of the 929 reported deaths as at Feb 12, about one-third occurred within 48 hours after the COVID vaccine. The average age of the deceased was 77.8 and the youngest was 23. 52% of the reported deaths were among men, 45% were women and 3% are unknown. 58% percent of the deaths were reported in people who received the Pfizer vaccine, and 41% were related to the Moderna vaccine.
February 18, 2021
Greek hospital director is prosecuted for reporting 40 year old nurse paralysis after second mRNA injection
A Greek nurse is now paralyzed after receiving a second dose of mRNA. The 40-year-old nurse is a mother of two and has worked as a nurse for 17 years. Hospital Director said the nurse was "in perfect health" before receiving the second mRNA shot. The nurse is believed to have developed Guillain-Barré syndrome. Directors felony is to express an mRNA unwanted side effect with "too much certainty". Unsure whether the vaccine was Pfizer or Moderna.
February 18, 2021
Orlando pediatric center begins COVID-19 vaccine trials for children
The first trials of the Moderna COVID-19 vaccine clinical trials for children 12 to 17 years old began at Orlando's Nona Pediatrics Center.
February 14, 2021
Woman suffers serious side effects after 2nd does of Moderna
I received my second Moderna vaccine on 1/21/21 at 10:00am. By 4:00pm I started to experience the side effects that you are told you will experience, headache and fatigue. But that night was a doozy. I woke up all night with fever, body aches, chills, and a killer headache. Let's fast forward 5 days, I'm still extremely sick! I'm now on day 7 and I'm not improving but my vision has been blurry…Today is day 23 and the flu like symptoms are almost gone.
February 11, 2021
39 year old Doctor dies in Ireland after Covid injection
39-year old Dr Keshav Raman Sharma, a Doctor who practiced in Wexford General Hospital, received one of the experimental COVID mRNA injections on January 5 and on January 11, was found dead in his home.
February 11, 2021
Modern Vaccine on Children
Moderna is still enrolling participants in its trial for adolescents ages 12 to 18, and it is "on track to provide updated data around mid-year 2021," . Moderna's goal is to have data from the adolescent study in advance of the 2021 school year. Moderna said it'll begin an age de-escalation study in children ages 11 years to 6 months this year, with clinical trial data available 2022.
February 10, 2021
Wisconsin Resident Doctor has Miscarriage 3 Days After Being Injected with Experimental COVID mRNA Shot
Dr. Beltrán Ponce tweeted on January 28 that she is 14 weeks pregnant and "fully vaccinated." She repeated many of the most common talking points related to COVID-19 and vaccines in the tweet chain. The miscarriage happened at 14 1/2 weeks, indicating it was three days after she got the first or second mRNA shot. She did not say if it was the Pfizer or Moderna shot. Dr. Beltrán Ponce has since locked her Twitter account so only verified followers can see her tweets.
February 10, 2021
How safe are the NanoParticles in Moderna's Vaccine
Moderna and Pfizer's COVID-19 vaccines use lipid nanoparticles that contain polyethylene glycol (PEG) to deliver mRNA to your cells. This experimental mRNA technology and its lipid nanoparticle (LNP) based delivery system have never been approved for use in a vaccine or drug. The first dose of COVID-19 vaccine may prime the body to have an immune reaction to LNPs, such that when the second dose is received, a stronger likelihood for adverse events exists. The PEG found in both Pfizer's and Moderna's vaccines could also be causing allergic reactions and anaphylaxis
February 10, 2021
Could Spike Protein in Moderna, Pfizer Vaccines Cause Blood Clots, Brain Inflammation and Heart Attacks?
Dr. J. Patrick Whelan, a pediatric rheumatologist, warned the FDA in December that mRNA vaccines could cause microvascular injury to the brain, heart, liver and kidneys in ways not assessed in safety trials.
February 9, 2021
UK Column News Special: Care Home Whistleblower
UKColumn was recently contacted by an experienced Care Home manager. The individual was deeply concerned about the effects of Covid 19 and vaccinations, on both staff and the elderly, within care facilities across the country. Finally their personal concern had reached the point where they felt the need to speak out to the wider public.
February 9, 2021
Doctors Link Pfizer, Moderna Vaccines to Life-Threatening Blood Disorder
A second New York Times article quotes doctors who say the mRNA technology used in COVID vaccines may cause immune thrombocytopenia, a blood disorder that last month led to the death of a Florida doctor after his first dose of the Pfizer vaccine.
February 8, 2021
A Few Covid Vaccine Recipients Developed a Rare Blood Disorder – Thrombocytopenia
The cases involved either the Pfizer-BioNTech or Moderna vaccine, the only two authorized so far for emergency use in the United States. Hematologists with expertise in treating immune thrombocytopenia said they suspected that the vaccine did play a role.
February 7, 2021
Floridians (United States) file hundreds of COVID-19 Vaccine side-effects.
Discussion of the most common side-effects. Keeping in mind that VAERS data may only represent less than 1% of actual Adverse Events.
February 4, 2021
53% of Military Families Don't Want COVID-19 Vaccine, Survey Shows
Poll of 810 United States active-duty military personnel, spouses and veterans, more than half of active-duty families, or 53%, said they did not plan to get the COVID-19 vaccine, citing safety concerns and suspicions over development. Nearly half of veteran families agreed.
February 2, 2021
It is beyond reckless and totally unnecessary to administer these experimental vaccines to millions of people when there is only limited short term safety data
James Odell, OMD, ND, L.Ac. – Absolutely no long-term safety studies have been done to ensure that any of these vaccines do not cause cancer, seizures, heart disease, allergies, and autoimmune diseases, as seen with other vaccines and observed in earlier coronavirus vaccine animal studies. Because animal studies were bypassed for these vaccines due to 'fast-tracking', millions of humans are now the primary test animal.
February 1, 2021
Vaccine SideEffects – Falling ill or even Death
Many people are concerned with growing reports of people falling ill and even death after a vaccine. Experts claim this is a predictable outcome and can actually be a good thing. What exactly happens to the body when vaccinated and why is being ill after good? Both the Pfizer/BioNTech and Moderna vaccines are quite "reactogenic"—meaning they stimulate a strong immune response…
January 30, 2021
US children will 'hopefully' get vaccines in late spring or early summer, says Fauci
Children in the US will "hopefully" start to be vaccinated against Covid-19 by late spring or early summer 2021, Dr Anthony Fauci said last Friday. Moderna struggles to find 3,000 children 12-17 year old volunteers needed for COVID-19 vaccine trial.
January 30, 2021
A COVID-19 vaccine side effect mirrors breast cancer symptom, doctors say don't panic
Nurse Aubrey Lewis has spent the last year on the front lines 'fighting' COVID19. A few days after receiving her first does of Moderna Vaccine, she experienced swollen lymph nodes similar to breast cancer. The CDC notes about 11% of people who receive either the Pfizer or Moderna vaccine will experience swollen lymph nodes after their first dose and that goes up to 16% after the second dose.
January 29, 2021
329 Deaths + 9,516 Other Injuries Reported Following COVID Vaccine, Latest CDC Data Show
The numbers reflect the latest data available as of Jan. 22 from the CDC's Vaccine Adverse Event Reporting System website. Of the 329 reported deaths, 285 were from the U.S., and 44 were from other countries. The average age of those who died was 76.5.
January 28, 2021
Did CDC Deliberately Mislead Public on Allergic Reactions to Moderna Vaccine?
The CDC had more accurate and up-to-date data that it could have used to calculate the rate of severe allergic reactions to Moderna's COVID vaccine — why didn't it?

January 25, 2021
Did Larry King Receive an Experimental COVID Shot Just Before His Death?
With the news that baseball legend Hank Aaron received the experimental Moderna mRNA injection about 2 weeks before his death at the age of 86, people are naturally inquiring as to whether long-time talk show host Larry King, who just died at the age of 87, also received one of the non-FDA approved experimental COVID mRNA shots?
January 25, 2021
Discrepancies in Moderna's FDA Report Demand Answers
Moderna's reported death rate for its COVID vaccine, based on clinical trials, is 5.41 times greater than Pfizer's. Yet neither are representative of national death rates — that's a red flag.
January 25, 2021
Pregnant or Under 18? Don't Get Moderna's COVID Vaccine, WHO Says
Citing insufficient data, the World Health Organization's latest guidance on Moderna's COVID vaccine recommends most pregnant women, and anyone under age 18, not get the vaccine.
January 22, 2021
Home Run King Hank Aaron Dies of 'Undisclosed Cause' 18 Days After Receiving Moderna Vaccine
The 86-year-old sports icon received the first of two doses of Moderna's vaccine on Jan. 5, in an attempt to inspire other Black Americans to step up to the plate and get the vaccine.
January 19, 2021
Jeffco woman has reaction after getting COVID-19 vaccine put on hold in California
A Jefferson County woman who received a COVID-19 vaccine said a lymph node in her armpit swelled to the size of a golf ball days later. Misty Russell received a Moderna vaccine from a batch linked to six allergic reactions at a site in San Diego. The California state epidemiologist has asked providers in that state to hold off on administering more doses from that batch until an investigation is completed.

January 18, 2021
California pauses use of Moderna vaccine batch over allergic reactions
California health officials are asking to pause the use of a huge batch of Moderna's coronavirus vaccine due to its "higher-than-usual number of possible allergic reactions". See Media Release here.
January 16, 2021
55 People Have Died in US After Receiving COVID-19 Vaccines: Reporting System
Fifty-five people in the United States have died after receiving a COVID-19 vaccine, according to reports submitted to a federal system. Deaths have occurred among people receiving both the Moderna and the Pfizer-BioNTech vaccines, according to the Vaccine Adverse Event Reporting System (VAERS), a federal database. The system is passive, meaning reports aren't automatically collected and must be filed. VAERS reports can be filed by anyone, including health care providers, patients, or family members. NOTE: A 2010 federal study commissioned by HHS and performed by Harvard consultants on behalf of the Agency for Healthcare Research and Quality (AHRQ) found that "fewer than 1% of vaccine adverse events" are ever reported to VAERS.
January 7, 2021
Woman warns against Moderna COVID Vaxx – body convulsions
Shawn Skelton, who works in health care rehabilitation, warns others to not get the Moderna experimental COVID vaccine after suffering tongue spasms and whole body convulsions. On Monday January 4, Shawn was given the Moderna Vaxx. She continued to work Tuesday as she only had mild flu like symptoms. By Tuesday night her body hurt so bad she could barely move and this went on through Wednesday! On Wednesday her tongue began to spasm out of control by Thursday her body was in full convulsions! She went to the hospital via ambulance to be told it was clearly a panic attack. The 2nd hospital said it was a reaction of the vaccine and continue with Benadryl and writing a script for such. Friday the body movements continue non stop uncontrollable. They visit another hospital Friday morning and they give her a Xanax and send her home! Now they drive to Tennessee and visit 2 hospitals with still zero answers! No medical doctor will say anything more than this must be stress related!
January 5, 2021
Moderna Vaccine – Injection of 'Computer Operating System'.
Moderna, the manufacturer of one of the COVID mRNA vaccines that has currently been issued emergency use authorization, has actually published on their website that this is true: the mRNA vaccine injects an "operating system" into your body that they call "The Software of Life." The Globalists have become so bold, and the human masses have become so compliant, that they are no longer doing these things in secret, but right out in the open for all to see.

January 5, 2021
Pfizer and Moderna's '95% Effective' Vaccines — We Need More Details and the Raw Data
Peter Doshi outlines new concerns about the trustworthiness and meaningfulness of the reported efficacy results of Pfizer's and Moderna's COVID-19 vaccine trials.
January 3, 2021
Large Numbers Of Health Care And Frontline Workers Are Refusing Covid-19 Vaccine
Despite the Covid-19 death count in the United States rapidly accelerating, a startlingly high percentage of health care professionals and frontline workers throughout the country—who have been prioritized as early receipts of the coronavirus vaccine—are reportedly hesitant or outright refusing to take it, despite clear scientific evidence that the vaccines are safe and effective.
December 2, 2020
Moderna Plans to Begin Testing Its Coronavirus Vaccine in Children
Moderna said the trial would involve 3,000 children ages 12 through 17.
November 17, 2020
Media Hypes Moderna's COVID Vaccine, Downplays Risks
Media mostly silent on safety concerns and lack of transparency surrounding Moderna's experimental COVID vaccine, while stakeholders get richer.
September 1, 2020
CHD Take Action on Safety Concerns over Moderna's COVID Vaccine
Moderna's Vaccine contains polyethylene glycol (PEG), a molecule to which approximately 72% of the American population have antibodies and 8% have highly elevated levels of antibodies. People who have pre-existing PEG antibodies could experience life-threatening anaphylaxis if injected with PEG-containing substances such as the Moderna COVID vaccine. Additionally, antibodies to PEG can both decrease the effectiveness of the vaccine and increase the risk of side effects.
April 9, 2020
Pathogenic priming likely contributes to serious and critical illness
SARS-CoV-2 has some unexplained pathogenic features that might be related to the table of putative pathogenic priming peptides. Exposure to these specific peptides – via either infection or vaccination – might prime patients for increased risk of enhanced pathogenicity during future exposure due either to future pandemic or outbreaks or via universal vaccination programs. While the mechanisms pathogenesis of COVID-19 are still poorly understood, the morbidity and mortality of SARS has been extensively studied. Thus, the involvement of pathogenic priming in re-infection by COVID-19 is a theoretical possibility; of course no vaccine against SARS-CoV-2 has yet been tested in animals and therefore we do not yet know if pathogenic priming is in fact expected. Such studies should be undertaken before use of any vaccine against SARS-CoV-2 is used in humans. NOTE: In 2021, the Pfizer, Moderna & AstraZeneca Vaccines have NOT been tested in animals, instead HUMANS are being used as guinea pigs during this mass experiment on humanity.
2020 / 2021
PEG in Moderna & Pfizer Vaccines can cause serious adverse immune responses
Polyethylene glycol (PEG) is widely utilized in drug delivery and nanotechnology due to its reported "stealth" properties and biocompatibility. This report reviews some of the extensive literature documenting the detrimental effects of PEGylation, and thereby questions the wisdom behind employing this strategy in drug development. The LNP formulations in the three COVID-19 mRNA vaccines (Moderna, Pfizer & Arcturus Therapeutics COVID vaccine) are "PEGylated," meaning that the vaccine nanoparticles are coated with a synthetic, non-degradable and increasingly controversial PEG. And an investigation this week identified polyethylene glycol (PEG) as the likely reason two people in the UK suffered anaphylaxis after receiving Pfizer's COVID vaccine. In September, CHD Chairman RFK, Jr. warned the FDA that PEG in COVID vaccines could lead to severe allergic reactions.
2020/2021
Australia's Vaccine Agreements
Australia has entered into 4 separate agreements for the supply of COVID-19 vaccines, if they are proved to be safe and effective – Pfizer, AstraZeneca, Novavax & COVAX Facility Vaccines.
Difference between Traditional Vaccines & mRNA Vaccines
Most other vaccines work by administering the Spike protein (a small portion of a Virus) directly into your body, or by introducing an attenuated or inactivated virus that contains the Spike protein. In these types of traditional vaccines, the Spike protein was previously made in a vaccine production facility.
However, in an RNA vaccine, there is no Spike protein in the vaccine. Instead, the vaccine provides your cells with instructions on how to build the Spike protein. Essentially, your cells have become the vaccine production factory. After some time, this delivered RNA will be destroyed by our cells, and the cells will stop producing the Spike protein.
What this means is, is that the mRNA Vaccines essentially inject a Computer Operating System into your body that runs programs, telling your body what to do. Moderna call this the 'Software of Life'.
Hence mRNA Vaccines (Moderna & Pfizer) do not meet the legal definition of a Vaccine. It is a medical device, not a drug because it meets the CDRH definition of a device. It is not a living system, it is not a biologic system, it is a physical technology – it happens to just come in the size of a molecular package.
Doctors around the World – DO NOT get the COVID Vaxx
World Doctors Alliance – An independent non-profit alliance of doctors, nurses, healthcare professionals and staff around the world who have united in the wake of the Covid-19 response chapter to share experiences with a view to ending all lockdowns and related damaging measures and to re-establish universal health determinance of psychological and physical wellbeing for all humanity. View on Telegram.
Great Overview – COVID Vaccines & Mandates
Before reading below, I highly recommend watching this 35 minute video, that provides a clear & concise overview of the COVID Vaccines & Mandates, including where to go from here!
WHO – should NOT take the Moderna COVID-19 Vaccine.
Refer World Health Organisation
https://www.who.int/news-room/feature-stories/detail/the-moderna-covid-19-mrna-1273-vaccine-what-you-need-to-know

While pregnancy puts women at a higher risk of severe COVID-19, the use of this vaccine in pregnant women is currently not recommended, unless they are at risk of high exposure (e.g. health workers).

Individuals with a history of severe allergic reaction to any component of the vaccine should not take this or any other mRNA vaccine.

While vaccination is recommended for older persons due to the high risk of severe COVID-19 and death, very frail older persons with an anticipated life expectancy of less than 3 months should be individually assessed.

The vaccine should not be administered to persons younger than 18 years of age pending the results of further studies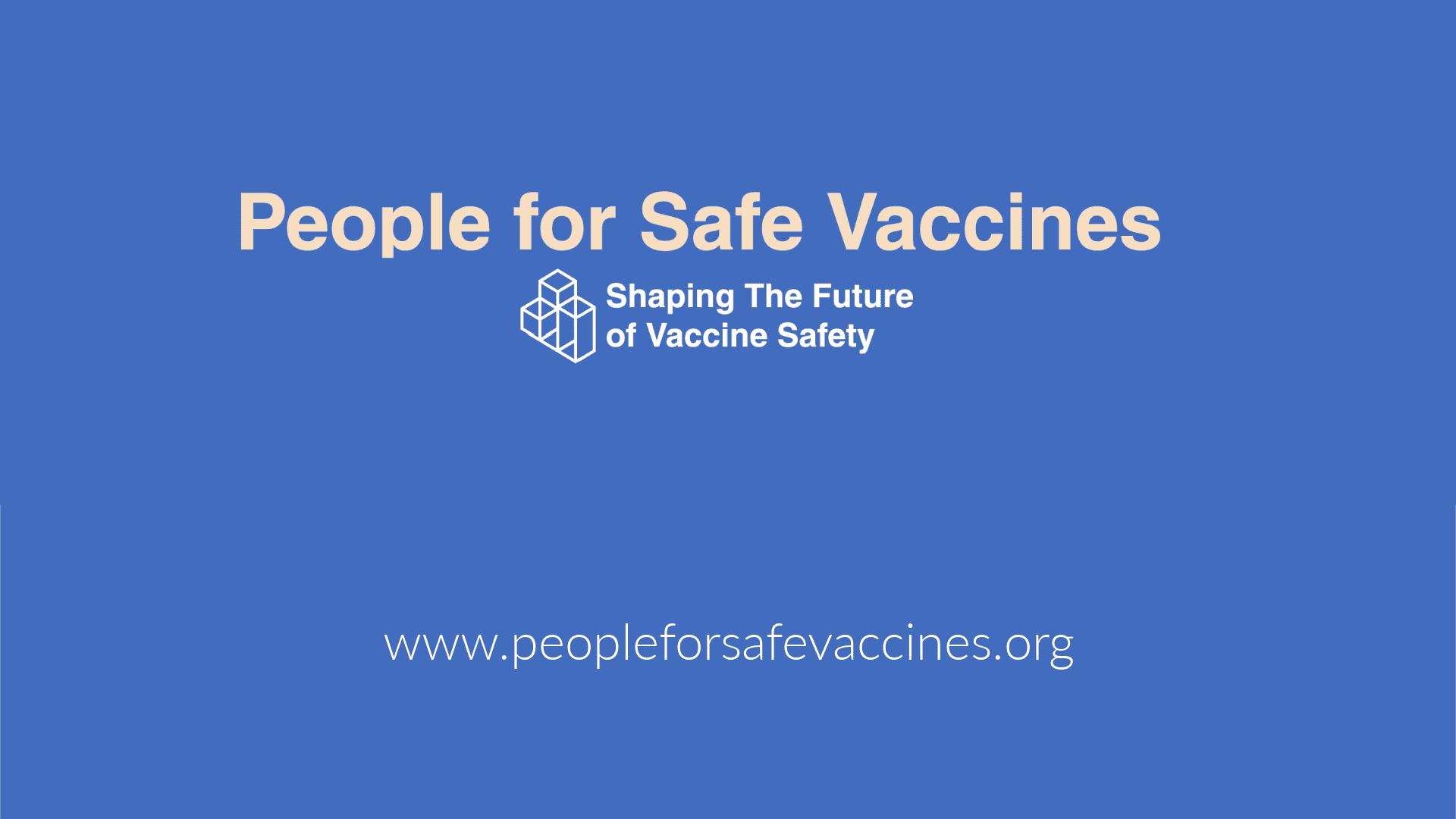 People for Safe Vaccines
If you are being coerced into having a COVID Vaccine, then please visit our Global Health Freedom page and click on Health Advocacy from the posts menu. On this page you can find an organisation in your City/Country that will help you know your rights and what you can do regarding your Health Freedom.
If you are based in Australia, I highly recommend PeopleforSafeVaccines.org
How Will We Know That a COVID-19 Vaccine is Safe?
Children's Health Defense has created a video of Dr. Liz Mumper's presentation titled "How Will We Know That a COVID-19 Vaccine is Safe?" This presentation is the result of a collaborative effort between Dr. Mumper and the team of doctors, scientists, and researchers affiliated with CHD.