I started writing this post this morning with the intention of sharing my insights into our Sun transiting the Pleiades, combined with many plants in Retrograde, leading up to our Gemini New Moon later in the month, followed by our Goodwill Full Moon in early June 2020. But just like the mysterious unfolding of life itself, this post began to take on a much broader tangent of wisdom. So rather than lead with my mind… here are my experiences of heart today.
I woke up this morning crying. A mix of emotions. Not even sure where to start. I was overflowing with love after revelling in our son's 21st birthday celebrations these last few days. And in awe of our 18 year old daughter navigating such extraordinary hurdles with a wisdom that defies her years. I see such precious potential in these two remarkable humans, who have a sense of purpose & heartful presence of possibility with the world.
I was also marvelling at the sheer beauty of life. As I lay in the bed and took my first breaths, the rain pouring down, I felt such immense gratitude to water, the giver of life. The memory of yesterdays sunset, the orangy-red hues, this LIGHT keeping me warm in the crispness of the overcast morning. Mixed with the joyful reflection of sitting in my garden yesterday, watching a bee in seductive tryst with a flower, such a profound metaphor for dancing with the beauty of each moment & moving to the rhythm of life itself.
And then, to juxtapose this expansive feeling of love, there is this dark shadow. It hurts. It feels like a tangled web of fear, of control, of dominating power. A gloomy conglomerate of collective sludge hidden within dark recesses of the collective psyche. Hmmm, are you feeling it to ? I don't usually give voice to this haze… but today it feels different. Today, this moment, maybe, just maybe, bringing this darkness to LIGHT is what is the honourable thing to do.
After making my favourite cup of chai (I must share my recipe with you soon, you will love it!), I sat down to write this post. I started with watching a video… in fact EVERY DAY for the last week, I have started my work day with this 10 minute video about our humanity, the sacred process of Birth & Death and the simple exquisite beauty of life itself.
The wisdom shared within this video IS THE REASON I do what I do, the reason I started my universallifetools.com wisdom school, the reason I get up every day and the reason my life is dedicated to seeking/being ways of a world more beautiful
Here is the 10 minute video below and further down the page I have embedded the full video (1.5 hours).
The video above stirs something deep inside of me. Not only does it eloquently explain the greater purpose of my online course Lightrition your Life, but also opens my heart even further to the grander potentiality of this moment – a collective unveiling & actualisation of a New Earth Era.
Now back to where I started, though I feel what I am guided to share about our current transits are so very relevant from all that I have shared above.
Sun conjunct Alcyone – 21 May
This week, our glorious Sun transits over Alcyone, the brightest star within the Pleiades.
When the Sun transits (& conjuncts) with Alcyone, our individual LIGHT, our I AM Presence, our Consciousness expands through the inherent Wisdom of the Feminine. Awakening our imaginations, sparking the embers of our dreams & igniting our Hearts to a grander, more beautiful possibility for our lives.
You are here to rebirth into the collective consciousness the timeless presence of The Divine Feminine. You are here to 'dream the dream of the Goddess', the mystical and magickal aspects of both men and women that open the doors of self-discovery, transformation and inner peace. You are here to reweave The Divine Feminine into the psyche of humanity, so that people may receive her nourishment through joy, laughter, playfulness, dance, song and eternal grace. Shealla-Dreaming
Where you may have been feeling stuck, stifled, frustrated, at a cross-roads – as the Sun conjuncts Alcyone there maybe a HUGE shift in how you see yourself in the world. You may experience clear & insightful visions of solutions to your current predicament and feel empowered to forge ahead new paths via Feminine Wisdom.
Retrograde Planets
Since my naturopathic studies in the 90s, 'Hering's Law of Cure' has stayed with me over the last 25 years.
'The cure must proceed from centre to circumference. From centre to circumference is from above downward, from within outwards, from more important to less important organs, from the head to the hands and feet'.
My interpretation of these words and personal experience of this law is that – healing involves inviting 'higher intelligence' (top) to infuse LIGHT down through the body, from Head to Feet (down). This 'healing' comes into form from the 'inside-out', from the greater organs (heart, CNS) to the lesser organs (skin being the most lowly) and is experienced in the reverse order in which the dis-ease originally appeared.
Keeping that in mind, when planets are in Retrograde, it takes our psyche to a deep place of healing from the inside-out. We have the opportunity to embarking upon deep cellular healing by re-viewing our present moment as a reflection of the past, and embracing deep-internal change in the NOW that catalyses enduring healing as the planetary bodies move direct.
With Venus currently retrograde over 6 weeks (May-June 2020), Saturn retrograde for 4.5 months (May-Sept 2020) and Jupiter retrograde for 4 months (May-Sept 2020), there is much deep, inner-work to be done… dare I say 'shadow' work over the following months.
Consider this a time to call upon your wise-old 'Sage' and give yourself some quiet respite to deeply process all that is coming up from within to be healed.
Saturn retrograde may have you challenging authority and feelings of oppressive power, use that energy to learn from past mistakes and envision a 'new system' that is now congruent with higher values.
Jupiter retrograde may have you fall down deep into the rabbit whole of uncovering 'truth', and have you re-evaluate all that you have believed in the past. Sometimes this can be painful, but also very freeing as you let go of the mind and move into the inner-guidance within your heart.
Venus retrograde may place all your relationships under the microscope offering a great opportunity of exploration & self-renewal. Does your life fully mirror your Heartful relationship with Earth ? Or are you living a dissonant experience, a yearning to follow heart but maybe trapped in the glamour of the mind & consumption ?
Gemini New Moon – 22/23 May
Gemini is an Air sign and is ruled by Mercury… thus during our Gemini New Moon you maybe inspired with new ideas, new visions and amazing insights. You most probably will want to enact upon them all simultaneously … love that multi-tasking Gemini vibration !!!!
But be mindful at this time, that more is not always better, and with the above three planets retrograde and allow your higher self to follow the path of least resistance… the path that gives you greater freedom and brings bliss to your soul… the path of grace and ease through 'conscious action'.
Goodwill Full Moon – 5th July
I will be writing more about this soon, but for now, the Goodwill Full Moon is the 3rd powerful Full Moon of the year after the Christ Full Moon, & the Wesak Full Moon.
Our Goodwill Full Moon is also referred to as the Festival of the Spirit of Humanity or World Invocation Day – in celebration of the highest ideals, goals & aspirations of a compassionate, kind & loving human race. At the time of the Goodwill Full Moon, we are called from a place of 'goodwill' to focus on our true nature, to embrace the truth of who we are and what connects us and choose to serve the grandest version of the greatest vision of a United Humanity.
In April 1945, a world prayer entitled 'The Great Invocation' was gifted to Alice Bailey by Djwhal Khul. Djwhal Khul is described as being a member of the 'Masters of the Ancient Wisdom' and is defined as the spiritual guide of mankind. Djwhal Khul is a teacher of ancient cosmological, metaphysical, and esoteric principles that form the origin of all the world's great philosophies, mythologies and spiritual traditions. The channelled wisdoms from Djwhal Khul formed the teachings within Alice Bailey's 24 books.
Today, 'The Great Invocation' has been translated into over 80 languages and is a world prayer for uniting humanity in a collective vision through the Goodwill of the Heart of Humanity.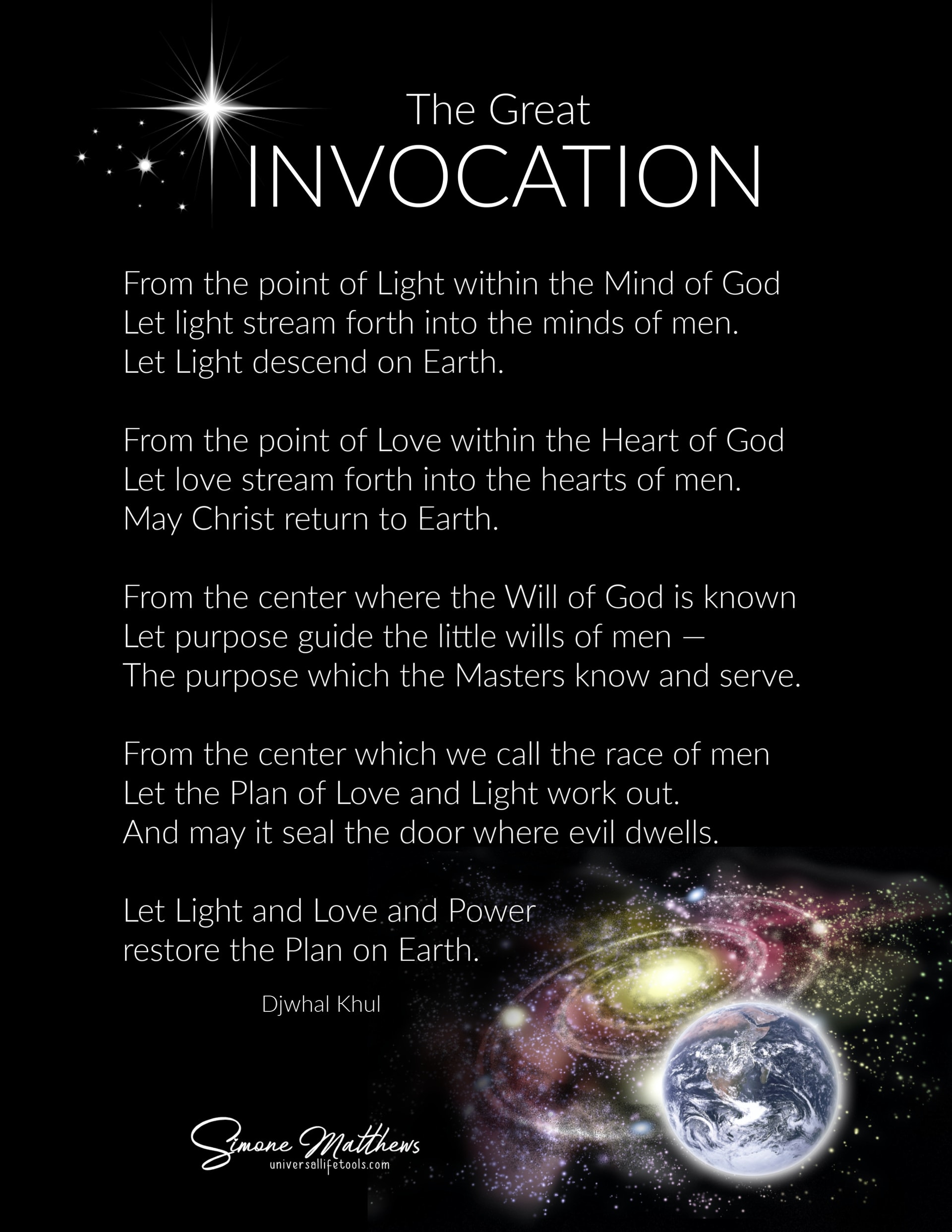 Full Video – Dr. Zach Bush, M.D.
Triple board-certified M.D., Dr. Zach Bush, joins Del Bigtree in an evolutionary discussion on why Coronavirus is here, what it's trying to tell us, and how we emerge from the darkness.
"Beauty is everywhere we look for it. We are more than bones and blood. When we see beauty, we know love, we know God."
Ignore the title of the video… it doesn't truly reflect the exquisite gems of wisdoms.