I have some wonderful news to share. And, well, we can all do with more daily medicinal doses of good news this year!
Over this coming weekend, Jupiter the planet of freedom, wisdom & expansion, moves direct in Capricorn. Jupiter has been moving retrograde through Capricorn since May 2020, and now on the 13 September will move direct. Jupiter usually spends around 4 months each year moving retrograde, however this has been the first time in 12 years that Jupiter has transited retro through Capricorn.
First, let me share a little about Jupiters retro cycle, then I would really love to focus on the 'truth being revealed' aspect as we come into Jupiters big planetary conjunction in a couple of months time.
Jupiter Retrograde
Jupiter takes approximately 12 years to do a complete revolution around our Sun. And every year, Jupiter moves into retrograde for around 120 days. Jupiter rules expansion, freedom, clarity, wisdom, travel, foreign affairs, abundance and good luck. It is a social and jolly planet, working with the collective as it spends about 1 year in every sign of the zodiac.
When Jupiter is retrograde, this energy is reflected inward and we are guided to reevaluate our spiritual beliefs, our societal ethics and our philosophical approach to life. It is a time of truth-seeking and finding the deeper meaning in all aspects of life. Jupiter Retrograde provides a space for inner-work, and deeper psycho-spiritual reflections. Travel plans can be delayed or cancelled during Jupiter retro. This is a time to slow down and give focus to your personal belief systems and understandings of success and abundance.
And with Jupiter retrograding through Capricorn, he has been very diligent indeed, taking us inward to research and make sense of the 'individual pieces of the jigsaw puzzle'. It is hard to see the bigger picture with Jupiter Retrograde. But he does provide a space for diligent investigation of scattered puzzle pieces.
Hmmm… I think that certainly has been the theme of the last 4 months, with so many people around the world in full/partial lockdown trying to make sense of the meaning of life! And millions of people around the globe have spent their lockdown time researching, diving deep, and sharing their individual puzzle pieces with fellow researchers.
Jupiter Direct
Now as Jupiter goes direct this weekend, this is when a big shift will begin to build. This shift will gain momentum over the next couple of months, and then will end in quite a crescendo in November/December 2020.
With Jupiter moving Direct, all those pieces that we have been diligently mulling over will begin to crystallise the bigger picture. Jupiter is expansion… so what ever you have uncovered will be coming to the surface to be seen, witnessed, heard & brought to the LIGHT.
The energy will continue to build, truth will be revealed, transparency will be demanded, clarity will be found. As Jupiter moves direct, he is gearing up toward a major conjunction on the 13 November 2020 (see diagrams below).
As I talked about in my Jupiter, Pluto, Pallas article earlier this year, this final once in 248 year conjunction of Jupiter & Pluto in Capricorn takes place at 22.520 Capricorn… AND Pallas is at exact 22.520 Capricorn too! This 22:22:22 conjunction represents our Mastership with Creation.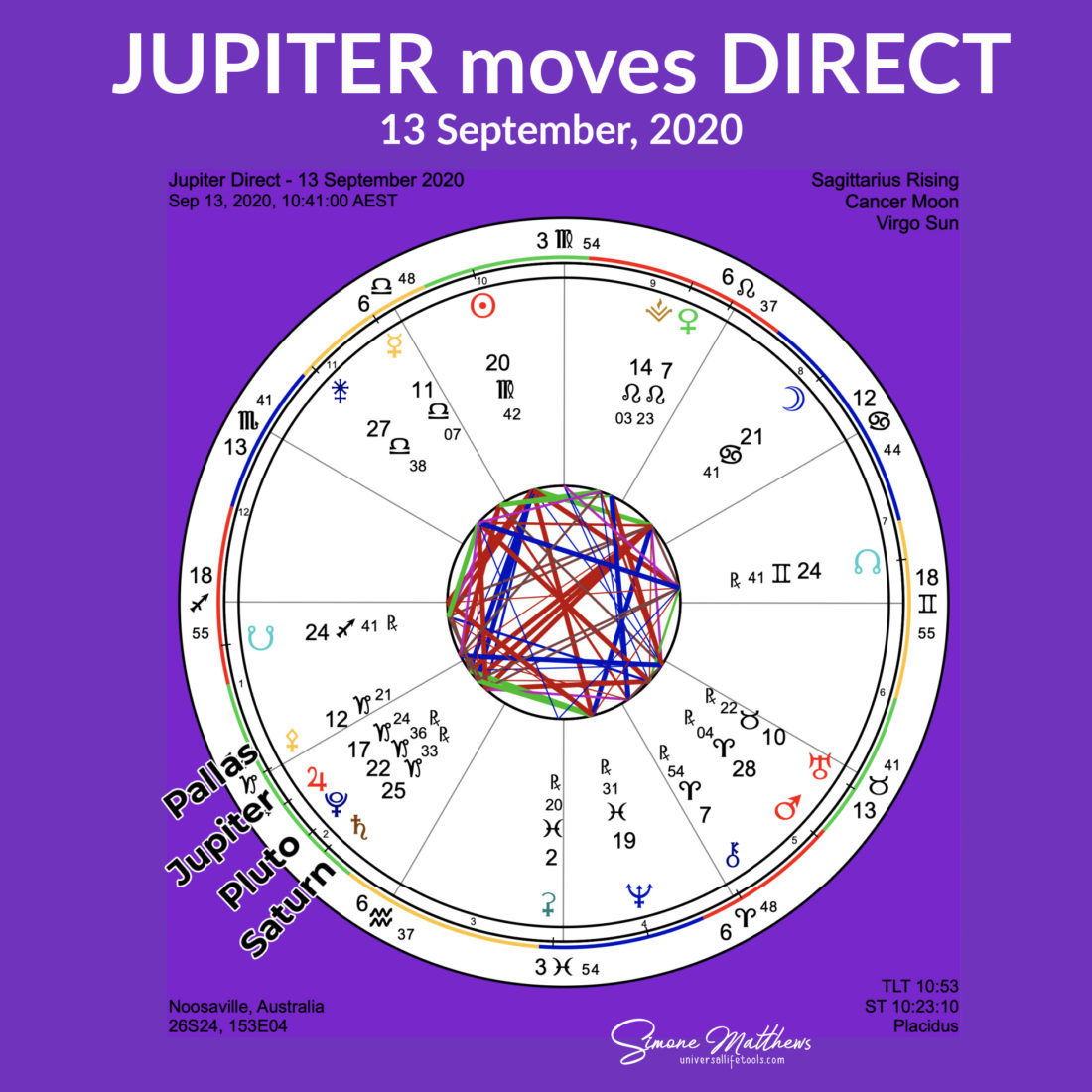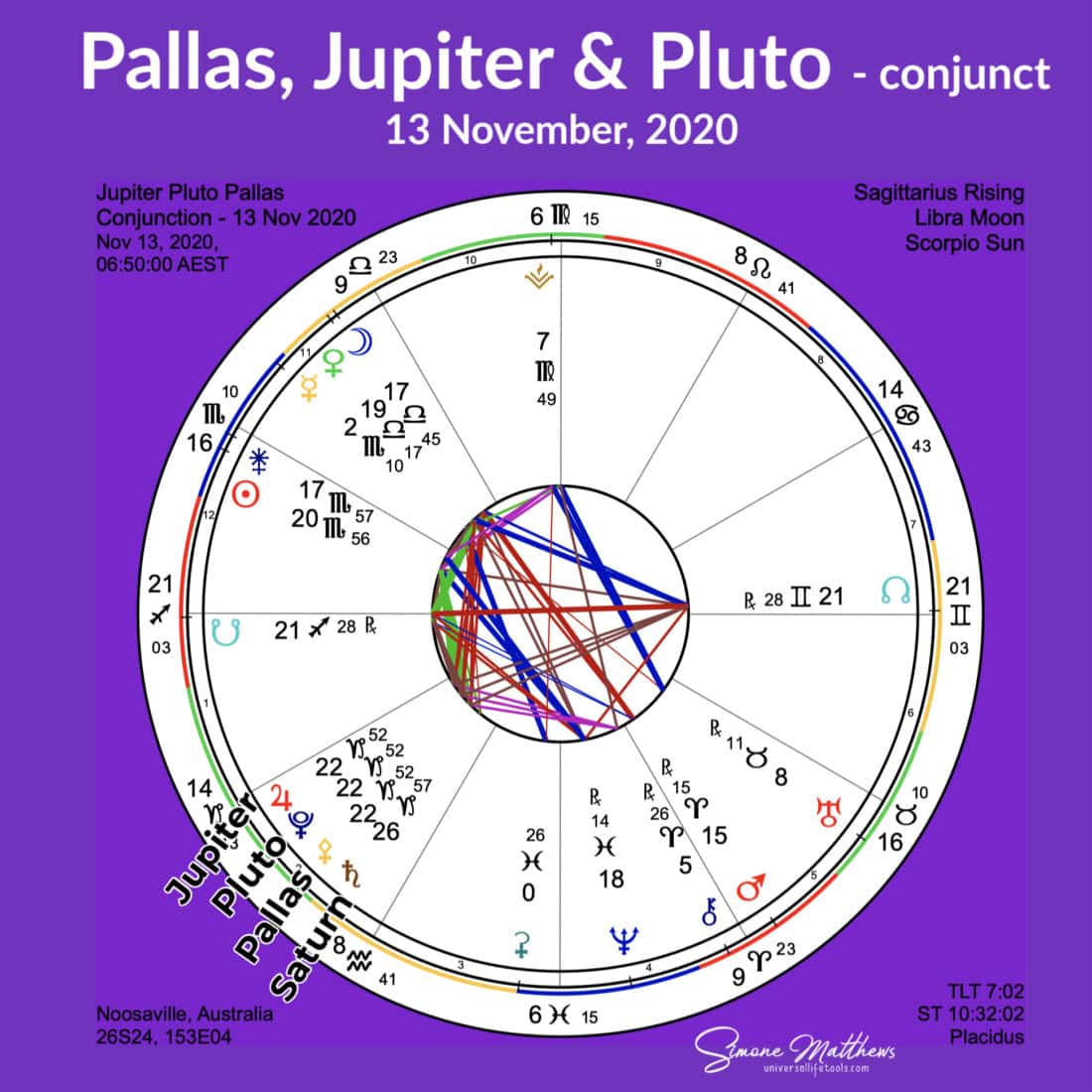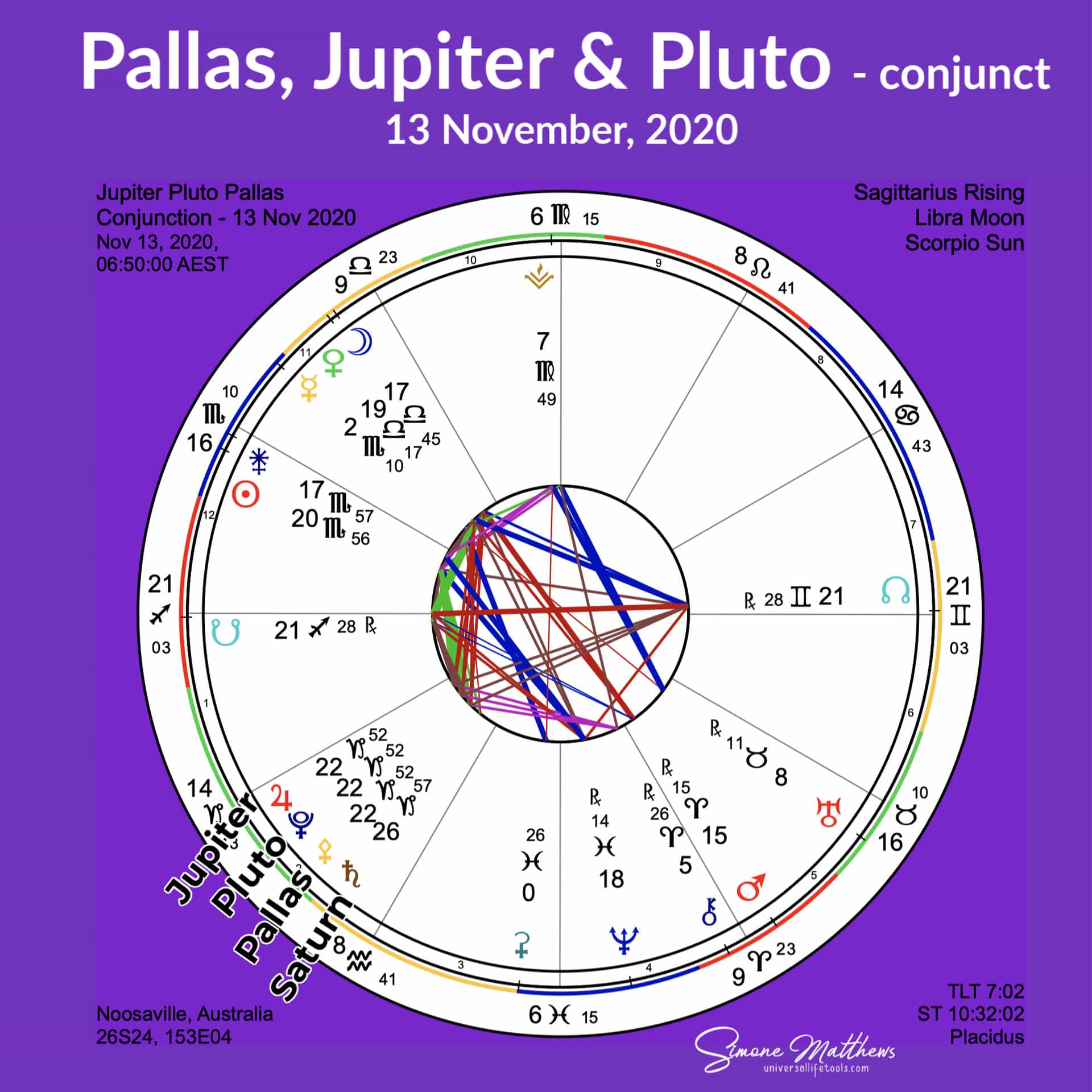 The Coming Weeks…
As I have previously shared, this may all feel wildly uncomfortable. Maybe even down right scary. But at the same time, deep within you, there is also a spark of exhilaration of what is possible when you take that leap of faith and follow your intuition and deeper insights into the bigger picture.
It's happening.
I know you can feel it in your bones.
Lets together run wild & free with this next new adventure (oh how I love you Jupiter), rising up to the challenge (and oh how I love you too Pallas)… and make the choice to let go & transform through Pluto's vision of what is possible when we follow our Hearts.
And guess what? It doesn't end there, as there is so so much more to come! In late December 2020, Jupiter & Saturn will conjunct in Aquarius (Star of Bethlehem), around the time of the 2020 Grand Alignment on the Galactic Plane, initiating a new 20 year cycle toward 2040, as well as a new 200 year cycle through the Air Element.
Stay tuned, as I have so much more to share in the months to come. But for now, stay grounded. Remember your true nature, you are nature. Remove yourself from the time-line of fear, and merge your vibration to ascend through the timeline of LOVE. Let's do this together. ALL LOVE ♡