Our July 24 Full Moon happens to be the first of two back-to-back Aquarian Full Moons – the second taking place next month on August 22. When two Full Moons in the same sign are back-to-back, the energy is amplified and creates a space/window for us to deeply embody the wisdom of that sign – in this case Aquarius.
I love this Full Moon as she is guiding us reflect back on last years Jupiter & Saturn conjunction in Aquarius in December 2020, that marked the Star of Bethlehem, our shift into the Age of Aquarius & the opening of our 5th Aetheric Heart Chamber. When Saturn & Jupiter conjunct together, their conflict creates a 'leap' into a new fabric of Earthly life. Leadership, systems & structures (Saturn) are challenged as freedom & independence is sought (Jupiter). Hmm… sound familiar!
And our July Full Moon will also challenge us, as she will be Quincunx Venus (the planet of Love), and Venus is also in opposition to Jupiter.
Aquarius Full Moon
The Moon (our inner-world) is at 1.260 AQUARIUS, an air sign that embodies individuality, independence, fringed with eccentricity, but is also divinely humanitarian. Hey, I a married to a blessed Aquarian, so I am of course biased, but I do love them!
And our Moon is opposing the Sun at 1.260 LEO, a fire sign that commands leadership, having the courage to stand tall and be 'out there' in the world. Believing in yourself and standing proud in your voice, your gifts, being YOU.
As our Aquarian Full Moon reflects the light of the Leo Sun, she has the potential to raise our consciousness, our awareness to a higher place. There will be a shattering of illusions, limitations that society have placed our freedoms… and a whole new WORLD VIEW will open up to us before our very eyes. Beliefs about ourselves, who we thought ourselves to be within the world will shift. It's as if 'a light will go in' deep within our Souls, and new doors of enLIGHTened potential swing-on open.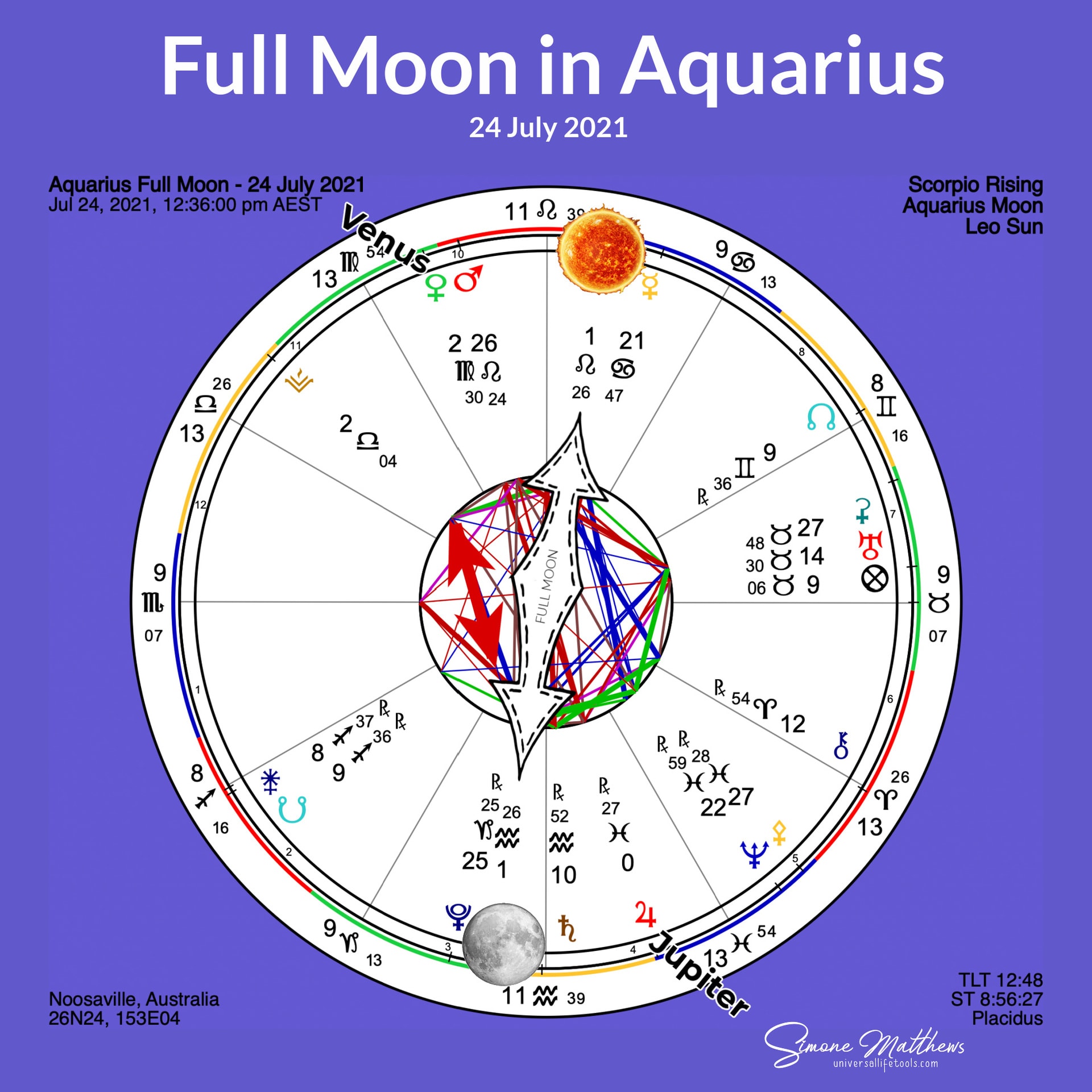 Aquarius is the Water Bearer, and she flows the 'Waters of Wisdom' from her Vessel of Life deep into the psyche of humanity. As an air sign we are called to breathe in her Wisdom and let it flow forth in our lives, in compassionate, kind & humanitarian ways.
Aquarius is an individualist & often rebellious change maker. This Full Moon will call to us to shatter the paradigms of the past. Transcend the limitations created by belief systems that are now hanging by a thread, and that no longer bear the weight of evolved science & our awakening hearts.
A new science is opening up to our consciousness, a science that doesn't disregard the power of the unseen, and the energy of the Human Heart. A science that is a bridge between Heaven and Earth. A science of Art, Medicine, Healing, Society, Relationships, Finance, Soulful Purpose that embodies the notion that we not only live within the Cosmos, but the Cosmos also lives within us!
With our Full Moon Quincunx Venus (meaning separated by 5 signs), we will be called to challenge & question ALL of our Relationships. Our relationships to self, friends, family, lovers, even our relationships to our employers, our Government, religious heads & those that proclaim the ONE STORY of Science. We are in a 5 Universal Year in Numerology so CHANGE is inevitable, and change is essential in order for a NEW WORLD to unfold deep within our hearts.
During this dual Aquarian Full Moon portal, our relationship questioning will have us diving deep into our psyches. And with Venus in opposition to Jupiter, this dive will be deep, expansive, possibly into a place where you have never allowed yourself to go before as we question…
Who are we ?
Who are we in relationship to each other ?
Who are we in relationship to the stars ?
And who do we wish to be in relationship to this emerging NEW WORLD ?
You may feel your Heart is being shattered wide open to feel into these questions and answer deep from the Heart of the Cosmos itself. Are we really separate ? Is the microbial realm really our enemy ? What could be the gift of this moment and how can I embrace and flourish this gift ON PURPOSE ?
As we come into the annual Lion's Portal on the 8 August (I will write more about this next week), we are offered the opportunity to take ourselves higher place and move into Right Relationship with life itself. It is from this place we have the power to move mountains. We no longer fight against the tide, but rather flow with natures inherent Aetheric Intelligence. We choose to embody the gift of the Aquarian Age.
Rather than go to war, we choose love.
Rather than shame, we choose empathetic compassion.
Rather than separate ourselves, we connect even deeper.
My advice… Turn the TV off. Don't scroll through endless feeds of negative media. Get our into nature and follow the calling of your heart. She knows.
My heart, my love, my blessings to you on this Full Moon.