This is a sobering post indeed. My heart goes out to everyone that has been adversely affected from the COVID jab – families that have lost loved ones, women who have experienced miscarriages, children that have died, and the millions of people around the world that have been COVID jab injured and are suffering.
Due to censorship from Media, and the 'hands off' approach of Medical Doctors who do not want to diagnose vaccine injury, groups of people are coming together globally – to tell their stories & seek help.
The reported rate of death from COVID-19 shots now exceeds the reported death rate of more than 70 vaccines combined over the past 30 years. The COVID shots are also five times more dangerous than the pandemic H1N1 vaccine, which had a 25-per-million severe side effect rate. A recent study calculated the number needed to vaccinate (NNTV) to prevent one COVID-19 death, finding that for every three people spared from COVID-19 death, the COVID gene therapy injections kill two. With Pfizer currently seeking authorisation for a 3rd booster shot, the stories of people experiencing adverse events needs to be heard.
There is also evidence that the U.S. Vaccine Adverse Event Reporting System (VAERS) is deleting reports of side effects, especially deaths related to COVID injection. So, not only does VAERS generally capture only 1% to 10% of side effects, but they also appear to be manually wiping reports

#WeWantToBeHeard

VaxLongHaulers.com
The VaxLongHaulers website has been set up to give a voice to those that have been seriously injured from the COVID Jab. A certain percentage of people – in the thousands – who had the covid vaccine are suffering with debilitating symptoms. Their lives, in many cases, have been ruined with terrifying symptoms, leaving many of them with the inability to work. The widespread general denial – even bullying – of those facing symptoms is making matters worse.
The aim of the website is threefold:

Raise awareness so our medical issues will be acknowledged,
Help others like us who are suffering from many months of symptoms, and
Work with the medical community to bring resources and solutions for a cure.
We continuously find doctors who do not know how to help, as this is not yet a recognized issue by the CDC and FDA. Many doctors even refuse to see us, if the vaccine is mentioned as a possible cause.

We each believed the science, and did our social duty to help stop the pandemic. Now, in return, we ask that you acknowledge these adverse reactions, that you help us where possible, and that you help us press for desperately needed medical research and attention.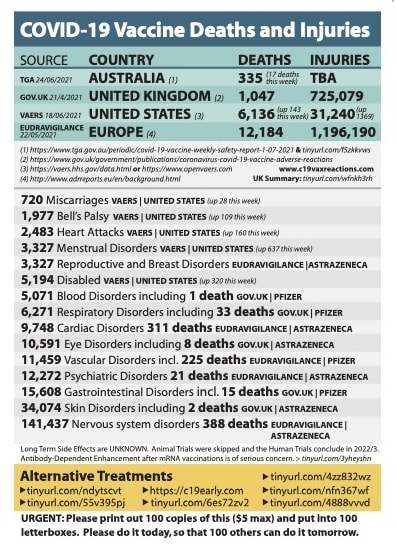 Real People, Real Stories
The FB private group Covid19 Vaccine Victims & Families has almost 30,000 members, and details devastating story after story of the tragic adverse events being experienced by people globally. Rather than visit FakeBook, you can read many screenshots of posts of peoples stories here.
Here are a couple of videos I have previously shared. These are REAL PEOPLE, who believed the science and that the Vaxes were safe, yet have been let down by the system and no one is listening.
Read more about the video below here.
Read more about the video below here.
Vaccine Injury is Expensive
People injured by COVID vaccines are asking for help on GoFundMe as the U.S. government shields vaccine makers from liability. As The Defender reported July 1, research compiled by a group in Mesa County, Colorado, showed as of June 25 there were more than 180 GoFundMe accounts seeking help for people who had suffered injuries after receiving a COVID vaccine and were left with large medical bills and other expenses.
People facing huge medical bills after being injured by COVID vaccines have few options, beyond what their own health insurance covers. That's because under federal law, vaccine makers are shielded from liability.
Within my 7 Reasons to do my Research post, in Reason 5 I discussed the importance of doing due-diligence on the financial cost should you have an adverse event. I recommended that you complete Catherine Austin-Fitts has created a Family Financial Disclosure Form (free downloadable pdf) that enables people to do a financial cost-benefit analysis regarding COVID19 Jabs.
Sharing with you below thanks to CHD – a few real stories of people experiencing financial hardship post COVID jab.
High school senior Emma Burkey received the one-shot Johnson & Johnson (J&J) COVID vaccine April 1. Within two weeks she was placed in an induced coma. She underwent three brain surgeries after experiencing seizures and developing blood clots in her brain. When Burkey was well enough to be transferred from the hospital to a rehabilitation center, her first round of bills totaled $513,000. Friends of the 18-year-old's family turned to GoFundMe to raise money to help cover Burkey's mounting medical costs. As of July 7, more than $59,000 had been raised. The family hopes most of Burkey's medical costs will be covered by insurance — but that's unclear, as the cost of their daughter's medical care could run into millions of dollars. "Right now it feels like the national debt," a family spokesperson said. "It's so big you can't get your head around it." Emma Burkey is still in intensive rehab, remains in a wheelchair and was able to stand unassisted for the first time July 6 — almost four months after she got the vaccine.
Alicia Smith, 34, is a hairdresser who felt pressured by the media to get a COVID vaccine to make her clients feel safe. After receiving her second dose of Pfizer on April 15 at a Walgreens, she immediately experienced negative side effects, including swelling, loss of feeling, inability to breathe and symptoms of Bell's Palsy. A neurologist at Louisiana State University told Smith her symptoms were caused by anxiety and urged her to seek cognitive therapy. Two months after being hospitalized and undergoing rehab, Smith still cannot return to work because of severe uncontrollable body tremors and Bell's Palsy on the right side of her face. After Smith shared her story on the Thrivetime Show: Business School without the BS, a friend started a GoFundMe to raise funds for Smith's medical expenses.
Stacie [last name unknown] is a third grade teacher who developed Guillain-Barre Syndrome (GBS) three weeks after receiving J&J's COVID vaccine. She went to the emergency room several times after getting the shot because she was experiencing numbness of the lower extremities, but was sent home when tests were inconclusive. The numbness continued to progress and Stacie eventually lost her ability to stand and walk. She was then hospitalized and diagnosed with GBS. After several weeks, Stacie was able to take a few steps with the aid of a walker and physical therapist. She was transferred to an intensive rehab facility. A friend started a GoFundMe campaign to raise money for Stacie's medical bills.
Lakela Thomas started taking medicine for seronegative arthritis on April 1. The next day she received her first COVID vaccine. Within three weeks, Thomas developed severe chest pain, a rash that covered her body, and swollen hands, feet and lips. Thomas spent more than two weeks in the hospital and is now on at least 14 medications. Doctors believe Thomas is now suffering from several autoimmune conditions, including Steven Johnson Syndrome — a severe medical emergency that affects the skin and mucous membranes associated with oral medications and other vaccines — neuropathy, a severe flare of seronegative arthritis, thrush, and pericarditis and Behçet's Disease, rare disorder that causes blood vessel inflammation throughout the body. Almost three months after her COVID vaccine, Thomas has not improved. Her husband started a GoFundMe page to help cover the costs of medical expenses and lost wages, as she is unable to return to work and he must now provide care for his wife and daughter.
Gary Spaulding was an active landscaper who experienced a severe headache after receiving J&J's COVID vaccine, causing him to go to the emergency room. Doctors immediately diagnosed Spaulding with Lyme Disease. Treatment was started, but numbness and tingling in his extremities progressed. After doctors initiated tests to determine the cause of the escalating series of symptoms, Spaulding was diagnosed with GBS. Doctors believe Spaulding's immune system, which was fighting Lyme Disease, was overstimulated by the COVID vaccine causing it to attack the myelin — the protective insulation that surrounds nerves, including those in the brain and spinal cord. Treatment was immediate and successful in arresting the progression of the disease, but not before Spaulding was almost completely paralyzed. After he was stabilized, Spaulding was sent to a rehabilitation hospital. As of June 29, he was back in the hospital for an infection and blood clots. He lost almost all progress he made during his initial round of rehabilitation. According to his GoFundMe, Spaulding is still unable to walk and muscle weakness and pain are his constant companions. He is fighting to regain the mobility and feeling he lost due to the GBS brought on by the COVID vaccine.
On May 25, Freddy [no last name provided], a self-employed roof contractor with two children, suffered an immediate and severe reaction to Moderna's COVID vaccine. Within 15 minutes of vaccination, he lost feeling in the left side of his body, developed a rash and experienced swelling in his hands and feet. He was treated on site by paramedics and sent home. The next night Freddy began experiencing heart palpitations and atrial fibrillation, and stopped breathing. He was transferred to the hospital for heart monitoring. On June 22, Freddy was taken by ambulance to the hospital again after he stopped breathing, experienced massive tremors in his leg and was unable to move. According to Freddy's GoFundMe page, he has been dismissed or ignored by healthcare providers who don't associate his newly acquired conditions with Moderna's vaccine. Freddy experiences constant uncontrollable spasms and tremors, migraines, tinnitus, fatigue, dizziness, neurological episodes resembling seizures or strokes, brain fog and pain.