As shared in my The Medicine Keepers, as the hidden-shadow of our world is 'seen' and brought to LIGHT, something powerful shifts within the field. Individually we grow/evolve through a grace-filled divinity, and collectively we discover ways to create an entirely new vision of our world. As the old-systems begin to crumble around us, the transition doesn't feel so scary, for we know deep within our-hearts that we were born for these times, and LOVE always finds it's way.
In bringing the OLD to LIGHT, sharing with you this weeks 'crumblings'. Lets compassionately embody the darkness and gift it oodles of LIGHT & LOVE. The Medical System as we know it is crumbling, may new systems that embody HOLISM emerge from the ashes.
COVID-19 Statistics
As time moves on, we are becoming more aware of the 'real' numbers that reflect more of the 'truth' of this time. COVID Stats hosted on JohnPlatinumGoss.com is updated regularly, so maybe best to book mark & visit back from time to time.
These official statistics – produced by MHRA (UK), EMA (EUdra Europe) and VAERS (United States), concede that they are much higher, (10 to 100 times higher) than the figures they have released. In some of the tables on this page a more realistic picture is illustrated.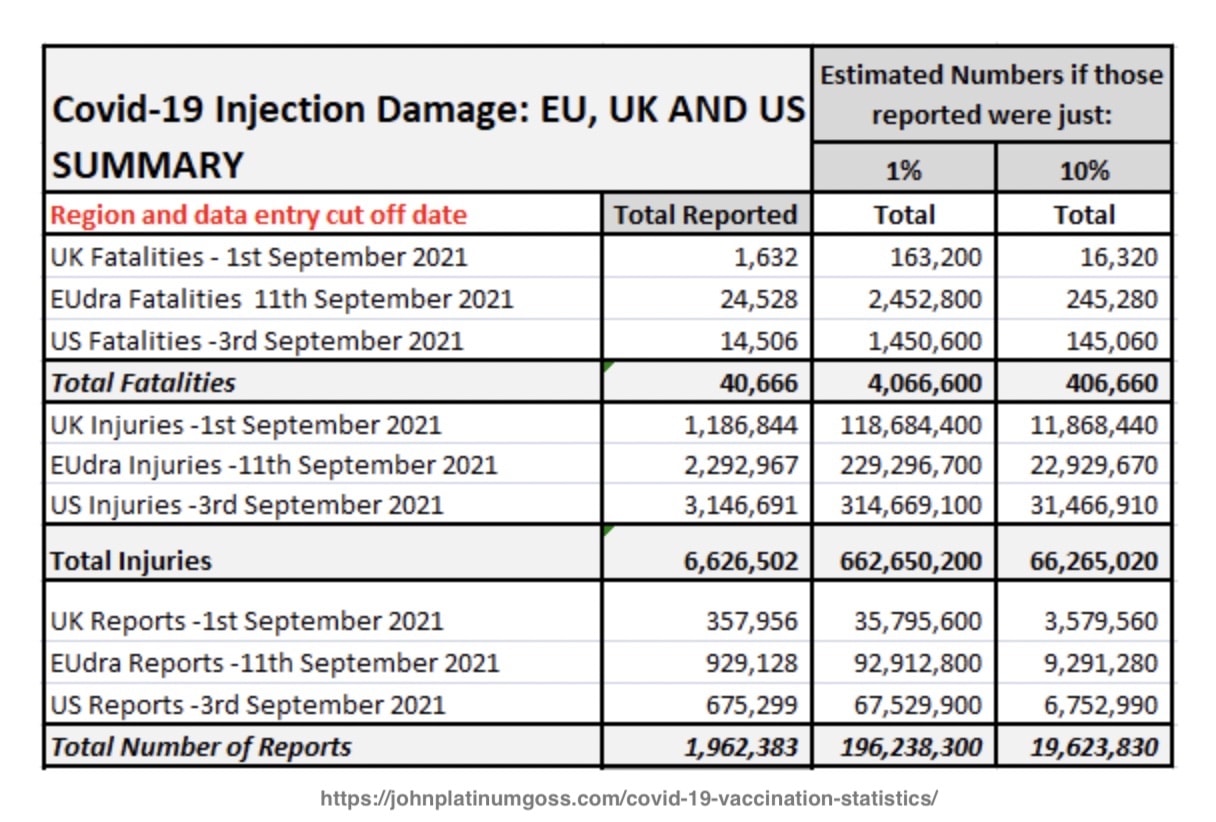 And here is a sobering interview from a UK Funeral Director, giving insight into what REALLY happened during 2020/21.
Brian Gerrish: Eugenics
In this interview testimony with Dr Reiner Fuellmich + Team, UK Column's Brian Gerrish shares many truths about the UK Governments Psychological Operations, and the calculated Eugenics of innocent people.
Medical Mandates, a dangerous precedent
Rather than use words, I will let this video speak for itself. Do we really want to head down the path of a Social Credit System / New World order ?
Australia's New World Order
With many legal cases currently before the Supreme Court in Australia, the Government spends a further $50m in a new vaccine campaign to sway reluctant Australians. Meanwhile, jabs are being rolled out to 12-15 year olds (in contradiction to modelling) all as part of the New World Order. PLUS children 12-15, who legally cannot drive, vote or have sexual relationships are considered of sufficient maturity to make a decision to have an experimental jab (without their parents consent) with NO DATA available for long-term impacts on their health.
The private Doctor-Patient relationship has ended here in Australia, with the TGA banning the prescribing of Ivermectin within the last week. This is a sad and shameful era for Australian Medicine, and may even mean that private medical practice is now untenable as the State places itself smack bang in the middle of almost all Doctor Patient interactions.
With the State of VIC and the State of NSW continuing through the harshest of lockdowns than ANY from around the world, whilst we are NOT in lockdown in QLD, and only have 1 new case, the Goverments Emergency Powers (hence Activation of the Biosecurity Laws) have been extended for 8 Months until April 2022.
Meanwhile, State of SA is well on it's way to loss of liberty through its Orwellian Quarantine App. And State of WA made a bombshell confession that residents in NSW could be shut-out over Christmas, even if they're vaccinated.
The Jab Mandates are rolling out thick and fast here in Australia. Here is State of Tasmania's list of Mandates for Health workers… this list is heartbreaking. Jabs are Mandatory for more than 50% of NSW Public Sector Workers. Victoria has mandated for Construction Workers and Aged Care Workers. And QLD has mandated for Qld Health Workers (Hospital & Ambulance) and Qld Police.
Australia has now sadly reached 535 DEATHS post-vaccination, and 2.6 in every 1000 doses have seen adverse events recorded in the system (that means for every 384 doses – not individual people vaccinated – one has caused an adverse reaction which either the victim or their administering health worker felt was significant enough to report).
And last but not least, our Prime Ministers Joint Leaders Statement this week on the Nuclear powered Submarines and AUKUS. The second last paragraph caught my eye:
Recognizing our deep defense ties, built over decades, today we also embark on further trilateral collaboration under AUKUS to enhance our joint capabilities and interoperability. These initial efforts will focus on cyber capabilities, artificial intelligence, quantum technologies, and additional undersea capabilities.
Yet there are beautiful people speaking up, people who fiercely uphold truth & morality. In the video below, Lawyer Matthew Hopkins of AFL Solicitors takes about an upcoming Supreme Course case at the end of 20 September 2021, to put an end to this Medical Tyranny.
Dr Geert Van Den Bossche
I have shared many learned opinions from Dr Geert Van Den Bossche this year, including his professional opinion that COVID Vaccines may put us on track to creating a global immunity catastrophe.
In the Last Post Article on Dr Van Den Bossche's own website, he makes the claim that The mass vaccination hype will undoubtedly enter history as the most reckless experiment in the history of medicine. It will be cited as the unequivocal proof of how overuse or misuse of man-made antimicrobials leads to antimicrobial resistance, regardless of whether the antimicrobial is an antibiotic or an antibody administered through passive immunization or elicited via active immunization. Mass vaccination campaigns conducted in the middle of a viral pandemic will, for generations to come, become the most sobering example of the boundaries of human intervention in nature in general and of the boundaries of conventional vaccinology in particular. This irrational experiment will unambiguously highlight the clear-cut limitations of conventional vaccine approaches. It will convincingly illustrate that – unlike natural acute self-limiting infection or disease – 'modern' technologies alone do not suffice to develop vaccines that are capable of preventing viral transmission or immune escape.
Here is a summary of key points:
→ Mass vaccination campaigns may have a beneficial short-time effect ….. but will eventually drive the propagation of more infectious variants
→ A vaccine that only prevents hospitalizations and severe Covid-19 disease is not good enough to be used to combat a pandemic.
→ There should be no doubt that non-transmission-blocking vaccines (i.e., so-called 'leaky' or 'imperfect' vaccines) CAN NEVER EVER CONTROL A PANDEMIC, even though they may temporarily protect against disease
→ The mass vaccination hype will undoubtedly enter history as the most reckless experiment in the history of medicine.
→ Mass vaccination campaigns during a pandemic of highly infectious variants fail to control viral transmission.
→ This IRRATIONAL EXPERIMENT will unambiguously highlight the clear-cut limitations of conventional vaccine approaches.
→ The mass vaccination program is nothing else but a big experiment. For how much longer is the public going to believe the treacherous narrative?
→ Only a mind that has lost its grasp on reality can fail to see how pathetic all this has become …..
World Wide Rally for Freedom
This coming Saturday 18 Sept, more than 40 countries and 150 cities around the world are coming together to UNITE for Freedom, Peace and Human Rights..
View this Telegram Page to find an Event in your City
https://t.me/worldwidedemonstration
View this Webpage to find an Event in your City
https://worldwidedemonstration.com/
#wewillallbethere