Sharing with you the profound energy of our May 2021 TOTAL Lunar Eclipse which leads us into next months Annular Solar Eclipse. I also highly recommend reading my Sun transits Pleiades article (before reading this post), to understand the profound energetics of our Lunar Eclipse.
And please also read my Lunar Eclipse Wave/Particle post, on how to be a Wave in a sea of Particles.
FULL MOON Eclipse Energy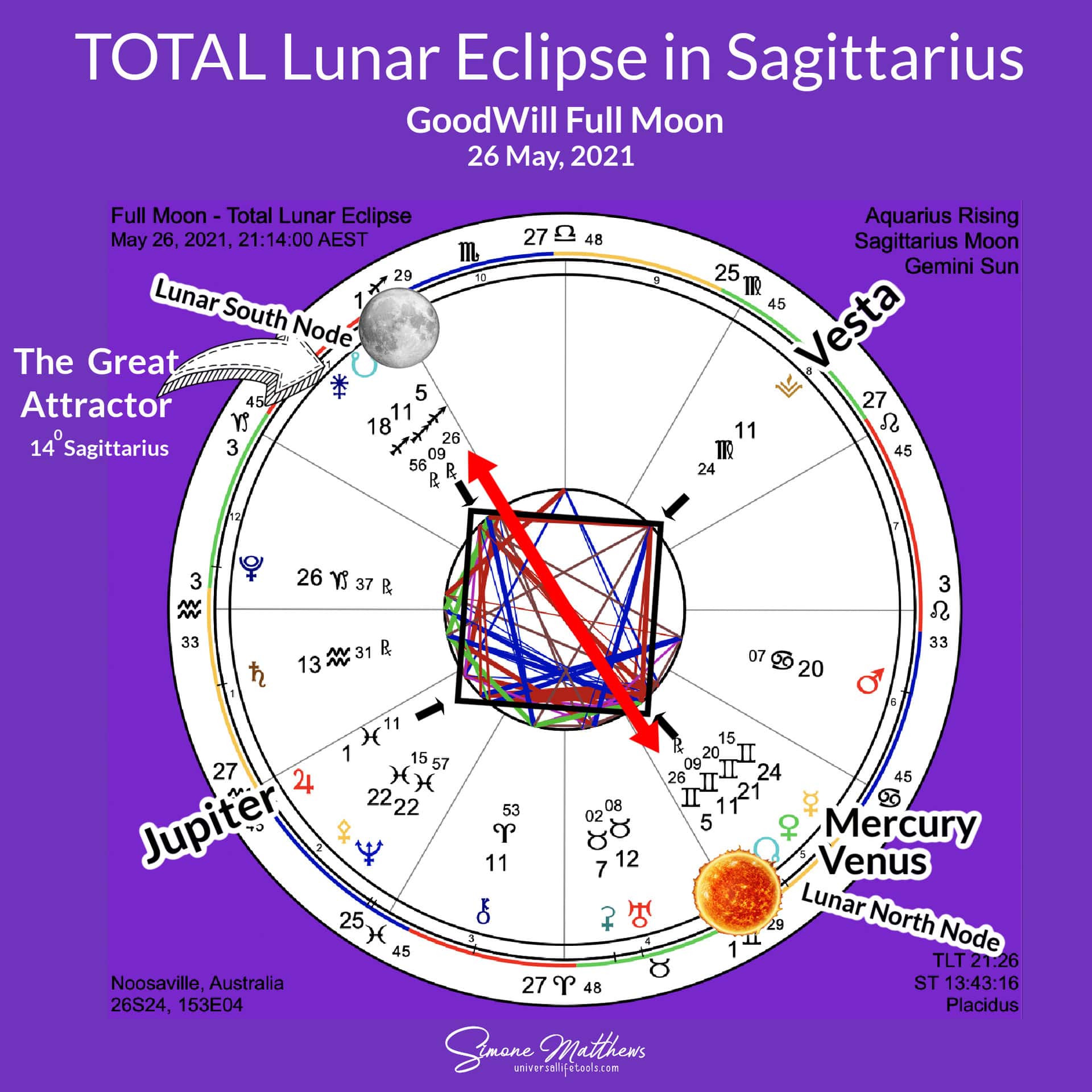 The Great Attractor
There is a mystical & reverently DIVINE unfoldment of energy during our Lunar Eclipse, with a strong 'square' of energies infusing a greater potentiality of eclipse energies. Essentially Asteroid Vesta, Jupiter, and our Lunar North & South Nodes are all at strong 900 angles with each other (squaring). But what makes this square energy even MORE intense is that The Great Attractor is sitting just a few degrees away, infusing the Square with intelligence.
As I share in Aetheric Healing™, The Great Attractor lies at the very centre of the Laniakea Supercluster – a Supercluster that contains our very own Milky Way Galaxy plus around 100,000 neighbouring Galaxies.
The Great Attractor has a mysterious gravitational influence over all of these Galaxies... with our Milky Way Galaxy currently being pulled towards The Great Attractor, and numerous others Galaxies being pushed away… akin to the movement of energy in/out of a torus.
So what does The Great Attractor / Laniakea mean energetically for Earth ?
Well, Laniakea is an Hawaiian word for 'Immeasurable Heaven'… and for me that kinda says it all ! When our Full Moon is amplified through The Great Attractor – the central Heart of Laniakea – through cosmic ripples of the Divine, our dreams, our visions, our higher knowing will embody a greater possibility for Earth at this time.
Divine Intelligence is weaving a higher vision of possibilites through our dreams, helping us to let go of the fear & separation of the old-Earth consciousness and truly embrace a higher cosmic relationship of LOVE. Under the influence of The Great Attractor during our Lunar Eclipse, we are called to surrender and let go of parts of our self that limit our greater potential.
All there is is LOVE. Let our 'Immeasurable Heaven' show us the way !
Quantum Leap in Consciousness
As Earth's Electrical Field continues to rise, causing the inverse further weakening of Earth's Magnetic field, a weakening of the programmed consciousness of the 'old Earth Story'. I talk about this in-depth in my online Sacred Ancient Wisdom Course… but in summary, the POLARISED ways of our world are crumbling and a Quantum Leap in Consciousness is unfolding.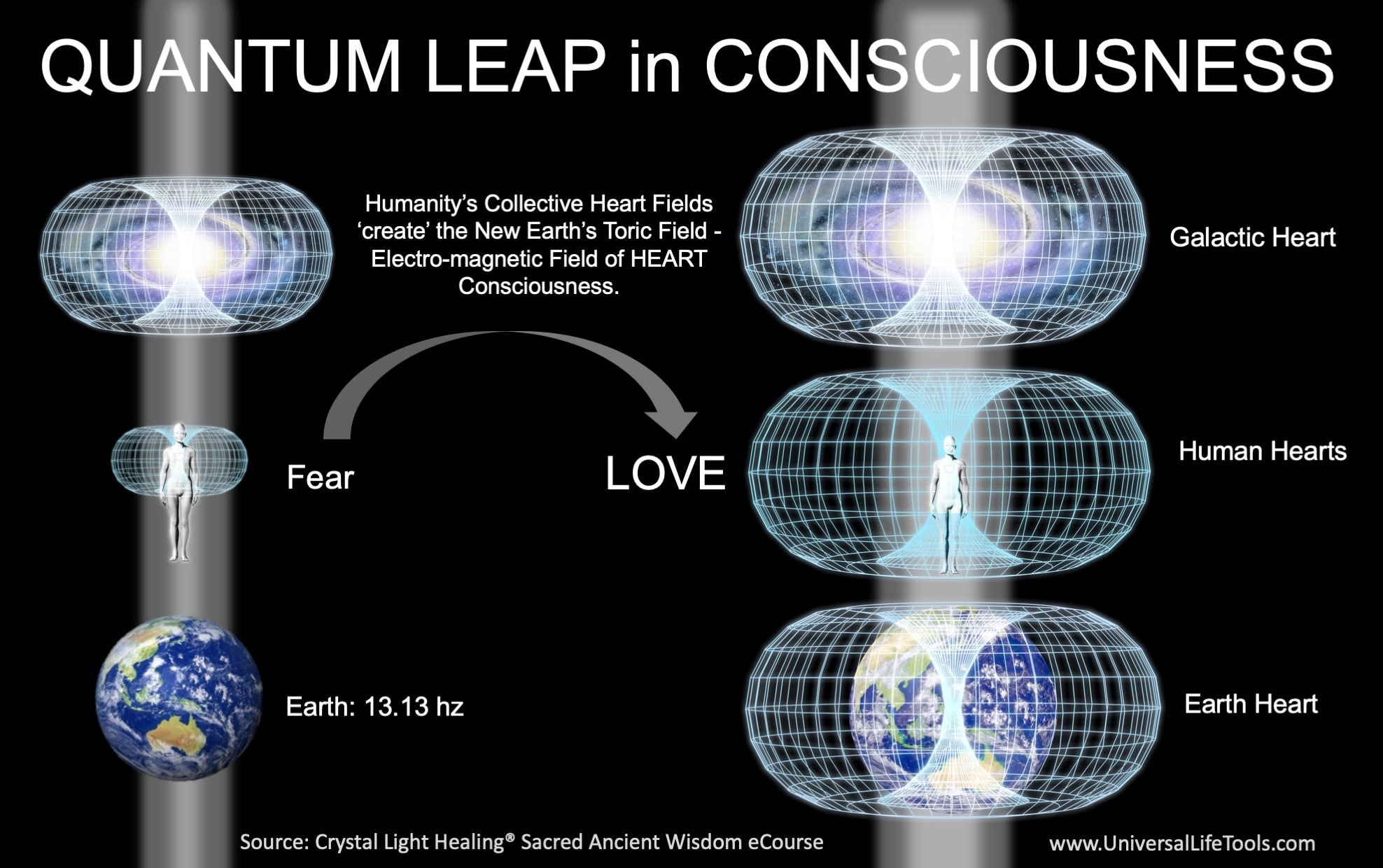 GoodWill Full Moon
And finally, our May 2021 Full moon is also our Goodwill Full Moon, the 3rd of three powerful Full Moons for the year after the Christ Full Moon, & the Wesak Full Moon. Together they form a trinity, a sacred trine of potential for birthing heart-n-soul vision into physical form.
Our Goodwill Full Moon is also referred to as the Festival of the Spirit of Humanity or World Invocation Day – in celebration of the highest ideals, goals & aspirations of a compassionate, kind & loving human race. At the time of the Goodwill Full Moon, we are called from a place of 'goodwill' to focus on our true nature, to embrace the truth of who we are and what connects us and choose to serve the grandest version of the greatest vision of a United Humanity.
In April 1945, a world prayer entitled 'The Great Invocation' was gifted to Alice Bailey by Djwhal Khul. Djwhal Khul is described as being a member of the 'Masters of the Ancient Wisdom' and is defined as the spiritual guide of mankind. Djwhal Khul is a teacher of ancient cosmological, metaphysical, and esoteric principles that form the origin of all the world's great philosophies, mythologies and spiritual traditions. The channelled wisdoms from Djwhal Khul formed the teachings within Alice Bailey's 24 books.
Today, 'The Great Invocation' has been translated into over 80 languages and is a world prayer for uniting humanity in a collective vision through the Goodwill of the Heart of Humanity.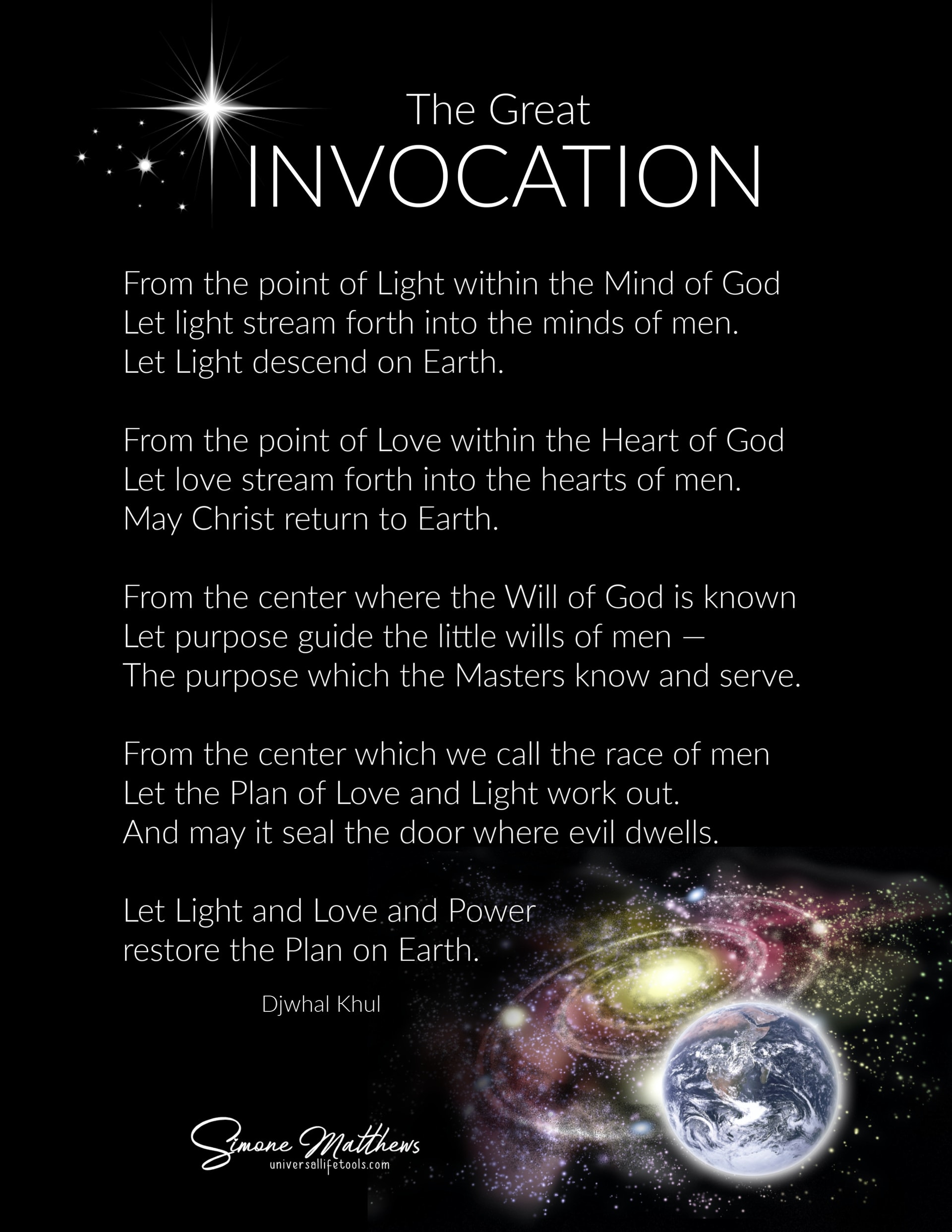 Freedom Fest – 29th May, 2021
And Finally, for those within our Community that live locally, I would LOVE for you to join me at FREEDOM Fest, May 29, 2021. I will be speaking on the stage on the day, along with some visionary people who have the HEART of a New World that we are creating. This is a FAMILY FRIENDLY event, so come alone to be both inspired & uplifted.