Over the last 2 years I have been a strong voice and advocate of choice through my Health Freedom Resources. In particular sharing my concerns in my Open Letter about the deleterious nature of this global moment. As I am not one to remain silent in the presence of wrong-doing, in November 2021 I also cofounded QHPA.org, a united group of Health Professionals pushing back against Medical Mandates.
Now it is time to make the 1300+km trek to #ConvoytoCanberra (with hubby & our dog), supporting our fellow Australian's in being a UNITED Voice in putting an end to Medical Mandates. As well as joining in solidarity with Canada's Freedom Convoy, and many like-hearted gatherings happening around the planet at this time.
I would dearly love your generous support in helping support #Convoy to Canberra – Camp Freedom. Together we can make a difference. I will be in Canberra from Friday 25th February, and will share regular updates on my Facebook & Instagram pages. And to my Aussie Community, if you are making your way to Canberra I look forward to seeing you there!
Thank you
xx Simone Matthews
In the video above I mentioned links to various videos and articles. Inviting you to watch The Grand Jury trial videos, read more about the advere impacts of vaccines in 5 to 11 year olds, (6 year old Milo is one of many examples), understand the data on how health problems escalate with each successive jab, the case for ivermectin, or early treatment plans and contact Senator Roberts if you feel you were affected by bio-weapons (eg LRAD) in Cancer. Or If you've suffered any burns, rashes or sickness at the campsite please email contact@ourvoicesmatter.com as they are starting legal proceedings. Estimates hearings happening in Australia now Adverse Events from Jab, LRAD used on Australian Citizens, Jab impacts on transmission, and 4th & 5th Jabs required to be fully vaccinated – up-to-date? Here is the impact in Israel by the way! And if there was every any doubt that Digital ID, the WEF Great Reset leads us down a path of soul eradication through Transhumanism… read this article on the future of babies… a little too Matrix 1 for may liking!
Support the Cause
My original MyCause page had only been up for less than 24hrs before it was taken down without any warning. Apparently the nature of this fundraiser didn't meet their guidelines (and all contributors were fully refunded). Sooooo… with a little lateral thinking I have come up with a solution!
Inviting you to purchase my Prepping: The Essentials Course, and I will donate 100% of monies received (less credit card transaction fees) to Convoy to Canberra. At the end of each week, I will update this Contributors Page with a list of all donations (ie course purchases).
If you would like to write a message to place on our Contributors Page, then please add your message to the comments box on checkout. If you would like to be anonymous, just write anonymous in comments. If you would like to contribute an amount greater than $100, then simply increase the product quantity to create your desired purchase/donation price.
The upside of all of this is that all Contributors receive a gift (this Prepping Course)… AND I can still be fully transparent by listing all donations on our Contributors Page. Phew, these strange times we live in sure do call for resilience + lateral thinking!
Thank you everyone for your understanding, your kindness is much appreciated.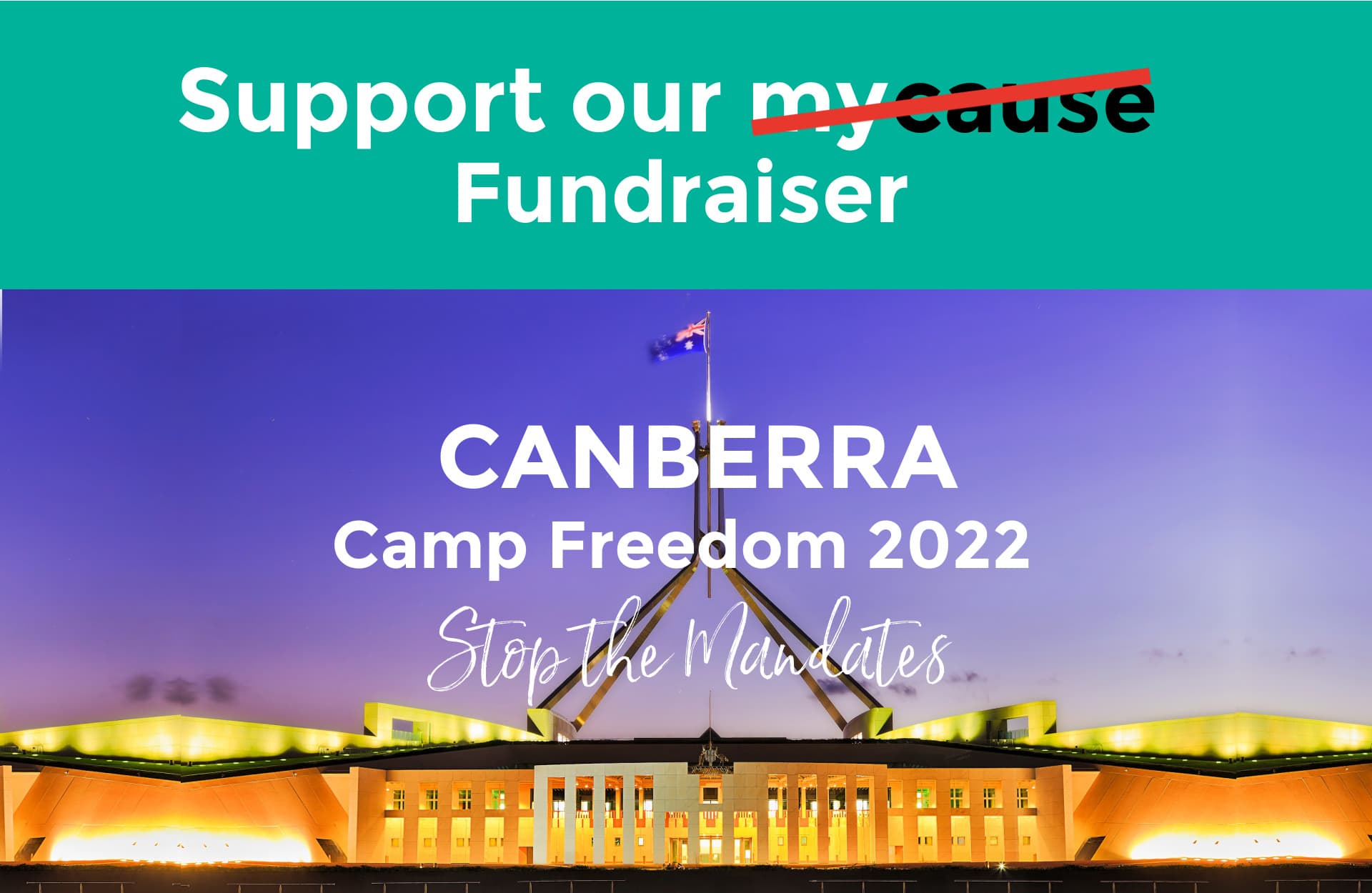 And for full transparency…
Here are screenshots of our original MyCause Fundraising page. I am very disappointed that MyCause has not been supportive during these challenging times. A simple phone call or even email to discuss would have been a kind and compassionate gesture, rather than simply taking the fundraiser down. Apologies to everyone for any inconvenience this has cause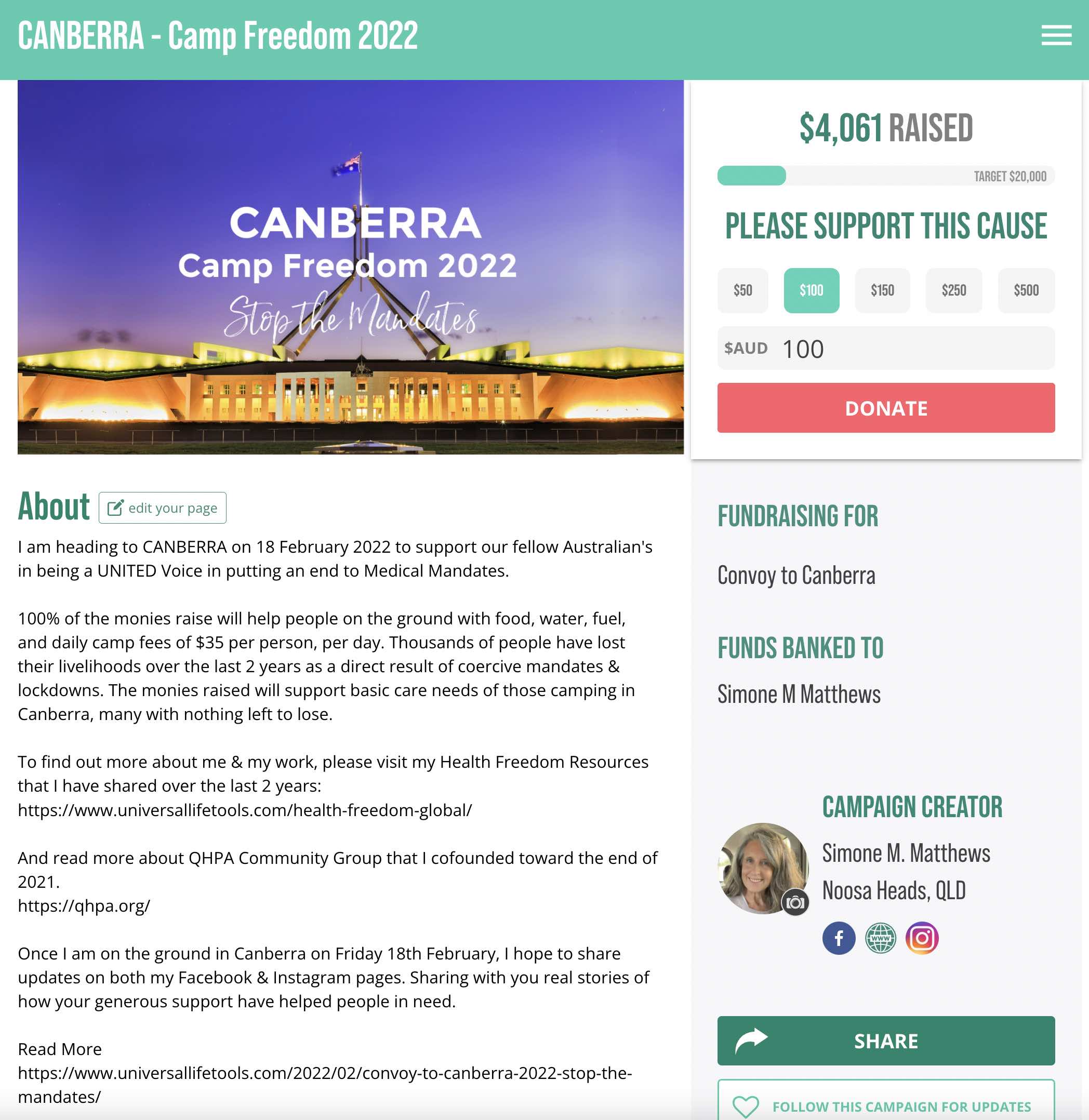 Learn More
Drone footage of #ConvoytoCanberra rally February 12, 2022. A little more than 10,000 people thank you ABC News and Estimates Hearings!
Graham Hood speaking to Convoy to Canberra attendees – 5 February 2022

Letter to Australian Parliament, read by Graham Hood – 8 February 2022.