Consultations with Simone
You have read ABOUT SIMONE and have now been guided to this page, as there is something deep inside of you, a calling, an inner-knowing that you are here to do something amazing with your life ☆
You know you have a big purpose, you are driven by a heart-felt mission to change the world… kindness, compassion & gratitude are the words that drive your inner-compass.
You can feel it in every cell, you know you are ready to step-up and flourish your full potential… yet there is something that is keeping you small – whether its your relationships, your work, your health, your finances or your belief in YOU.
Inviting you to work personally with me and discover a whole new way of seeing your world, your life and the grandest version of you.   Through intuitive insight and guided clarity I can help you to:
Awaken to your SoulPrint -Understand your strengths, identify your challenges & be empowered by your potentials.
'Know Thyself' – Open your 'Book of Life' and awaken to new possibilities of personal growth by going deeper into your story and ultimately higher into the best & grandest version of you.
Step into your authentic purpose and learn how to take spirited-action to achieve your dreams.
Break old patterns, gain clarity of shadow aspects and chart a way forward that is much more deliciously beautiful than you ever thought was possible for yourself.
Tackle those niggling physical maladies, weight issues or major health crisis.  Uncover the cause behind your dis-ease and discover solutions that enable health, vitality & wellbeing.
Help you to find balance & harmony in all areas of your life & support you in embodying self-care.
Inspire you to create a meaningful life that not only fulfills your heart-felt desires but creates ripples of quantum change within the field.
Flourish success in your professional life, not just excelling in your accomplishments but creating an enduring & meaningful legacy for generations to come.
Ultimately, I believe in YOU, your mission and your desire to make a real difference in the world.
I believe in you so deeply, that I would LOVE to work with you and help you to be truly seen, own your power and step into a life that reflects the beauty, passion & divine magnificence that is you.
Inviting you to book a one-on-one PERSONAL CONSULTATION with me (see the details below) or if you feel like going deeper than you ever have before, then maybe you would like to consider enrolling in one of my LIFE MASTERY TEACHER COURSES.
PERSONAL CONSULTATIONS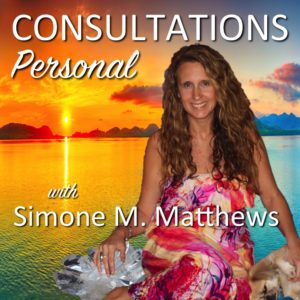 Simone is available on a monthly basis for a limited number of one-on-one consultations.
Simone's consultations are deep and insightful explorations of your life's journey.   They offer you an opportunity to gain clarity of your current circumstances, get clear about what you REALLY want and discover solutions or healing approaches from an awakened level of consciousness.
Whether you are looking for guidance/healing in your personal life or looking to grow & flourish in your professional/creative field… you have the opportunity of working closely with Simone to step into the joyful expression of the greatest and grandest vision you have ever held for you.
Simone facilitates her consultations over Zoom (a video conferencing app, a little like Skype) and each consultation is unique, incorporating different approaches to meet your individual needs – such as intuitive counseling, holographic repatterning or even distance healing sessions… incorporating Simone's Essence of Angels®, Crystal Light Healing® & Aetheric Healing® Modalities and her diverse skills in Naturopathy, Herbal Medicine, Nutrition, Numerology, Cosmology/Astrology & Body/Mind Medicine.
BOOK A CONSULTATION with SIMONE >
When you book your consultation, you will receive a Confidential Consultation Form.
On this Form you complete your personal details and outline what you are wishing to achieve from your intuitive counseling/healing session(s) with Simone.
When you submit your Confidential Consultation Form on-line, Emily Taylor (Simone's assistant) will be in contact with you within 1 to 2 business days to organize a mutually agreeable consultation date/time according to your timezone.
I Love you deeply & I look forward to working together ♡

Simone M. Matthews
Founder – www.UniversalLifeTools.com
Creatix – Crystal Light Healing®, Essence of Angels® &
Aetheric Healing™ Practitioner & Teacher Courses
Best Selling Author & Spiritual Teacher
International Speaker, Intuitive Diviness & Healer
Quantum Evolution Visionary ♡
Save
Save
Save
Save
Save
Save
Save
Save
Save
Save
Save
Save
Save
Save
Save
Save
Save