Science is ever changing. NOTHING in our world is set in stone. And the best science evolves through critical debate, analysis and consideration of factors that surpass materialistic dogma. Anything less than this is deemed scientism and severely curtails the natural evolution of science.
Asking questions challenges the 'norm' of accepted science, and ultimately leads to an expansion of awareness and growth of our knowledge/wisdom. Conversely censorship of voices that dissent from the 'norm', not only curtails sciences natural evolution, but also may lead to corruption & a 'science' that dictates what is 'true' even in the face of evidence showing otherwise.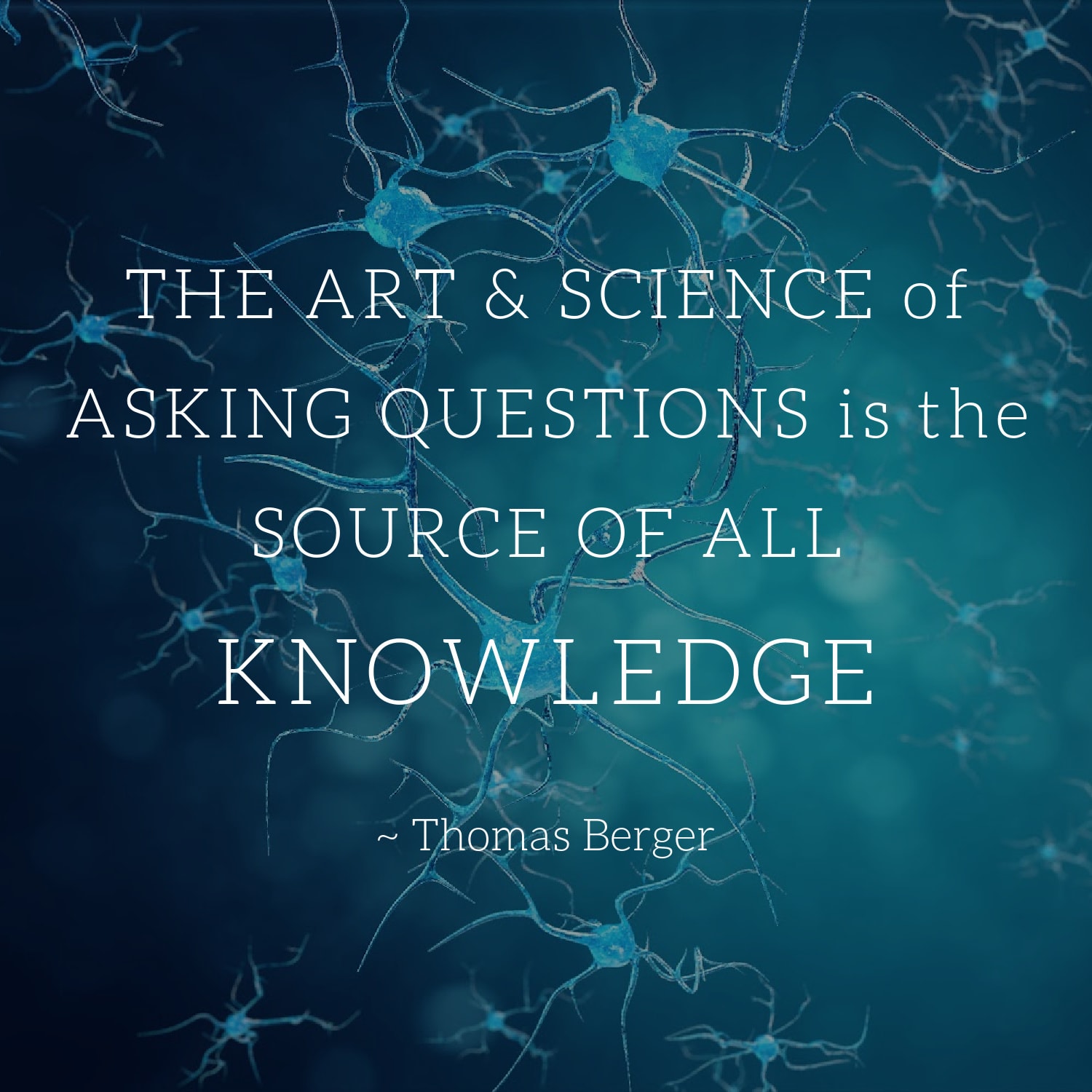 Remember when it was once thought that our Solar System was Geocentric (Sun & planets revolving around the Earth)? And Galileo was deemed a heretic to publicly supporting Copernicus's theory (with evidence) that our Solar System was Heliocentric. He then spent the remaining decade of his life under house arrest. Sounds familiar… censorship, lockdown?
Here are some Questions that you may wish to consider when making choices about your Health, and trying to 'see' the bigger picture of what maybe evolving globally for humanity. Whilst I have my own personal views, I encourage everyone to BE CURIOUS, research widely, and ultimately move into your Heart to discover your own personal truth.
Considering that the ONLY solution being offered to COVID is the Jab, and any view that strays from that solution is being censored, now more than ever ASKING QUESTIONS is essential in understanding more about this COVID moment.
And you may also wish to check out my 7 Reasons why you need to do your Research article too.
Asking Questions leads to the BEST Health Outcomes
In this video, Dr Larry Palevsky speaks to Meryl Dory of the AVN. This is a great conversation on reason that science flourishes through Questioning!
Dr. Palevsky is a NYS licensed pediatrician, who utilizes a holistic approach to children's wellness and illness. Dr. Palevsky received his medical degree from the NYU School of Medicine in 1987, completed a three-year pediatric residency at The Mount Sinai Hospital in NYC in 1990, and served as a pediatric fellow in the ambulatory care out-patient department at Bellevue Hospital, NYC, from 1990-1991. Since 1991, his clinical experience includes working in pediatric emergency and intensive care medicine, in-patient, and out-patient pediatric medicine, neonatal intensive care medicine, newborn and delivery room medicine, and conventional, holistic and integrative pediatric private practice. Dr. Palevsky is a diplomate of the American Board of Integrative Holistic Medicine, and Past–President of the American Holistic Medical Association. He received his pediatric board certification in 1990, and passed his pediatric board recertification exams in 1997, 2004, and 2011.
How do the Genetically Modifying 'vaccines' work ?
This is a really important question for everyone to ask. Why? Because mRNA Vaccines have never before be used on humans, over the last decade animals died during mRNA trials, and NONE of these Vaccines have yet been approved for use in Human. Hence if you have the Jab you have signed up to Global Stage III Clinical Trials.
Whilst I have publicly stated WHY I will not take the Vaxx, I believe everyone has free will to choose the hows/whats of their own health care. Hence I believe asking this question about how the COVID jabs work, is not only empowering toward your Informed Consent, but also raises many many other Questions that I considered further down this page.
Here is a brilliant overview by Dr Sherri Tenpenny [from her 20 MOI Course] about HOW the COVID Jabs create Spike Proteins. This will give you a basis of what/how Spike Proteins work, and the concerns being raised about the short, medium & longterm consequences of Spike Proteins. Including the possibility of Spike Protein Shedding, the damaging effects… and what you can do to protect yourself.
If mRNA jabs alter our DNA, are we still Human ?
I have asked this Question many times before, could mRNA jabs permanently alter you DNA ? There is reason believe that the answer is YES – mRNA through jabs may integrate with your own DNA, and that the cutoff for manufacturing Spike Proteins is unknown. Yikes!!!!!
Now a new study has been published that cites how cells can easily convert RNA back into your DNA.
A team of researchers from Thomas Jefferson University, Philadelphia, the University of Southern California, the Beckman Research Institute of the City of Hope, and the New York University School of Medicine has provided the first evidence that RNA sequences can be written back into DNA, a feat more common in viruses than eukaryotic cells.
This finding once again raises way more Questions than it gives answers, and I believe the science needs to address this publicly. People have a right to know if in fact there is a possibility that mRNA Jabs could PERMANENTLY altering our Human Genome. Why is this so important you may ask ?
Firstly, apart from the possibility that your body may NEVER turn-off making Spike Proteins, Big Pharma are pushing ahead with bringing in booster shots, and a range of other mRNA drugs, including Flu Jabs all based on this mRNA technology. If this mRNA technology alters the Human Genome in any way, apart from the disastrous short, medium & long term health consequences, is there a possibility or question of changing the status of our 'Humaness'?
In the video below, fast-forward to 26.07 mins where Sherri Tenpenny discusses patenting of DNA, and how Moderna has patented their mRNA within the jabs. Does this mean if your DNA becomes altered from the mRNA that you are no longer human, or that someone 'owns' your genetic sequence and has a right to dictate control over your body?
In this 2017 TED Talk, Dr. Zaks (Moderna CMO) talks passionately about how Moderna is hacking the software of life through mRNA vaccines. Or put another, they are taking the steps towards hacking the Human Genome toward transhumanism.
Do the Jabs contain Graphene Oxide ? Is so, Why ?
We start to take a walk on the wild side with questions like this! I have asked this many times myself, and there is significant evidence that shows there is Graphene Oxide in the jab and nanoparticle magnetism.
There is also a question that PCR Swabs maybe impregnated with magnetic Hydrogel (Graphene Oxide?).
With the knowledge that DARPA in cohorts with the US Government are actively working on technology that alters the human genome, and the injection of nano-substances that respond to Electricity, magnetic fields, lasers or sound waves (5G or your Smart Phone ?)… then maybe this Graphene Oxide/Hydrogel Question is not so 'out there' after all ?
The following referenced article from by Sarah Westell sheds a light on Graphene Oxide that is worth considering:
As reported by Dr Jane Ruby on the Stew Peters show, the research team from the University of Almeria's Department of Engineering recently published a report titled "Graphene Oxide Detection in Aqueous Suspension: Observational Study in Optical and Electron Microscopy."
The bombshell report showed that graphene oxide was identified in samples from all the major Big Pharma players, including AstraZeneca, Pfizer, Moderna, Sinovac, Janssen, and Johnson & Johnson. To be precise, the report stated that the vials contained 6 ng of RNA and 747 ng of graphene oxide. In other words, graphene oxide was as much as 99.103% of the medication.
Other labs need to confirm these findings and determine if all "vaccine" batches are similar or if batches differ in contents. If this study is duplicated and it is proven that graphene oxide is in more "COVID vaccines" and, as other reports have stated, in the yearly flu vaccines as well, we need to understand what this nano sized particle actual does and how it reacts with the human body.
Besides the damaging effects of graphene oxide (according to the same Spanish researchers):
Promote thrombus formation (blood clots)
Damage red blood cells
Damage the immune system
Inflame mucous membranes and contribute to a loss of taste or smell – or even lead to an unusual metallic taste in the mouth, which has been reported
Exert magnetic properties once inside an organism – which may explain the bizarre footage of people holding magnetic objects to their arms following their jabs
There are many other functions for graphene oxide. According to Graphene-Info.com:
"Graphene is a one-atom-thick sheet of carbon atoms arranged in a honeycomb-like pattern. Graphene is considered to be the world's thinnest, strongest and most conductive material – of both electricity and heat."
Here are a few more highlights they state about the material:
Mechanical Strength: Graphene is the world's strongest material, and can be used to enhance the strength of other materials.
Thermal Applications: Graphene is the most heat conductive found to date. As graphene is also strong and light, it means that it is a great material for making heat-spreading solutions, such as heat sinks or heat dissipation films.
Energy Storage: Since graphene is the world's thinnest material, it also extremely high surface-area to volume ratio. This makes graphene a very promising material for use in batteries and supercapacitors.
The site also specifically states how it can be used for many other applications including drug delivery. In fact, there are numerous studies that show the use of graphene oxide as an "innovative medication nanocarrier for the loading of a variety of therapeutics as well as anti-cancer medications, poor dissolvable medications, antibiotics, antibodies, peptides, DNA, RNA and genes."
Since graphene oxide "is considered to be the world's thinnest, strongest and most conductive material", how would this function in the body? Could it transmit frequency into and out of our bodies?
Well according to other studies, graphene oxide is a "high-efficient interconnector in radio-frequency range", in other words, it "has high potential for transmitting signals at gigahertz ranges" … "0.5–40 GHz. Radio- frequency transmission". This would include 4G, 5G, and other wifi and microwave frequencies.
So now we have many more questions than answers.
What is actually in all of these vaccines?
Are they using these to depopulate massive amounts of people (as numbers are starting to indicate)?
Do they have plans to use the electricity capabilities of graphene oxide in the body?
If yes, which applications and how will they use the many different frequency and electrical applications that are possible?
And here is the biggest question of all: Do they want to turn us into a Biological Human Computers? After all, this advanced technology is possible.
Do they want to turn us into Biological Human Computers ?
Ok, I get it. You may at this point roll your eyes. Really ? However Sarah Westall made a good point in her article above. Shouldn't we at least ask the question? Are we to become Transhuman Biological Computers? And could the jabs provide the means ?
There are so many paths all leading to a 'Transhuman Agenda', this is something that I feel cannot be overlooked. Here are a just a few for your research…
You have Moderna CMO (Chief Medical Officer) Dr Tal Zaks passionately about how Moderna is hacking the software of life through mRNA vaccines.
This Science paper talks about Self-assembled magnetic nanoparticles.
This Study on Superparamagnetic Iron Oxide Nanoparticle-Based Delivery Systems for Biotherapeutics.
Graphene-based "neuromodulation" technology is REAL: Press release from INBRAIN Neuroelectronics describes brain controlling biocircuits using AI-powered graphene.
Self-assembled magnetic nanosystems for cybernetic biocircuitry interface and control systems in humans, including "DNA hydrogel.
And Dr Carrie Madej has give a plethora of interviews of insights into how Jabs can ultimately create interfaces with technology, which may control, monitor or even potential dictate how we live our lives? A Quest for Soul-less Humans ?
With a NEVER BEFORE used in Humans mRNA technology currently being rolled out globally, and public agendas for The Great Reset and the future of Transhumanism (even Post Humanism)… I do believe ALL of these questions are important, because the answers will determine the choices you make about your Health & our Future.